Who Is Patrick Byrne's Former Russian Spy Girlfriend? — Insight into His Personal Life
Patrick Byrne's girlfriend was a Russian agent, and he knew it from the beginning.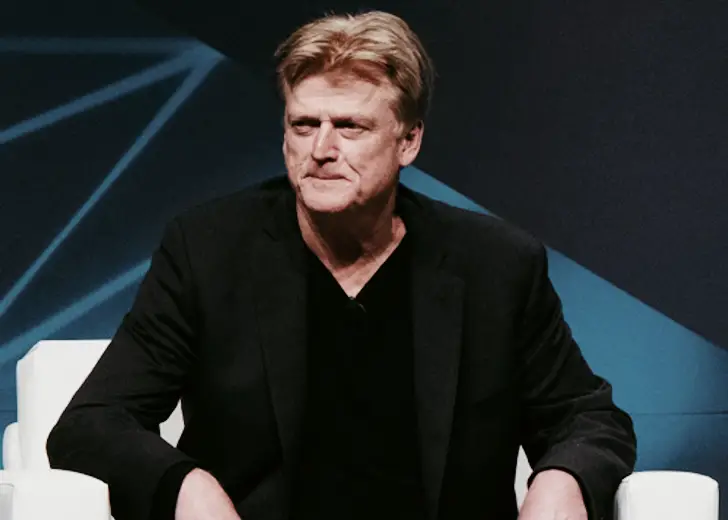 The former CEO of Overstock.com, Patrick Byrne, had been busy with business and politics and dating a Russian spy girlfriend in 2018.
The Indiana native who launched Overstock.com in 1999 gained $1.8 billion in revenues in 2016. He was set to change the entire system of trade and settlement with his association with blockchain, a digital cryptocurrency recording system. 
On his way, he met a Russian spy Maria Butina through a fateful encounter in Las Vegas. Byrne claims the FBI asked him to generate information from her, and he kindled the relationship as per their instruction.
Byrne and Butina Met in 2015
Byrne's spy girlfriend, Maria Butina, is a Russian gun-rights activist who attended an American University.
The pair had a fateful introduction at the libertarian conference in Las Vegas in 2015. The encounter spiraled into a passionate conversation about guns, politics, and philosophies, and they grew closer to each other in three years.

Patrick Byrne and Maria Butina. (Source: The Duran's Instagram)
But years later, in 2019, Bryne shed a genuine revelation. The 58-year-old claimed that he had been meeting with the Department of Justice and working as a government informant, feeding information on Butina.
In his own words, the FBI first assigned him to have a romantic relationship with the Russian spy.
Not only that, when Maria invited Byrne to Russia to give a speech on St. Petersburg on Blockchain, the FBI forbade him from going because he had to be elsewhere.
Three months later, in July 2018, the agents said they made a mistake and requested Byrne to rekindle the romantic relationship with Butina.  
See Also: Laura Govan Faced Lawsuits After Split With Ex-Fiancé — Detailed Bio
The Fall Of Byrne's Russian Girlfriend
When Byrnes and Butina were dating, they were allegedly involved in the 2016 elections. Butina's involvement, and the fact that she wasn't a national citizen, led to controversies about her being a Russian spy.
As a result, she was sentenced to 18 months in prison after admittedly failing to register as a foreign agent.
I should add here: Russians and Americans must be friends. The US government for years and years is trying to sow discord between us. We feel sorry seeing your pain, it's a fail policy of your elites, not your fault. https://t.co/Ac5hbyiKcE — Мария Бутина (@Maria_Butina) January 7, 2021
Believing that the law enforcement officials didn't handle the investigation properly, Byrne published a news release in August 2019.
He claimed the FBI was behind his relationship with Butina. However, he asserted that he was still fond of her. He also remarked, "Maria should go home and be president of Russia one day...That is the best thing that could happen to Russia and the U.S."
After making a claim, Byrne withdrew from his post of CEO of Overstock.com on August 22, 2019. He reportedly didn't want his business to suffer because of politics.
In October 2019, Butina was released and immediately deported back to Russia. She applied to take part in primaries for Russia's ruling party to run for a parliamentary seat in April 2021.
The 32-year-old now works as a host for Russia's television network.