Nick Swardson's Sarcastic "I'm Not Gay But..." Tweets Fuel Sexuality Rumors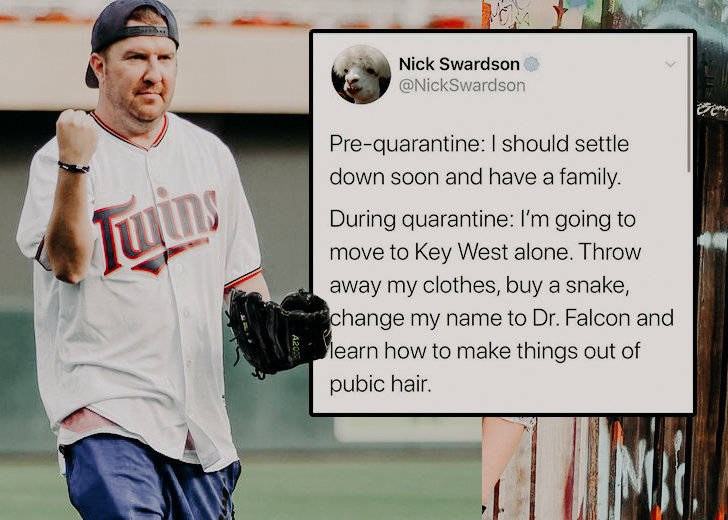 Grandma's Boy star Nick Swardson is quite infamous for his "I'm not gay but…" and "marry me" tweets, where he tags his male colleagues from the entertainment industry asking them to marry him.
The star recently made news with a picture of one of his Tweets on Instagram, which talked about his decision to settle down and how the quarantine had altered it.
Is Comedian Nick Swardson Gay?
Because Swardson decided to keep his private life and dating history away from the media's prying eyes, the humorist has often been associated with many gay rumors. 
However, the 44-year-old is not afraid to joke about his sexuality. In an interview with Punk Globe, when asked to reveal something surprising about him, Swardson joked, saying he had been happily married to Sir Elton John for 30 years.
In the same interview, when asked about his sexuality, the actor jokingly mentioned that it was gray.
The comedian also has numerous "I'm not gay but..." tweets where he talks about not being homosexual and not missing out on a sexual encounter with his male co-workers from Hollywood.
In one such post, the comedian said he was straight, but if Channing Tatum ever called upon him to bake cookies and braid each other without clothes, he would sign up for it.
Comedian Nick Swardson jokes he could be gay for Channing Tatum. (Photo: Twitter)
The comic has also made many 'marry me' tweets and the 'I'm not gay' tweets. Once, he tagged footballer Kyle Rudolph from his favorite team, Minnesota Vikings, and asked him to marry him.
In one of his interviews with Impose Magazine, the comedian denied the rumors, insisting he was straight.
Nick Swardson's Wanted a Family with Wife
After tweeting numerous gay jokes, Swardson's one post on Instagram caught everyone's attention during the COVID-19 quarantine.
The post was about having the thought of settling down pre-quarantine, which was ruined because of the lockdown.
He implied that he wanted to have a wife and start a family before the quarantine. But after the lockdown, all he wanted to do was go to Key West alone and live there independently. 
The comparison of his pre-quarantine and quarantine mentality was undoubtedly a joke from the comedian. 
In contrast to the quarantine tweet, the comic in one of his previous tweets had mentioned his reluctance for marriage. He had written he didn't want to get married for one particular reason. 
The reason was that he didn't want to grow old with his wife and see her in "that short, awkward, Peter Pan haircut.