Mr. Fruit Had the Most Unusual Wedding with Girlfriend Claire, as Couple's Puppies Served as Witnesses
YouTuber Mr. Fruit had been in a relationship with his girlfriend Claire, now-wife, for over five years when the couple finally exchanged their wedding vows in August 2020.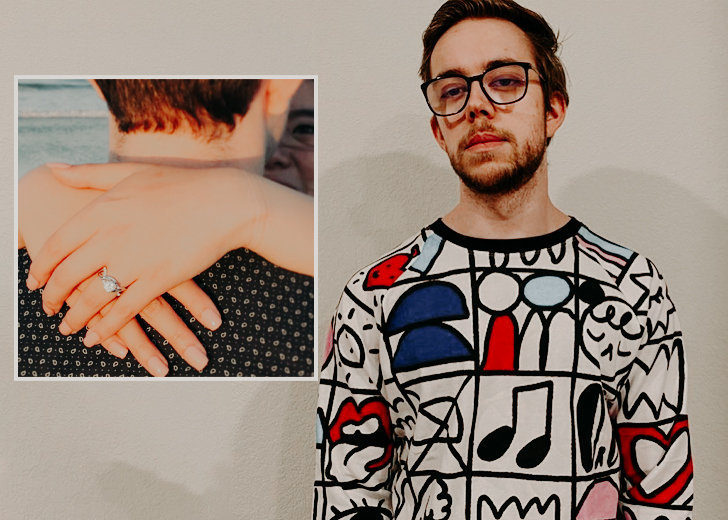 With many top-list celebrities like Scarlett Johansson and Liz Gillies tying the knot during the global pandemic, YouTuber Mr. Fruit's wedding ceremony probably takes the cake for being the cutest.
The ones who know Mr. Fruit, know him for his obviously quirky name, his playthroughs over a variety of games on his YouTube channel, backed by his smooth voice articulating the witty and humorous narration.
Anyone familiar with the YouTube gaming sensation is bound to say that he doesn't play by the rules, and anything he does will be eccentric and cute, just like his online alias. Hence, conventionality was tossed out of the window during his wedding with girlfriend Claire Beck-Alper of over five years.
So what elements contributed to make Mr. Fruit's wedding an absolute delight? Here, we have all the insight!
Mr. Fruit and Girlfriend Claire Got Married in August 2020
In episode 50 of GG over EZ podcast, Mr. Fruit revealed that he got married back on August 8, 2020. He had actually hinted about his wedding on August 7, 2020, by tweeting, "Tomorrow Ms. Fruit becomes Mrs. Fruit."
With his regular podcast mates Rhabby and Blue in attendance, along with artist John Silva, Fruit shared that the wedding was low-key due to the pandemic, and this is where it gets interesting, as the newly married couple had their puppies posing as witnesses to their wedding vows.
In the same podcast, the YouTuber also mentioned that although his real name isn't Fruit, his wife Claire was more than happy to take the name if he could legally change his last name to Fruit.
However, he didn't do it as it wouldn't sit well with his parents. With a ride-or-die commitment like that, it makes sense he put a ring on it, even though it took him a few years.
Mr. Fruit and Claire Have Been in a Relationship for over Five Years
The proposal from Mr. Fruit came after dating Claire for five years. He proposed to Claire back in July 2018, and they had made their engagement official through an announcement on Instagram.
On December 11, 2019, Mr. Fruit shared their engagement photos on Twitter along with their first-ever photo taken together.
Claire and I's first photo together and our most recent (part of our engagement photos). She's been with me since the beginning of this wild journey and I couldn't have done it without her ❤ï¸Â pic.twitter.com/fw8TjEV5o2 — Mr. Fruit (@MrFruitYT) December 11, 2019
Although one cannot confirm when they started going out, their social media activities suggest that it could be around early 2015. On August 15, 2015, Claire, who is good at making handmade posters, posted a photo of a gift sent by Mr. Fruit and referred to him as "bae," meaning they were already together for some time before that.
They appeared in each other's social media timelines a few more times since then, remarkably in party photos and funny tweets. Their first picture together on Instagram was from Claire's graduation.
One could see their budding relationship and the strength and togetherness they built through these adorable posts.
My best friend. Thank you for everything. Thank you for changing my life, countless of other lives, but most importantly. Thank you for showing that dreams can come true if you work hard enough. I love you dude. Here's to 26!
Now go get insurance! pic.twitter.com/B16d3ADYK4 — Rob (@Rhabby_V) September 14, 2020
Mr. Fruit tweeted an old Halloween photo with Claire on March 25, 2018, and on September 19 of 2019, where he revealed that he canceled his travel plans to take care of Claire as she was taken with fever. On April 6, 2019, he even reduced his video content to one per day to spend time with Claire on her birthday.
Time Together as a Married Couple
After getting hitched, Mr. and Mrs. Fruit have headed towards social duties as a married couple and have rarely continued with their regular appearances on each other's social media.
One of their post together as a married couple was on November 26, 2020, when they celebrated their first Thanksgiving together. Mr. Fruit sweetly tweeted about how thankful he is for his wife.
Today's Thanksgiving here in the states and Im thankful for my wife BECAUSE OH MY LORD HOW DID I GET SO LUCKY SHE'S THE BEST AND MOST BEAUTIFUL AND MOST CARING AND MOST SUPPORTIVE WOMAN 😭❤ï¸Â pic.twitter.com/KBZxYaeA8S — Mr. Fruit (@MrFruitYT) November 26, 2020
Mr. Fruit's First Love Is Gaming
Mr. Fruit, as is evident from his two YouTube Channels, Mr. Fruit and More Mr. Fruit, his podcast, and his Twitch account, is an avid gamer. In his 2017 video titled "Draw My Life," he explicitly talks about his love for gaming ever since discovering and playing pokemon on Gameboy. 
Born as Christian Miller, Mr. Fruit is so passionate about gaming that he dropped out of college to remain active on his YouTube channel, as he writes in the About section of his channel.
Judging by his over 2 million subscribers on YouTube, that decision could not have been more fruitful.
Aside from his married life and a range of gaming channels, Mr. Fruit is currently focused on selling his merchandise, which adds to his handsome net worth.