YouTuber Mr. Fruit Has A Flair For Entrepreneurship
Mr. Fruit is a gaming YouTuber who plays a range of games including Apex Legends, Destiny, Overwatch, Super Smash Bros, and more. But, that's not all. Mr. Fruit has taken the entrepreneurial route after teaming up with the online store Advanced, which sells gaming supplements.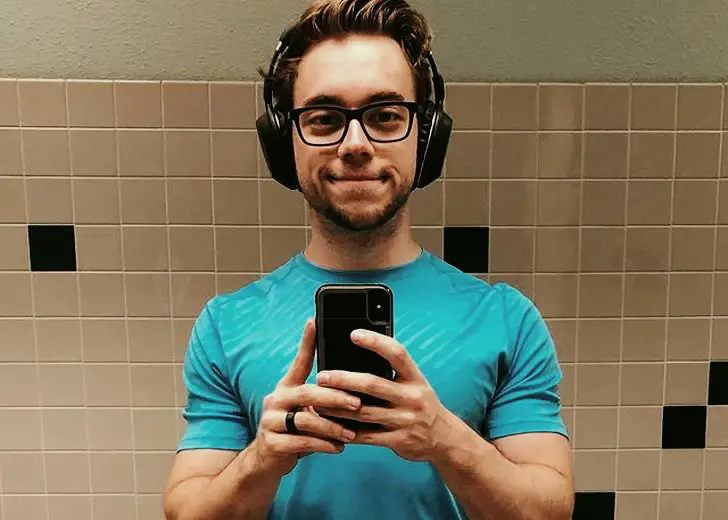 Mr. Fruit, the YouTube gaming sensation, has seen exponential growth in followers since it started back on January 29, 2014. The channel, which had a little over 50K subscribers in 2015, today boasts over 2.3 million subscribers. By uploading montages, walkthroughs, and playthroughs of famous games such as Destiny, Call of Duty, Overwatch, and recently Among Us, Christian Miller, the man piloting the successful channel, has spawned a lucrative career as a gamer.
Apart from Youtube, Mr. Fruit has diversified to various other platforms such as podcasts, and Twitch while also recently sinking his teeth in entrepreneurial ventures. 
Mr. Fruit Shares Passion For Gaming Across Different Platforms
When Mr. Fruit first started on YouTube, he was still in college. According to the About section of his channel, he dropped out of college to pursue what he loves doing the most -- creating gaming content for his burgeoning YouTube channel. Since then, his channel has kept growing enough for him to start a second channel called More Mr. Fruit, where he shares the more under-the-radar, independent games, which otherwise don't appear in his main channel. As of now, his second channel has garnered some187k followers.
Along with this, he hosts a gaming podcast called GG over EZ with friends Rhabby_V and BlueWestlo, where the three friends passionately gush over their enthusiasm for everything gaming while also covering a range of different issues from 3D printers to aliens. As if this wasn't enough, Mr. Fruit also constantly streams on his Twitch account, which has over 228k followers. 
Having achieved the coveted Golden Play Button milestone, Mr. Fruit is already a success story for legions of aspiring YouTubers. However, apart from amassing views, subscribers, and sponsorships, Miller, aka Mr. Fruit, has started going full speed with his merchandising. He partnered with DesignbyHumans to release his Among Us merchandise in November 2020. The merch includes a range of wearables and customized Mr. Fruit Among Us stickers.
📢 Introducing the brand new Mr. Fruit SUS collection! Not sure what to get your loved ones for the holidays? Well eject your worries with this new line-up https://t.co/6CiPmuSkU4
🚨 Available for a limited time
ðŸŒÅ½ Ships worldwide
ðŸÅ½… Arrives in time for holidays pic.twitter.com/wvE3oFvPCp — Mr. Fruit (@MrFruitYT) November 22, 2020
Mr. Fruit Is A Partner At Online Store Advanced
After his Among Us merch, Mr. Fruit went one step ahead with an online store partnership. He has set his eyes on heading towards an entrepreneurial road.
Currently, Mr. Fruit is a partner in a company named Advanced, a US-based gaming supplement company designed specifically for esports professionals, everyday gamers, or those who stare at a screen for hours a day. They say their specialty is that they don't rely on marketing gimmicks and produce only "innovative products that work" —products that do exactly what is advertised.
Apart from supplements, Advanced also sells energy bundles, shakers, gears, T-shirts and, comics. Mr. Fruit has his line of supplements, comics, and shakers in the Advanced store, ranging from $10.99 to $44.99. The bundle prices can go as high as $253. 
Views, merchandising, and partnerships bring in a lot, but Mr. Fruit also loves to give back. In June 2019, he went live on Twitch to raise funds for St. Jude Children's Hospital.
Although Unknown, Mr. Fruit's Net Worth Must Be Substantial
Miller has money flowing daily with various involvements, although we can't put a number on it. However, going by the analytics published in Trackalytics, Mr. Fruit makes anywhere between $150 to $1248 per day from ad revenues alone. 
Likewise, with his second channel gaining traction, he also has other alternative sources of income. Moreover, extra bucks come from his Twitch Channel in donations, ad revenue, and monthly paying subscribers, not to mention his merchandising enterprise. 
A fun gaming YouTuber with an entrepreneurial flair and a philanthropic heart, Mr. Fruit certainly knows how to squeeze success out of life-long passion, which in his case happens to be gaming.