Mor Shapiro and Husband Ben Shapiro's Happily Ever After Following Israel Wedding
Mor Shapiro married columnist Ben Shapiro in an Israeli Wedding.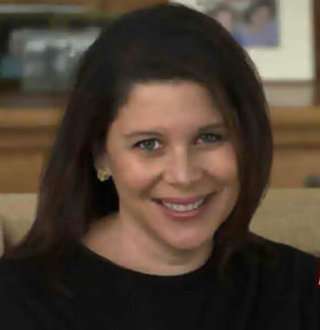 With a marriage of more than a decade now, things for Mor Shapiro get rosier with every passing day. She provided a glimpse of her happy married life with her husband in an adorable message the spouses penned for their newborn. 
Mor, age 30, is widely known as the better half of conservative political commentator and lawyer Ben Shapiro. A physician by profession, she also has her own established career and currently works at the Department of Family Medicine at the University of California.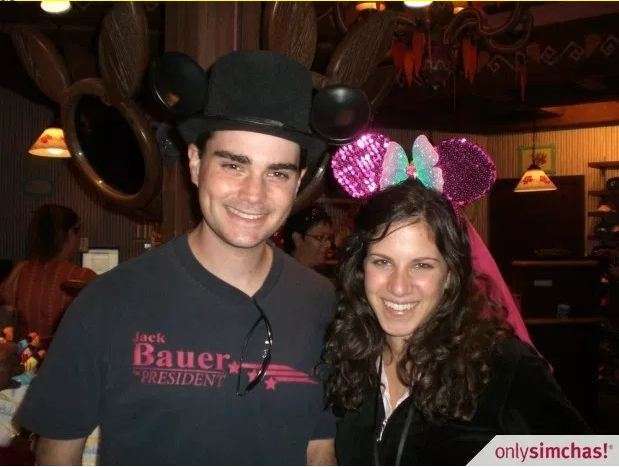 Husband & Wife: Mor Shapiro attends a fantasy costume party with husband Ben Shapiro (Photo: onlysimchas.com)
The physician started her career in an unorthodox way by writing newspaper columns. 
Husband Ben Shapiro and Net Worth 
Despite being a column writer herself, it was being Ben Shapiro's wife that led her to the spotlight. 
Ben Shapiro is the youngest nationally syndicated columnist and has reached a great height of success. He also serves as the editor-in-chief for The Daily Wire, an American news and opinion website founded in 2015.
He is also the co-founder and former editor-in-chief of the media watchdog group TruthRevolt.
Due to Mor's low-key lifestyle, her net worth has not been revealed yet.
However, being a reputed physician means that she has a decent income. Not just that, she shares her husband, Ben Shapiro's net worth of $6 Million.
Ben Shapiro's Wife Had an Israeli Wedding 
Mor was born in 1988 in Haifa, Israel, to parents of Moroccan descent. She moved to California when she was just 12 years of age. Her upbringing and early life have not been documented. 
Mor graduated with Bachelor's in Surgery from the David Geffen School of Medicine at the University of California. She majored in psychobiology as an undergraduate at UCLA.
She is now serving as a doctor specializing in Behavioural Neuroscience.
She married Ben in an Israeli wedding in July 2008. Mor was just 20 years of age during the marriage, while her husband was 24 at the time. The couple had returned to Mor's ancestral home, Acre, Israel, to tie the knots.
Mor started dating her husband after first being introduced by one of his sisters. They had a four-hour conversation about "free will and determinism" on their first date.  After dating for three months, they decided to step up their relationship and got engaged.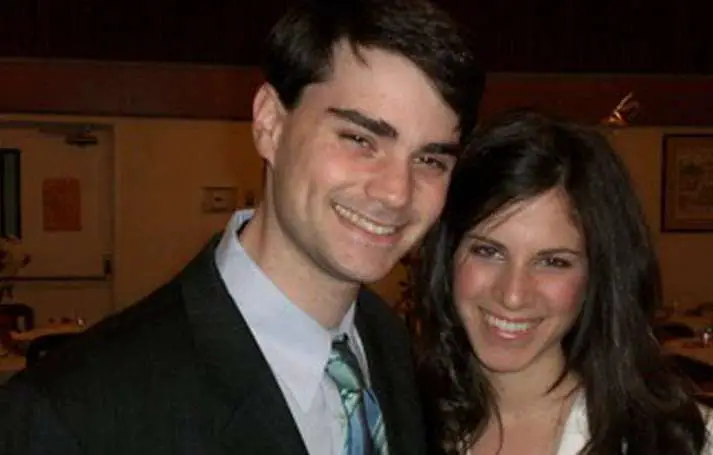 Relationship Goals: Mor Shapiro with her husband of more than a decade, Ben Shapiro (Photo: Pinterest)
Writing about his wedding in his column, Ben stated that Mor looked stunning, and his father wrote a piece of emotional music for the ceremony.
The couple recently celebrated their 13th wedding anniversary in July 2021.
Pens Sweet Letter For Daughter With Husband Ben Shapiro
Not only is endless love a connecting link between the couple, but they also share a very close connection with their kids.
After their baby girl, Leeya was born in 2014, the loved-up spouses wrote a letter to her, showering her with love and affection. A small part from their message stated:
Dear Leeya Eliana,

This is Daddy and Mommy writing to you. You are now six days old, and you are tiny and cute, and you poop a lot -- and you get really mad when anybody tries to change you. But you are also sweet and calm, and you look at us with your huge blue-gray eyes, and we love you so much because we know that not only are you a manifestation of how much Mommy and Daddy love each other, but you are the future of the Jewish people and the American people, and that we are preserving God's word and His freedom for the next generations. That's why we gave you your name: Leeya -- in Hebrew, 'I Belong To God.'
The letter served to show the couple's affection towards their daughter. And in May 2016, the couple became proud parents to a son, expanding their family from 3 to 4.
At present, Mor is living a happy and lowkey life flanked by her husband and children residing in Los Angeles with the family.