Mike Rowe Is Dating — Dishes on Girlfriend, Being Cheated On, and Kids
Mike Rowe confessed to being in a long-term relationship.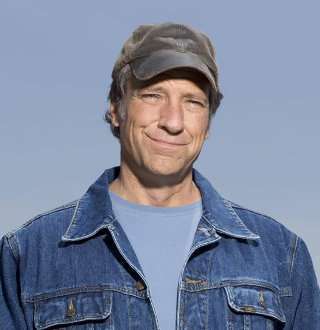 Quick Information
Date of Birth

Mar 18, 1962

Age

61 Years, 2 Months

Nationality American
Birth Place

Baltimore, Maryland

Birth Name

Michael Gregory Rowe

Profession

Television Personality

Relationship Status

Dating

Father

John Rowe

Mother

Peggy Rowe

College

Towson University

Eye Color

Blue
Mike Rowe opened about the never-known aspects of his personal life during a virtual interview with Kara Mayer Robinson in January 2021 and revealed that he is in a serious relationship. 
The Dirty Jobs host also spilled the beans on his past relationships, including the one where he was cheated on, and clarified he has no regrets for not having kids. 
Rowe's Girlfriend Is Not from the Entertainment Industry
Rowe knows the challenges of having celebrity stardom and the cost that comes with it — public scrutiny and stalkers, for whom he even filed restraining orders. His understanding stands to reason that he is elated to have a partner away from the entertainment industry.
Rowe's girlfriend, whom he has been admittedly dating for years, belongs to a different sector. 
And as he mentioned in the tell-all interview, she couldn't care less about the stardom. She has little to no interest in Rowe's work, which helps the pair to keep their relationship away from the radar. 
While the former opera singer didn't reveal the identity of his girlfriend, he mentioned they agreed to keep their life away from the internet from the very first.
He also hinted at how independent his girlfriend was. He stated that only a woman who cared about herself rather than pleased her spouse selflessly could impress him.  
He Forgave His Cheating Partner
Courtesy of his privacy, the Baltimore native has often been speculated to be gay. But the gay speculations are baseless and false, for he has dated many women, albeit their names remain a mystery.
Rowe detailed one particular relationship in a sit-down with Robinson. He remembered how he was cheated on by his partner and was hurt, though not entirely devastated. 
When the woman approached him and confessed to him, Rowe — who says he knew the romance wouldn't last long — forgave her.
Although he had a breakdown after going home, he mustered his courage at the moment and requested her to forgive herself. He believed that cheating someone was cheating on oneself.
Rowe was once romantically linked to Sandy Dotson and American actress Danielle Burgio. 
Rowe Has No Regrets for Not Having Kids
At 59, Rowe has no children and no regrets about his choice as well.
In the interview, he mentioned he was close to having kids when he was in a serious relationship several years ago. His partner wanted to have at least three or four kids and wanted Rowe to be the father.
As their love was genuine, the Somebody's Gotta Do It narrator put his thought into it. But the plan didn't pan out because the fact that his girlfriend wanted to be a mother before being his wife didn't sit well with him.
He shared that his parents — father John Rowe and mother Penny Rowe — have a lovely decade-long marriage because they value one another before their children and family matters. But because his partner didn't seem to have that perception, the two eventually split. 
Rowe had random thoughts of adopting a kid even when he was single. However, the idea didn't lurk around for long as work kept him busy.