Everything On '48 Hours' Maureen Maher Husband And Married Life
Maureen Maher, the regular host of CBS program 48 Hours Mystery, reveals the truth about the crime scene in the show. However, the case isn't the same while gushing about her personal life. She remains secretive about it, but sometimes, slightly hints about her family and personal matter through the social media.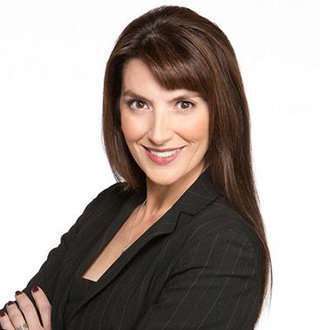 Quick Information
Nationality American
Profession

Journalist

Career

1991-Present

Relationship Status

Married

Husband/Spouse

Not Disclosed

Divorce/Split

Not Yet

Awards

News & Documentary Emmy Award

Nominees

News & Documentary Emmy Award for Outstanding Investigative Report in a News Magazine

Ethnicity/Race

Irish

College

Loyola University

Height/ How Tall?

5'4" (1.64m)

Weight

56 Kg (123.45 lb)

Lesbian

No

Children/Kids

2
American reporter Maureen Maher had her professional life truly a success, but her personal life with her husband never got a major spotlight.
The Detroit native is famously known for being the regular host of CBS program 48 Hours Mystery. Her fame got enriched with her coverage on various dangerous and challenging news of the nation.
Age of Case Cracking: Maureen Maher profiles her 48 Hours report on Tom and Jackie Hawks on CBS  (Published on 29 April 2009)
Maureen has received a News & Documentary Emmy Award for Outstanding Continuing Coverage of a News Story in a News Magazine.
Maureen Maher's Bio: Age, Career & Parents
49-year-old Maureen joined Bachelors of Arts and graduated with a degree in communication from the Loyola University. 
She stepped into the realm of journalism as a news anchor for Chicago based WLUW (FM) back in 1991.
You May Also Like: Major Garrett, Married Man; Family Guy With Wife - Everything There Is To Know
Afterward, she started working with WJBK-TV and WWJ-TV until 1995 and worked for CBS Newspath from 1997 to 2002. After that, she was signed as a news correspondent by CBS in 1999. She served as CBS news correspondent for three years and reported for CBS Evening News.
Later, in 2003, she landed as a host for  CBS's widely recognized crime documentary and news program, 48 Hours Mystery. Since then, she has been working on the same program and garnering success.
As for her personal life, Maureen was adopted at birth. So her exact birth date remains unclear. She revealed about her adoption in an episode of 48 Hours that aired on 11th December 2009, where she stated that she was only curious about her biological parents when she was at the age of sixteen.
Her biological parents were high school seniors; she was given to Catholic Charities by her biological mother shortly after birth.
Maureen Reflects On Dreadful Case of 2016 
In September 2018, Maureen reflected on a high-profile case that lingered for a long time in September 2016. The case revolved around a man shooting his wife in SUV, and questions were surrounding it being an accident or a murder.
It happened when Tex (the shooter) and Diane (his wife) were heading home after a long day of golfing, and a friend of theirs was driving. Tex says that he had an eerie feeling of being in a bad neighborhood so he asked his wife to hand him the revolver he had kept in the car's console and when he fell asleep, it went off shooting his wife.
Maureen talked with Tex's attorney Bruce Harvey who had the biggest challenge of solving the question whether it was an intentional action or an involuntary action based on an accident.
Read Also: CBS Reporter Greg Gumbel, A Family Man With Wife; Cancer Victim?
Maureen went to the extent of getting in contact with Diane's acquaintances to learn about Tex and Diane's relationship. Tex never knew how to explain the gun going off but in December 2016, the Atlantic Police Department concluded the shooting to be an unintentional act and Tex was charged with involuntary manslaughter and reckless conduct.
But just four months after the good news, Tex was back behind bars when CBS 46 uncovered the evidence of Tex owing his wife $350,000 and provided enough evidence to charge him with the murder of his wife. It was surprising for Maureen to learn how the case leaped from an accident to a cold killing.
Maureen Has Her Married Life Kept Under Wraps 
Gushing about her love life, Maureen is blissfully married and also has two children with her husband. Maureen Maher has successfully maintained a tight guard over her personal life. Although she adequately flaunts her professional life, she rarely shed light on her personal life.
But through her social media account, it has come to light that she is a married woman, with two kids.
Back on 3 March 2016, Maureen through her tweet revealed that she and her husband first met at Don Henley concert. She also disclosed that her husband was coming to Chicago in 2016's summer to celebrate their 10th-anniversary together. Her tweet made it clear that Maureen and her husband had exchanged the wedding vows in the year 2006.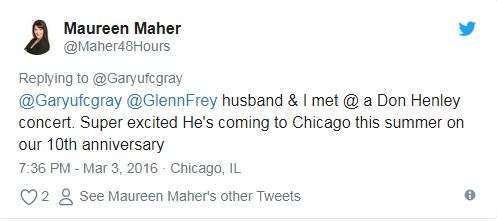 Music Junkeys: Maureen Maher posts a tweet about her first meeting with her husband on 3 March 2016. (Photo: Maureen Maher's Twitter)
Moreover, on 18 July 2017, Maureen replied to a pal about her physical fitness via tweet and also mentioned her husband in the reply. She wrote that her husband had pictured her with a gown that bared her arms. 
Besides that, Maureen even mentioned her son's birthday through a tweet back on 19th July 2014. 
You Don't Want To Miss: CBS Correspondent Bianna Golodryga's Utterly Supports Husband & Family Through Rough Times
Although Maureen occasionally mentions about her husband and children in her tweets, she makes sure to not showcase their pictures in the media. She is also yet to publicize the name of her husband and children along with their age. 
As of now, the identity of her family members remains confined. Nevertheless, her tweet suggests that Maureen is living with her husband and two children along with family bliss.