Louis Hofmann Career, Movies & TV Shows
Learn About Louis Hofmann's Television And Movies career & His Roles In Projects Such As 'Dark', 'Center Of My World,' 'Sanctuary,' 'Land Of Mine,' 'Tom Sawyer' & Others.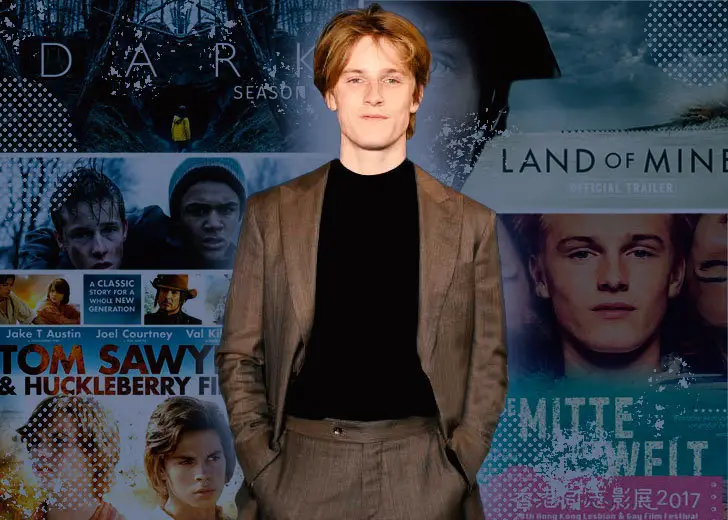 In 2008, Louis Hofmann was approached by his mother's friend to portray a small role in a children's television series—at that time, he was just 11 years old. 
After appearing in the same TV series for three consecutive years, he developed a full-proof passion for acting. Subsequently, he applied in different acting agencies before starting to perform in smaller TV and theatre shows.
As of now, he has performed in numerous movies and TV shows, which has earned him recognition not only in Germany but also across the world.
So, what are the movies and television series that define the whole career of the German actor? Well, let's have a look at some of his films and TV shows that have impacted Hofmann's career and also helped him to receive international honors.
'Dark' (2017-2020)
The German sci-fi series Dark is considered one of the biggest hits in the career of Louis Hofmann, in which he played the role of Jonas Kahnwald.
Dark showcases a saga of four families of Winden city with numerous supernatural time-travel turnabouts. The strange tale finally ends when the two main characters Jonas (played by Louis Hofmann) and Martha (played by Lisa Vicari) time travel to another dimension and put an end to the recurring cycle.
The sci-fi television series has managed to bag numerous awards in different award shows. Altogether, the German series has won 5 awards and has got 19 nominations to its name.
The mind-bending series Dark—starring Louis Hofmann and Lisa Vicari in the lead—was first released on December 1, 2017, via the popular streaming platform, Netflix. Following the success of the first season, the second season of the series was released on June 21, 2019. And, on June 27, 2020, the third and final season of the series was also released.
'Center of My World' (2016)
The movie Center of My World (original German title - Die Mitte der Welt) is a romantic drama that is based on Andreas Steinhofel's same-titled best-selling novel (1998). The movie, however, was released in Germany on November 10, 2016.
The romantic-drama narrates the life of a teenage boy named Phil (played by Louis Hofmann) who cares less of his family—he thinks his family is always unstable.
The life of Phil takes a turn when he gets attracted to his new classmate, a boy named Nicholas, and eventually starts having an affair with him. However, this affair of Phil with Nicholas gets complicated when Phil doubts Nicholas' feelings towards him.
Phil's complications with his family, friends, and lover, then, leads him to a difficult situation, and the only thing he wants to do next is to seek his actual center of his world.
The beautifully made romantic drama movie, directed by Jakob M. Erwa, has won 5 awards and is nominated six times at different awards shows.
'Sanctuary' (2015)
Sanctuary (original German title - Freistatt) is a popular German drama movie which was released on June 25, 2015. In it, Louis Hofmann portrays the role of a young 14-year-boy named Wolfgang.
The dramatic plot of the movie revolves around Wolfgang. He is a young free-minded 14-year-old German boy. He is in love with his mother. However, his stepfather classifies him as his competitor and sends him to a boarding school, where the headmaster is psychotic. At the school, the headmaster and his employees punish all the boys psychologically and physically.
Despite all the torture, Wolfgang finds a way out of there and flees. However, his parents again send him to the same place—only to be called back a few months later after his stepfather died. However, he decides that there is no place for him back home.
Altogether, the film has won 5 major awards and was even considered to be sent for the 'Academy Award' for 'Best Foreign Language Film' during the 88th Academy Awards.
'Land of Mine' (2015)
Land of Mine (also known as Under sandet in Germany) is one of the biggest career-changing movies of Louis Hofmann.
Based on real events, the movie revolves around the time after the second world war. The plot of the movie drives forward starts with an order given to a group of German POWs under the command of a Danish Sergeant to clear a beach that possessed thousands of land mines. And as the German POWs start to clear the land minefields, many lose their lives, and many get severe injuries.
At first, the Danish Sergeant is very arrogant, but, as the German POWs kept on working, he begins to appreciate their works.
After defusing all the land mines, very few German POWs remain alive. yet again, they are ordered to go to another place to defuse another batch of land mines.
Nonetheless, the Danish Sergeant takes the remaining German POWs and leaves them near the German border to escape freely.
The movie won 29 awards altogether and was nominated 25 times in different film festivals and award shows. Later, it was also nominated for 'Best Foreign Language Film of the Year' during the 89th Academy Awards.
Land of Mine was released on December 3, 2015.
'Tom Sawyer' (2011)
German feature film, Tom Sawyer, directed by Hermine Huntgeburth, is an adventurous movie based on Mark Twain's novel 'The Adventures of Tom Sawyer.'
The movie, Tom Sawyer, also happens to be the theatrical debut of Louis Hofmann in which he played the title role of Tom Sawyer.
The movie's plot revolves around the main character Tom Sawyer and his best friend Huckleberry Finn. Both of them live near the Mississippi River where they play and have great adventures—they pretend to be pirates and attend their own funeral.
However, their adventure gets ruined when they witness a murder (committed by dangerous Indian Joe ) for which an innocent coffin carpenter named Muff Potter is accused.
The theatrical debut movie of Louis Hofmann made a place in the heart of many young kids. The movie got numerous positive reviews and gained a lot of popularity. It won the 'Guild Film Award at Guild' of German Art House Cinema in 2012.