Louie Anderson Dies at 68 — Remembering the Late Comedian's Young Days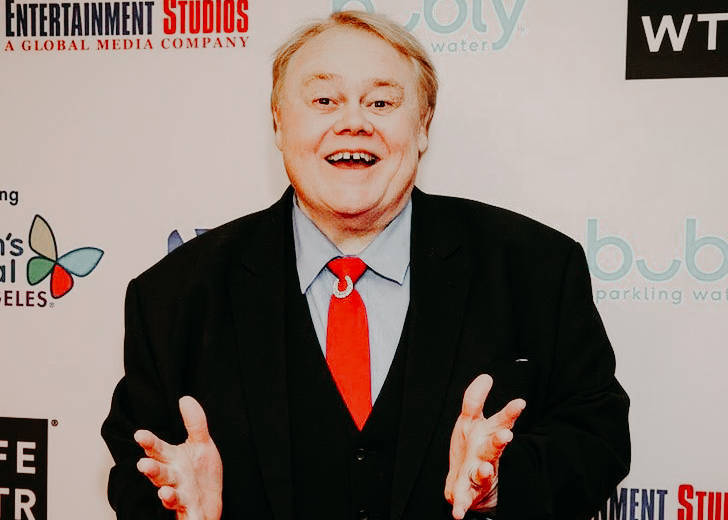 On January 18, 2022, Anderson was reportedly admitted to a Las Vegas hospital due to complications from large B-Cell Lymphoma.
The death of the industry veteran was reported on January 21, 2022. He was 68 years old at the time of his death. 
The entertainment world has since been scrambling to process the loss of a prolific stand-up comic, actor, author, game show host, and 3-time Emmy award winner.
We would like to express our deepest condolences and pay our due respect to a truly amazing individual.
Here we shall take a look at the past and celebrate his life rather than mourn his death.
The Late Louie Anderson based Comedy on Troubled Childhood Experiences
Born to Louis William Anderson and Ora Zella Anderson, Louie had a hard childhood in Minnesota. He and his ten siblings had to live with their abusive father.
When Anderson turned a young man - probably influenced by personal experience - he began to work as a career counselor to troubled children.
However, his career track changed soon after winning the first-place trophy at the 1981 Midwest Comedy Competition.
Immediately after, Anderson found himself wrapped up in comedy shows.
He crafted comedy routines that revolved around his childhood experiences and family members.
Interestingly, his sets resonated so well with the audiences that it gave them helpless fits of laughter.
Anderson affirmed how his family and troubled childhood experience gave him enough materials for his comedy gigs during an interview with Variety. He stated:
I realized I had a whole filing cabinet full of stuff about my family. That was a big awakening. I started talking about my dad, and it was a bottomless pit. I had so much resentment and anger and pain, so much going on from my dad because he was an abusive alcoholic. Even though my dad was mean, I was able to do jokes about it somehow. They seemed natural.
The Late Louie Anderson's TV Debut was on 'The Tonight Show'
Henny Youngman, the Midwest Comedy Competition host, recognized Anderson's raw talent and took young Anderson under his wing as a writer.
Not long after, the late Anderson found his spotlight on comedy stages all across the country.
It wasn't until 1984 that Anderson first appeared on-screen. Johnny Carson, the then host of The Tonight Show, invited the late comedian for his TV debut.
After his first time on the legendary talk show, Anderson took up the pace and made numerous appearances with Jay Leno, David Letterman, and on The Late Late Show with Craig Ferguson.
Comic Relief, Showtime, and HBO specials followed, and eventually, Anderson starred in comedy films like Coming to America opposite Eddie Murphy, and the classic Ferris Bueller's Day Off. 
He also appeared on several TV shows since. 
Then from 1999 to 2002, he hosted the legendary game show Family Feud.
Past Louie Anderson Death Rumors
Prior to Anderson's death on January 21, 2022, there had been numerous rumors running on the internet that tried to explain how Louie Anderson died in the past. The question, "Is Louie Anderson alive?" was frequently seen all over the internet.
One of the prominent rumors was that he died in 2009 during a gastric bypass procedure.
Another was that his death occurred shortly after he left Family Feud. Some also claimed that he died when he was still hosting the show The Price Is Right.
But the truth is that the veteran comic was still very much alive and kicking when these rumors were made and passed around.
Why did the Death Rumors Originate in the First Place?
Unless you believe in the Mandella effect, Anderson's fans may be aware that Anderson didn't appear prominently on-screen between the time he left Family Feud in 2002 and started acting on Baskets and Funny You Should Ask. 
Therefore, it was highly likely that fans who had a habit of seeing him regularly fell into hoaxes and rumors once Anderon's public presence diminished.
People who have had memories of Anderson's death might have seen internet death hoaxes that have been going on for ages. Sadly now his passing is no more a rumor but rather a fact. 
Urged Fans To Vote In 2020 Presidential Election
On September 28, 2020, Louie took to his Instagram to remind his fellow American fans and followers that the time to exercise their fundamental democratic role of voting was closing in.
The Instagram post featured the beloved comic flaunting the proud American flag on his hat.
Considering the current global crisis, the late comic also wore a black face mask with "VOTE" written in white.
Alongside the patriotic snap, the late comedy veteran expressed that he felt privileged to live in a democratic country.
He also announced to his forty-eight thousand strong followers that he would be glad to assist if anyone needed help voting. 
The post came just a few days before the first 2020 presidential debates took off.
Today we remember the late comic in all fondness and pray that wherever he is, he is in a better place.