With Rise In Hostile Comments, Laura Sanko Rarely Flaunts Husband On Social Media
Laura Sanko, a former MMA fighter turned ESPN reporter and a prospective UFC commentator has faced hostile comments from internet fight fans for just doing her job. And that might be the reason she has refrained from posting too much about her husband and kid on social media.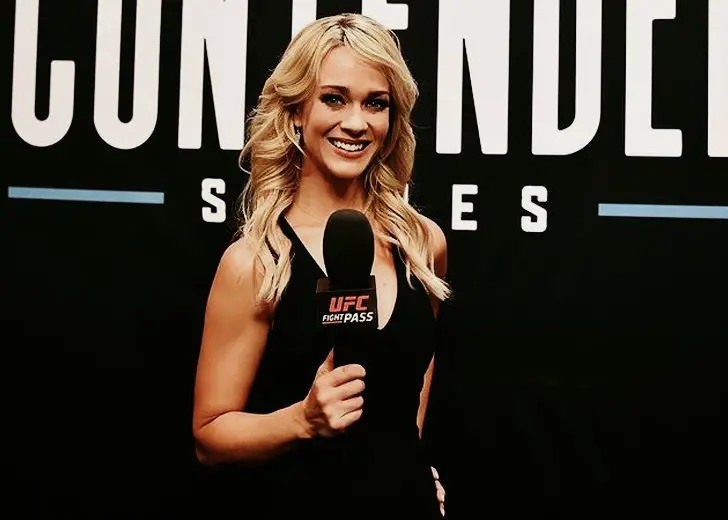 Laura Sanko is for Invicta FC, what the famous Joe Rogan is for UFC. A former MMA fighter, she has gone from fighting to interviewing other fighters and telling stories about their journey to the top of MMA fighting.
However, being a female in sports journalism and broadcasting is not something that everyone appreciates and understands. And in Laura's case, it has gotten to the point where she has been harassed and directed hostility at by some people just for doing her job. This might be the reason the ESPN reporter shares so little about her husband and kid on her social media accounts.
Laura Sanko Has Been Married To Her Husband For Nearly A Decade 
As mentioned above, Laura Sanko does not reveal much about her private life. However, that does not mean that she has never shared anything about her family.
The ESPN reporter is married to an entrepreneur named Nathan Sanko. She has posted a few pictures of him on her Instagram.
On September 7, 2018, Laura took to her Instagram to say a few words about her 6th marriage anniversary with Nathan.
She posted a collage with her partner with the caption: "6 years married...12 years total. Life is always an adventure with you! Thank you for all you do and the life you provide for Burke and me. Happy Anniversary, Nathan." Thus, she revealed that they had been together since 2006.
Laura Sanko has a Son With Her Husband
A year after getting married, Sanko and her husband welcomed a baby boy. Their son, Burke, was born on December 20, 2013.
On his birthday in 2018, she posted some pictures of him, from when he was younger to that day, which showcased how he had grown over the years. The post's caption expressed her love for Burke, saying,
Happy Birthday to the coolest 5-year-old I know! Watching you grow from a baby into a funny, whip-smart, kind-hearted boy has been the best experience of my life. Mommy and Daddy love you more than anything, Burkel Bear.
Sanko revealed further details about Burke's childhood in her Mother's day post on May 13, 2019. According to her caption, it was the first picture she took with her kid. First, she revealed that Burke had to be taken to NICU (Neonatal Intensive Care Unit) soon after his birth. Then, she thanked him for making her a mother and jokingly thanked her husband for his part.
Being a former mixed martial artist, she also teaches her son the same. In a cute video she posted on June 8, 2018, the mother-son duo could be seen sparring.
In the caption, she clarified that Burke wasn't ready enough mentally to have the attention span to learn martial arts properly. She also said that the training, or Bedtime Fight Club (BFC) as she called it, would make him ready for actual classes once he got older and if he wanted to try them out.
Hostile Comments Made Laura Sanko Stop Posting About Her Family
Laura Sanko has never been one of those people who flaunt their husband or family on social media. She has always kept her family affairs to herself.
One of the reasons for that could be the fact that she has always gotten mistreated on social media by MMA fans. As reported by BJ Penn, she used to receive unsolicited explicit pictures and abuse from internet fans.
And this got to an extreme point in August 2019 as she revealed on her social media accounts, both on Twitter and Instagram, that she had gotten death threats.
Her Instagram post started with a quote from Georgia O'Keeffe that read, "I have already settled it for myself, so flattery and criticism go down the same drain, and I am quite free."
Then followed her revelation, same on both platforms, that read, "Such a strange world when I'm threatened to be stabbed and have someone hurt my family—all for doing my job."
However, a person's strength is revealed when they can make fun of a serious situation and laugh in the face of adversity. And she did exactly that, ending her Twitter post with:
Silver lining: I've officially graduated from dick pics to death threats, so I guess that means I'm in the big leagues.
Hopefully, she can shut the haters up for now and for the foreseeable future as she climbs up the ranks to become a UFC commentator. And according to Dana White (via The Sun), the door is open to Sanko soon becoming the first female commentator in UFC!