Kristin Giannas Is A Family Person And One Proud Sister Of A Cop
Kristin Giannas is Good Day Orlando's meteorologist and traffic anchor. She comes from a Greek and Italian family and often posts about her family. But there isn't a single time she has referred to anything remotely associated with her romantic leanings. Know more.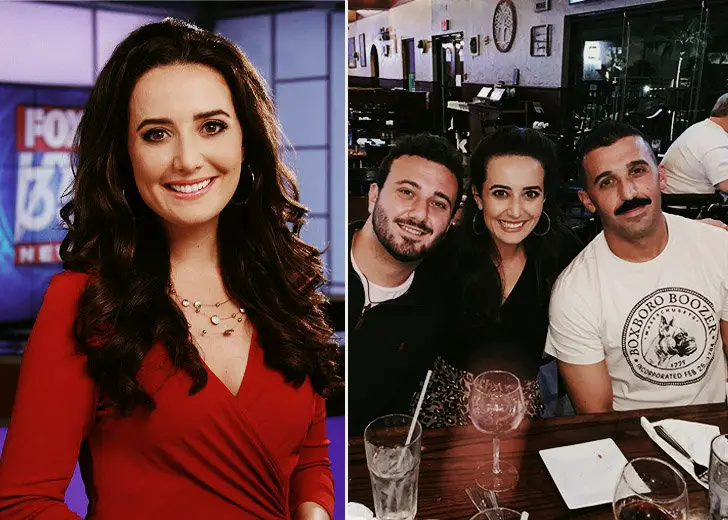 Apart from relaying news about the weather and road conditions, well-known meteorologist and traffic anchor Kristin Giannas, also doesn't shy away from sharing updates on her family. On several occasions, Fox 35's Good Day Orlando's Anchor has been vocal about her family ties, especially with her brother Willian Giannas, a decorated cop.
However, amidst all the personal details, there isn't a single time she has referred to her husband, a boyfriend, or anything remotely associated with her romantic leanings, not even in her social media handles.
Kristin Giannas Grew up in a Blaring Household
Born to a Greek father and Italian mother, Kristin grew up in a family with two distinct cultures.
Talking about her background in Good Day Orlando's "Get to know Kristin Giannas" episode, the meteorologist described her household as loud yet endearing.
I have a big Greek and Italian family. So, my dad's side, they are Greek, my mom's side's Italian. So, just a very loud house. We yell a lot but we are just talking to each other.
Additionally, her parents have been married for 36 years, and, on the occasion of their 36th marriage anniversary, celebrated on July 21, 2020, Kristin even wished them via her Instagram handle. She also showed her appreciation for her parents before making a joke about a lot of yelling in her family. She concluded the saying, "Thank you for showing us that LOVE suffers long but never fails."
For a family to whom yelling is a norm, celebrations take on an entirely jestful meaning replete with dancing and merrymaking. In the same video where she described her household as loud, she revealed that her whole family loved to dance at the Greek festival every year.
One of Her Brother is a Decorated Cop
Kristin also has two brothers, Willian Giannas and Peter Giannas, both of whom she often posts about.
Kristin's brother William is currently serving as an officer in the Clearwater Police Department in Florida. Before serving as a police officer, he was a veteran. She has posted about him on several occasions, including on National Law Enforcement Appreciation Day and Veterans Day. Even her Facebook profile picture shows Kristin in shades posing with her brother in uniform.
William, along with Officer Anastasia Leeman was awarded the Medal of Meritorious Service in July of 2020 for helping a homeless family in December of 2019.
According to the Clearwater Police Department, the two officers came across a homeless family and paid for a hotel room to get them out of the cold. William and Anastasia split the cost of the hotel room and bought the family two large hot pizzas. The two also provided a list of family-friendly shelters the family of three could explore the next day.
Is Kristin Giannas Married or Dating Anyone?
Unlike how open she is with sharing details about her family, her social media is void of her romantic life. She has not been romantically associated with anyone or at least not publicly. Her passion and dedication, so far, has solely been to her family and her career.
Currently part of the Good Day Orlando crew, Kristin Giannas has been involved in broadcast journalism since 2007, as per her LinkedIn profile. With a degree in Telecommunications and News Broadcasting from the University of Florida and a certificate in Climatology and Meteorology, her work in the realm of weather reporting has been commendable, as her FOX 35 bio suggests, where she has covered major hurricanes and rainstorms.