Judy Woodruff Husband, Children | Who Are They & What's Her Net Worth?
Judy has been married to columnist and former reporter...The couple had met during a softball game during Jimmy Carter's presidential campaign in...Judy has three children with her husband...she gave birth just five hours after she appeared on TV... became disabled and brain-damaged after a surgery...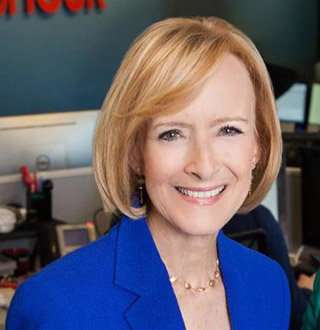 American television anchor Judy Woodruff bore excruciating pain when her son was diagnosed with a spinal disease that left him physically and mentally impaired. While caregivers have been taking care of her son, she finds peace in accepting what has happened and look forward positively.
The Oklahoma native is widely recognized as a longtime host and editor of the show PBS NewsHour. She is also widely known as PBS's White House Correspondent and is famous for her broadcast during important events in the US.
Conversing Along: Judy Woodruff of PBS NewsHour and Lesley Stahl of CBS News talk to each other during the Deadline Club Awards Dinner (Published on 21 May 2018)
Interesting: ESPN Reporter Dianna Russini Age 35 Has Strong Husband Requirement, Who Will Fit?
Up recently, Judy works as the anchor and managing editor of PBS NewsHour, hosting interviews with famous people and covering important events. 
Judy Woodruff Bio: Age, Parents, Education
Judy Woodruff was born in 1946 in Tulsa, Oklahoma. And he celebrates his birthday on every 20 November. 
Her father William H. Woodruff was a chief warrant officer in the Army and her mother Anna Lee Woodruff was a household woman. She has a sister by the name Anita.  
During her early years, she had to move to different places since she was born to an Army family. When she was just five years of age, she moved to Germany and then to Missouri and New Jersey.
She also lived in Taiwan and North Carolina before she settled in Augusta, Georgia at a place called Fort Gordon.
She initially studied for a degree in mathematics from Meredith College in Raleigh, North Carolina and later transferred to Duke University in 1966, where she studied political science.
She was involved as an active student of Duke and was also a member of sorority group Alpha Delta Pi.
Judy Woodruff's Career Rocketed After Carter Elected, Net Worth
During the first summer break of her senior year at Duke University, Judy applied for her first job and was hired as a secretary at news department of ABC affiliate in Atlanta, Georgia (WQXI-TV) where she also presented the weather forecasts on Sundays.
After a year and a half, she left ABC and moved to CBS affiliate WAGA-TV to work as a reporter.
In 1975, she moved to NBC to work as a general assignment reporter based in Atlanta. There, she covered Jimmy Carter's 1976 presidential campaign which heightened Woodruff's career in total as she gained widespread attention.
After Carter won the presidency, she was moved to Washington D.C. to be NBC's White House Correspondent.
The Oklahoma native, age 72, moved to PBS in mid-1983, serving there as a White House Correspondent and an anchor.  And in 1993 she left PBS to move to CNN, only to return to PBS in 2006.
As of now, she is working there as an anchor in its various programs.
You May Like: Disney Star Ethan Wacker Wiki At Age 16; Height, Birthday, Family, Net Worth All Revealed!
With her endeavors, she earns a good salary in PBS as a valuable employee as she has amassed a hefty net worth of $3 million.
Judy Married To Journalist Husband, Al Hunt
Judy is married to the columnist, and former reporter Al Hunt and the family lives in Washington D.C.
The couple had met during a softball game during Jimmy Carter's presidential campaign in 1976. After they got along, they dated for about four years and finally tied the knot on 5 April 1980.
Judy has three children with her husband: two sons and a daughter. Her daughter Lauren was adopted from Korea and of the two sons, Benjamin and Jeffrey, Jeffrey has a severe nervous spinal disease.
Son Jeffrey With Spina Bifida Since Young
Judy gave birth to Jeffrey just five hours after she appeared on TV. When he was born, he was diagnosed with a moderate case of spina bifida.
In 1998, Jeffrey became disabled and brain-damaged after surgery, due to which she had to reduce her workload in CNN.

The Family: Judy Woodruff with her husband, two sons and a daughter (Source: gettyimages.com)
Read Also: Stacy Keibler & Husband Jared Pobre Welcome Second Baby Together! Family Expanding
Her son is now 36 years of age and is physically and mentally impaired due to his disease. However, Judy finds positivity amongst pain and sadness. She said, in a keynote speech at NINR Science of Caregiving Summit:
We decided the only way to get through this was to be optimistic, to assume the best, to stay cheerful and to stay busy and I know all of this, in the end, has made a difference for Jeff...We didn't dwell on the bad stuff; we were always looking ahead.
This undoubtedly has helped Judy and her husband to stay clear of all the sadness and negativity. They strive but try to find peace with what they have got for themselves and their children.