Joseph Baena Shares Pre-workout Selfie with Father Arnold Schwarzenegger
Joseph Baena followed his father into the bodybuilding world.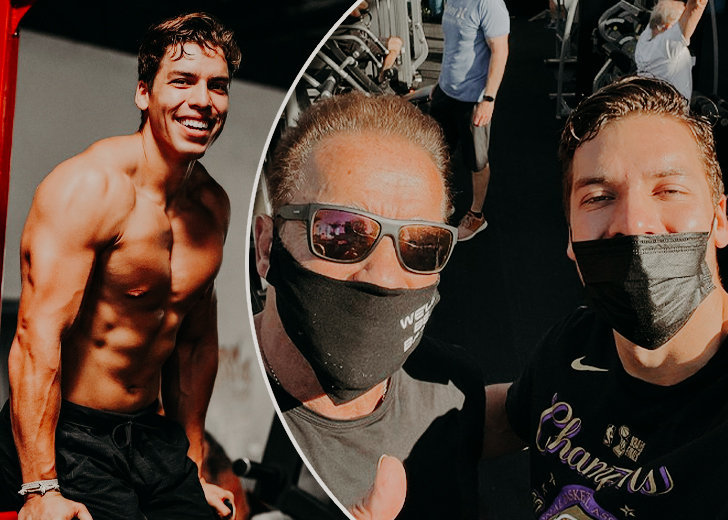 You just can't keep Arnold Schwarzenegger and his son Joseph Baena out of the gym. 
The 23-year-old is a huge fitness lover; always showing off his gains on social media and even recreating and perfecting some of his father's most iconic physique poses.
On May 22, Baena took to Instagram to share a selfie of him and his swole father pumping iron. 
In the captions, he wrote that training with his austere father was onerous, and there was absolutely no room for cutting corners.
He also quipped that he would "be hurting tomorrow" after working out with one of the most brutal trainers.
He then advised his followers that having a partner to work out with was excellent to build gains. 
Schwarzenegger's Affair
Baena is the love child of Schwarzenegger and his former housekeeper, Mildred Baena, and although he was born in 1997, it was only revealed in 2011 that he was Arnie's son. 
That same year, Schwarzenegger and his ex-wife Maria Shriver ended their 25 years of marriage and Shriver moved out of their mansion in Brentwood, California.
She filed for divorce after she learned that Baena was born out of an affair. 
During an interview with Good Morning America, the Terminator star confessed that Shriver knew about the affair years before she actually confronted him. He confessed he had lied to his then-wife over the fear of losing her and breaking the family apart. 
Well, I just didn't know how to. I was just too scared about losing everything, losing her, losing the family. I just didn't know how.
Another aspect addressed in the interview was the actor's decision to keep Mildred in their house, even after the affair.
He iterated that it was the best way he could have handled everything, adding that dismissing her would have been unjust. He then added that he was optimistic for a reconciliation. 
Schwarzenegger also has four children — Patrick, Katherine, Christina, and Christopher with Shriver.
Baena Turned Out Exactly like Schwarzenegger
In Schwarzenegger's book, Total Recall: My Unbelievably True Life Story, he recalled the moment he learned of his son Baena. The politician confessed that he tried to convince himself that Mildred's husband was the child's father.
However, as Baena grew up, Schwarzenegger noticed he looked just like him. The actor wrote that it was indisputable who Baena's father was.
Although the actor considers the affair a mistake, he has taken care of Joseph. 
Not only is their resemblance clear, especially because Baena has the same swole physique as his father, but he also followed Schwarzenegger into the bodybuilding world.
In an interview with Howard Stern on his SiriusXM radio show, Schwarzenegger said he had a "fantastic" relationship with all his children, including Joseph. "Joseph's terrific, and he totally understands the situation," he added. 
Baena too gushed about his father in an interview with Hollywood Life, stating he had nothing negative to say about his father and how they spend a lot of time together.