Joe Carretta's Wife Shares Heartbreaking Story Of Miscarriage
Joe Carretta, a businessman, and entrepreneur has been married to his QVC host wife Shawn Killinger for a while now. They adopted a little girl after Shawn had a miscarriage. However, Shawn is also a stepmother to two kids from Joe's previous relationship.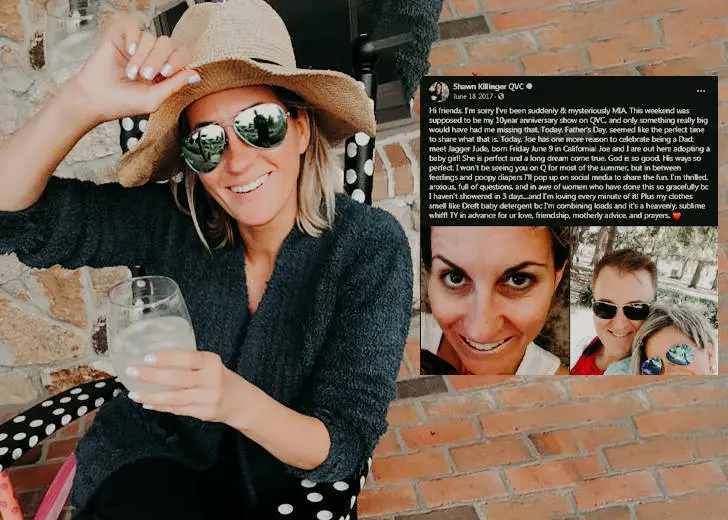 Joseph Carretta or Joe is an education and leadership trainer who helps organizations shape their team, work environment, and culture better. He is mostly recognized through his association with his wife, Shawn Killinger. Killinger is a TV personality prominently known for hosting the famous home shopping broadcast channel QVC.
Aside from their profession, Carretta and Killinger are doting parents to a three-year-old daughter named Jagger Jude. While many might not know this, Carretta's wife went through a miscarriage at one point in her life. Both Killinger and Carretta did not let the incident define their life and continued to love their daughter and make her the center of their world.
Joe Carretta And Wife Shawn Killinger Married In 2013
Caretta and his partner, Killinger, have been married since April 13, 2013. Or at least this is what Carretta's wife shares on her Instagram.
According to Killinger's post, Carretta and she met on an online dating site, eharmony.com, which was the first time she ever used one. And also the last time after meeting and falling in love with Carretta. 
Killinger elaborated the post's caption by writing that she was a lucky woman to have married the "greatest man she ever met."
Currently, the couple is in their 12th year of marriage.
Joe Carretta's Wife Opened Up About Miscarriage in 2014
Not many know this, but Caretta's wife Shawn Killinger had gone through a traumatic miscarriage in 2014.
Killinger was always known to be open about her private life with the followers of her QVC show. But her pregnancy and miscarriage was one particular incident that she had kept hidden from the general public until she was ready to share.
On 8 December of 2014, she finally took to the QVC community to share the harrowing experience. She wrote a long letter and addressed how her absence from the community had caused rumors that affected her personal life.
Then, she wrote she had to take the opportunity to address "something painful and private" that had happened as she was unable to bear the uncertainty the gossips were causing in her life.
In the letter, she divulged right in and announced that she and her husband recently lost a baby girl while being 5-months pregnant. She also disclosed the reason why she hid her pregnancy from the public.
I know you probably wonder why in these situations "we" wait so long, "It's so wonderful and obvious, why doesn't she just tell us she's pregnant already?!". This is why............because having to undo the greatest joy with news of a loss, on a very public stage, is even more painful.
Killinger did not linger on her misfortune long and immediately started taking the high note; she thanked her friends and family for being there to support her and her husband during the turbulent time. 
Moreover, she added God had a plan for everyone even though they did not understand it most of the time. Then, she urged the community to keep having faith and believing in God despite the bad time; especially in bad times because it was Him who allowed to walk his people through the pain and become stronger. 
That's not all; Killinger also shared that she did not want to linger in pain. So, she urged her viewers not to remind her of the tragic loss when they called in during the show. She wanted to live back in the old days before her loss, and that was being in the air, cracking jokes with her co-hosts and laughing till it lifted her soul. 
Finally, she closed off her letter on a positive note and told her fans that they would see her soon, and she could not wait to be back in the studio. It was Autumn time, and there was something in Autumn air that healed the soul, as per Killinger. 
Joe Carretta And Wife Adopted A Daughter in 2017
Carretta and his wife have a daughter named Jagger Jude together. Apparently, their baby girl is not biological but adopted. Unlike most adoptions, the couple adopted Jude when she was an infant.
They first made their adoption public in Killinger's Facebook profile on June 18, 2017. According to the FB post, they adopted Jude immediately after her birth on June 9, 2017.
Killinger started the post by apologizing to her fans about her hiatus from her show on QVC. She stated that had it not been for her absence from the show, she would have celebrated her 10-year-anniversary show on QVC.
She then went to give explanations as to why that was the case and revealed that she was taken up by the adoption process, a particular reason that was hard not to forgive her for. 

As of 2020, their daughter Jude is three years old.
Joe Carretta Is Father to Two Sons From Previous Marriage
Carretta has two other children, both sons from his previous marriage. His older son is Jordan Carretta, and his younger son is Joseph Carretta, or 'Joey' as Killinger likes to call him. Joseph is 21 years old as of now.
But, it is unclear how old his elder son is and who his first wife was.
Nevertheless, it is transparent that Joe's current wife, Shawn Killinger, shares a healthy bond with the kids. She often posts pictures with them. Killinger shared a graduation picture of her eldest step-son, Jordan, in June 2019. And judging by the picture, it looks like it was Jordan's university graduation that Kilinger and Carretta had attended.
Joe Carretta And Shawn Killinger Celebrate Daughter's Birthday
It certainly looks like Carreta and his wife are not letting their 2014 setback define their future as they seem to be happy parents to three.
While their two sons have already grown up and ready to start on their own, it is their youngest daughter, Jude, that needs tending to. Not just because of her age, but Jude was prone to bouts of seizure, as Killinger's Instagram post of May 2019 would suggest. In the post, Carretta and Killinger took the time to thank veterans for their service to the country and mentioned how one particular veteran came to the rescue of their child when she was having a seizure.
The incident may not have been much of serious concern as the couple certainly are doting parents and make her the center of their world. No wonder their baby daughter is what keeps both Carretta and QVC host Killinger busy. Even Killinger's Instagram is gradually getting filled by Jude as she grows up. 
On June 10, 2020, Killinger and Carretta celebrated Jude's birthday together with more than a dozen of her favorite muffins. The kid certainly looked exuberant like any kid with two loving parents would.