Is Alberti Popaj Still On QVC, And What Is He Doing Now?
Alberti Popaj took an unexpectedly long vacation in October 2020 that pushed his fans into wondering whether he was still with QVC.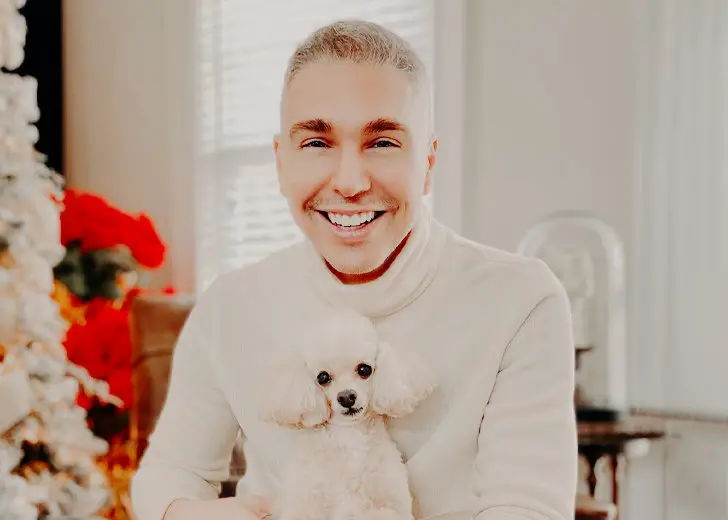 Alberti Popaj has been working as a host for QVC, Quality Value Convenience, for a long time. He first started working as a program host on the network in January 2014 and had worked as Director of QVC for two years prior to that.
However, in October 2020, he gave his fans a good scare. He failed to mention his return date on a vacation announcement, which sent the fans into panic mode.
So, is he still working at QVC? Or did the concern of his fans actually turn out to be true?
Is Alberti Popaj Still with QVC?
Yes, Alberti Popaj is still associated with QVC, and his Instagram bio works as a shred of evidence here. His bio reads, "QVC's guy with an eye for style," which suggests that he is proudly associated with the brand.
The question, however, arose after Popaj made an announcement through his social media that he was going to go on vacation for a few days on October 2, 2020. He stated that he would spend a few days with his family and his two cute little dogs.
Cheers friends! I'll be off for a few days spending time with these two and with family. Just want you all to know.
He ended the post by saying that he could not wait to be back working again. "I can't wait to be back on air with you very soon!!"
However, he did not mention any return dates in his message.
Popaj Returned Shortly after and Put the Fans' Minds to Rest
As a host of a top-rated daily show with thousands of devoted viewers, he raised a bit of concern for his fans by not providing a return date. Having not returned in "a few days" as he had promised, his fans had started to wonder what had actually happened to him.
Some of the fans had started to speculate that Popaj had been fired from the show. This was a genuine concern for the fans as QVC had previously let go of a few other hosts like Antonella Nester, Gabrielle Kerr, Stacey Stauffer, and Kristine Zell due to the precarious situation that the COVID-19 pandemic brought forth.
Others were also getting worried, thinking whether he had tested positive for COVID-19.
Thankfully, neither was the case with Popaj. He announced his return to Gourmet Holiday on October 21, 2020, through a post on Facebook and Instagram.
His Fans Couldn't Be More Glad on His Return
Popaj's fans were ecstatic about his comeback, and the comments on his Facebook post demonstrate the enthusiasm. One fan wrote, "So glad you're back. I've been wondering where you were. I will be tuning into Gourmet Holiday this afternoon! So good to see you."
Welcome back! Everyone said you were on vacation but you were gone so long I was worried you weren't coming back. SO happy to see you!
"So glad you are back. I was afraid they had gotten rid of you too. The Gourmet shows haven't been the same," another added.
Pointing out that his vacation was longer than fans expected, Rita Schultz commented, "Your vacation lasted longer than I expected. I was getting worried. I'm SO glad you're back!"
"Welcome back! Everyone said you were on vacation but you were gone so long I was worried you weren't coming back. SO happy to see you!" wrote another user, encapsulating what everyone had been feeling during his absence.
Melissa Charlier, too, expressed her concerns writing, "Welcome back! I was so afraid you tested positive. Stay safe."
After his much-needed but unexpectedly long vacation, he is back to doing what he does best - providing the viewers with the best information regarding various products in a fun and entertaining way on the Gourmet Holiday, as evident through his Facebook posts.