Jericka Duncan Has A Supportive Family. But Is She Married?
Jericka Duncan is an American national correspondent known for her news coverage for the New York city-based CBS This Morning. It is known that she has a daughter, however, she has not revealed if she is married and who her husband is. Nonetheless, it is known that she has a very supportive family, who gets worried about her due to her involvement in protests to cover the news.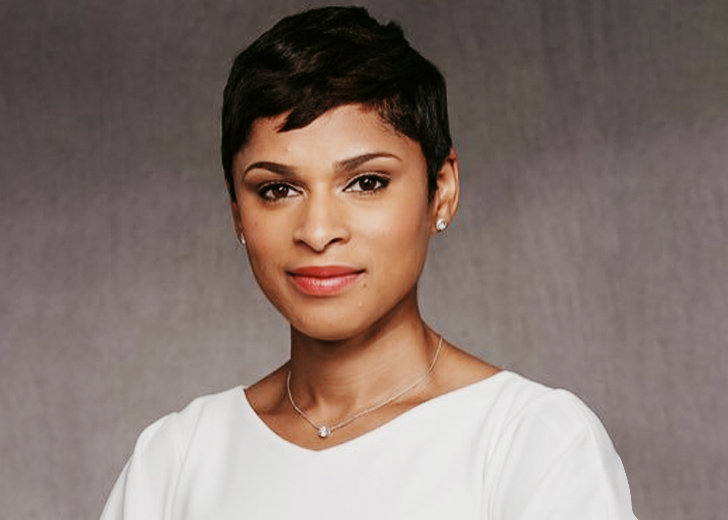 Being an on-field reporter, especially during a time of crisis, can be fraught with life-threatening dangers. For journalist Jericka Duncan, the American National Correspondent for CBS This Morning, reporting right from the midst of catastrophe is an occupational hazard. The Emmy-nominated journalist has been right on the scene of disasters such as plane crash, hurricanes, and shootings. She is also no stranger to covering the recent large-scale Black Lives Matter even during throes of a global pandemic.
Reeling under such perils, it's no wonder that Jericka's family, especially her daughter, Journey, worries about her well-being. However, while reporter Duncan is open about her daughter's concerns, it's still unknown if she has a husband waiting for her to get back safe from work. 
Jericka Duncan Shares Input on Daughter Journey But Maintains Silence Over Her Father
The CBS correspondent, Jericka Duncan, has been tight-lipped about her daughter's father. So far, she has not shared any details about whether she is married or not, or even if she is, hasn't revealed her husband. 
Moreover, there are no pictures in Jericka's social media profiles that might even remotely allude towards her romantic leanings.
While Duncan might have chosen to keep that part of her life away from the limelight, she doesn't shy away from demonstrating her love towards her daughter and her father, Ronnie Duncan, a renowned multimedia journalist. 
Following the lockdown measures and the 'work from home' norm, Jericka's daughter has even made a few appearances alongside her reporter mom.
Jericka Has A Very Supportive Family
The Ohio University graduate, Jericka Duncan, was born on August 12, 1983. She is the eldest child of Ronnie Duncan and Yvonne Duncan. 
The Emmy-nominated journalist has had the fortune of having very supportive family members, mainly her father. Her father, Ronnie, constantly shares posts about his eldest child, pouring his love towards her while also expressing his pride over her journalist daughter's achievements.
On August 12, 2019, her father shared a very special post in which he first wished Jericka on her 36th birthday. Thereafter, he mentioned how much of a hard-working person Jericka is and that she is a mentor to her younger siblings. In addition to that, he stated that she is a great mother of his only granddaughter. At last, he ended his post by saying that he is blessed to be her father.
Apart from this, Ronnie is also a loving granddad who just can't help himself from showering words of adoration for his only granddaughter, Journey. 
He also seems to act as a mentor for young Journey, who is six-years-old as of 2020, as he shares his wisdom and spends quality time with Journey and Jericka, as is evident from Twitter and Facebook posts. In the same Facebook post from June 2016, Ronnie, via Facebook, shares a life lesson with his daughter: 
Just like the Cavaliers, my Granddaughter slipped and got right back up like a Real Champion. Life lesson, always rise up on your own and Never let anything or anyone hold you down.
Jericka's Family Are Concerned Over Her Safety
The 2005 NAACP Image Award recipient, Jericka Duncan, travels worldwide to cover the latest news and bring it to the public. And, in the process of doing that, sometimes people, even reporters, get hurt.
In her career, Jericka has successfully covered some main-stream news stories such as the deaths of four Marines and a Navy sailor in Chattanooga, the 70th anniversary of D-Day and Normandy, Hurricane Irene, a plane crash near Buffalo, the search for Ralph "Bucky" Phillips—the longest manhunt for a fugitive in history, and many more.
Much recently, her family got real-worried in 2020 when she was appointed to cover the 'Black Rights Movement' happening across the United States. During a talk with MSN.com, published on June 4, 2020, Jericka revealed that her daughter and family were anxious about her safety and said they were praying for her.
While it's natural for loved ones to get concerned over safety issues, Jericka, as per the MSN segment, is lucky to have a daughter who understands and is in the loop with what's going on around the world and a father, who like her, is a journalist and respects the importance of her job.