Jenna Ellis Might Have $1 Million Plus Net Worth, Data Suggests
Jenna Ellis is the senior legal advisor for the Trump Re-election Campaign 2020. She is also a very accomplished person in the American law field. Her experience and work history proves that she has a decent net worth from her past and present jobs.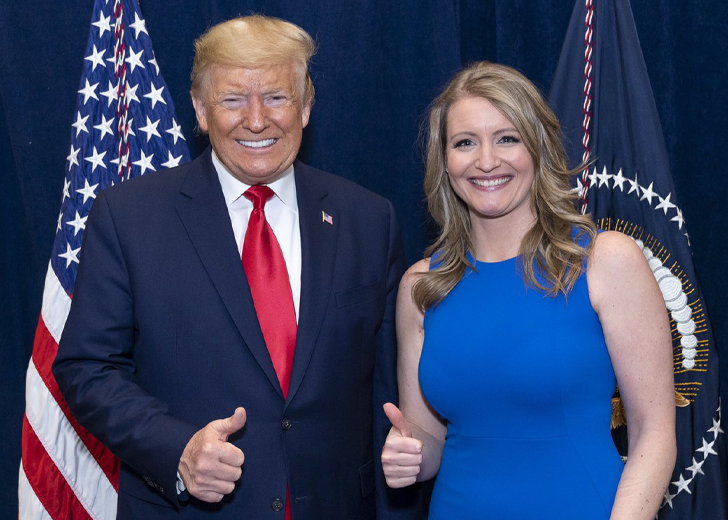 Before her recruitment as one of the senior legal advisor for Donald Trump's 2020 election campaign, Jenna Ellis, the constitutional law attorney, already had a lot on her plate. 
Having worked as a constitutional law attorney, criminal law attorney, and law professor at the Colorado Christian University while also authoring a book, 'The Legal Basis for a Moral Constitution,' Ellis's expertise has probably shot her net worth up to a significant amount.
Jenna Ellis is the Senior Legal Advisor for the Trump Presidential Campaign 2020 
Jenna Ellis's legal work history, as well as her Christian background, might have been the factors contributing to her appointment as the Senior Legal Advisor for the Trump Re-election Campaign.
According to her LinkedIn bio, the constitutional law attorney was selected in November of 2019.

Jenna Ellis with POTUS Donald J. Trump at the White House in January 2020 (Photo: Jenna Ellis's Facebook)
If we connect her appointment and position to her financial side of things, it could be assumed that Ellis is getting paid in hundreds of thousands of dollars per year for her services to the Trump campaign, which will be explored and analyzed shortly.
What does Jenna Ellis' Linkedin say About Her Work History And Experience?
Ellis's LinkedIn reveals almost all of her past jobs. According to it, she began her professional career in 2011 as a law clerk, which lasted less than a year.
She then made a jump to be a Contract Attorney for the U.S. Department of State in 2011 for approximately a year.
In 2012, Ellis moved back to her native state of Colorado and started working as a Deputy District Attorney, which too didn't last for more than a year. 
In the subsequent year, she began her private practice as Attorney At Law, while also becoming an assistant professor of Legal Studies at the Colorado Christian University from 2015 through 2018.
The year 2018 presented her with the opportunity to become the DIrector of Dobson Policy Center at the James Dobson Family Institute — a post she held for a year.
Midway through her tenure at CCU, she also started writing for the Beltway Confidential Blog in Washington Examiner — a position that she has held since 2017.
How Much is Jenna Ellis's Net Worth?
It is imperative to note that Ellis has never revealed how much she got paid during any of her jobs. However, we can look at the available data regarding how much the average salary is for these positions and jobs.
Indeed reports that a law clerk receives an average of $67,815 per year as of October 2020. However, as Ellis held the position a long time ago, she might have received a little less than the current average.
According to Indeed, her job as a Contract Attorney at the U.S. Department of State should have paid her somewhere around $146,232 a year, which happens to be 60 percent above the national salary average in the US.
Moving on to her job as a Deputy District Attorney, Glassdoor reports that the position pays $166,339 on average per annum as of June 2020.
Being a professor might be the least paying job she has done to date. According to Glassdoor, her job as an Assistant Professor of Legal Studies at CCU might have paid her somewhere around $80,738 per year. Ellis held the teaching position from 2015 to 2018, but since the given data is from 2013, it can be inferred that her earnings were higher than the stipulated amount. 
Private law practices are also a very high-paying business. Zip Recruiter's data shows that a Constitutional lawyer gets paid around $88,139 in a year on average, with the lowest dropping to $24,000 and the highest income climbing to a whopping $216,500. A look at her expertise and experience would suggest that she is, most probably, getting paid more than the average.
Finally, we arrive at the job on focus here. Glassdoor suggests that a Senior Legal Advisor gets paid around $129,380 on average per year. However, it might not be an overstatement to say that Ellis might be getting paid a lot more than that considering the wealth of the candidate she is rooting for, President Donald Trump.
All these suggest that Ellis's net worth could be upward of a million dollars, but that is just an assumption on our part. We will have to wait for a credible financial source to review her financial standings before jumping to any particular figure.
Jenna Ellis also Makes a Few Bucks from Her Book Sales
Jenna Ellis's book, "The Legal Basis for a Moral Constitution: A Guide for Christians to Understand America's Constitutional Crisis," was released on December 22, 2015.
The 244-pages-long book can be bought from Amazon. The Kindle version of the book costs $5.99, the hardcover version costs $35.95, and the illustrated paperback version of the book is on sale for $19.95.
Amazon has not revealed how many books have been sold from the site since its release. However, there are a few rankings available. Ellis's book ranks in the 542,655th position in the Best Sellers Rank, and 850th position in the General Constitutional Law books rank.