KUTV Heidi Hatch Wiki: Age, Husband, Family, Salary
Heidi serves as an anchor/reporter for ...he was born on 4th November ..She has been married for an over...and happy marriage with her husband,...her number of Instagram and Twitter posts shows her expressing her undivided love and care towards her husband...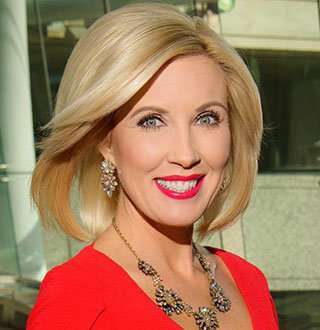 Having a perfect life seems to be an impossible thought for many but for Heidi Hatch, life could not be more perfect than it already is. She is a mother, a wife but more importantly a news reporter. Her job demands her to reach out to the millions of people around the globe and give them the current happenings of the world.
Read More: WABC-TV Lauren Glassberg Married, Relationship, Parents
For over a decade Heidi has been showcasing her beauty and her talent on-camera as a news anchor and a reporter where she reports on major world events, disasters and more. As delightful on-camera, Hatch is no different off-camera. She can be seen spending her free time with her family and having a good time. She is also someone who likes to keep her beauty at its best which can be seen from her tweets where she talks about her makeups and haircut.
The following Wiki details give you more insight on Heidi Hatch's Life.
How Tall Is Heidi Hatch? Includes Age, Bio & More Below
Heidi Hatch was born on 4th November 1975 in Utah, United States. She holds American nationality. As for her height, the exact measurement has not been verified but she has posted a Twitter post which gives us the slightest hint about her height.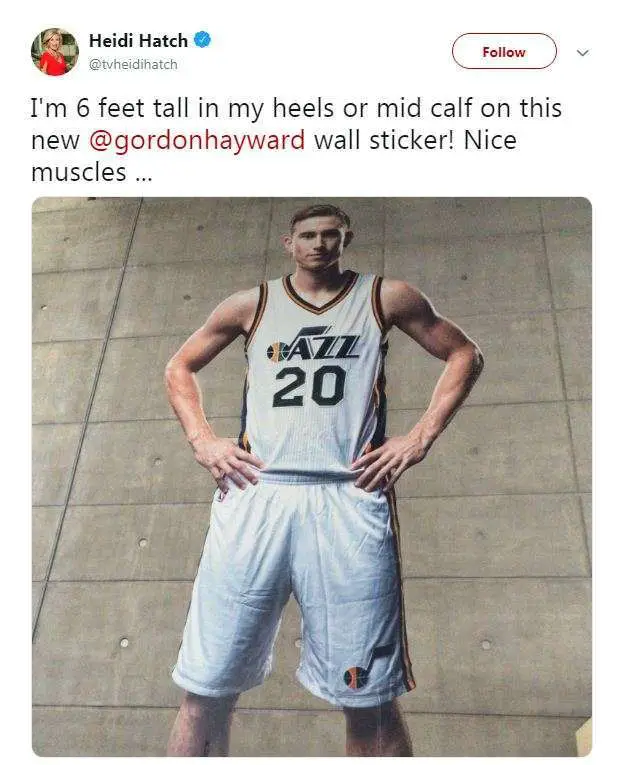 Stand Tall: Reporter Heidi Hatch hints about her height while referring to a Gordon Hayward sticker. (Photo: Heidi's Twitter | 4th Nov 2015)
She is a graduate from the Brigham Young University with an associate degree in communications. After which she graduated from Southern Utah University with a degree in Broadcasting and Journalism.
Heidi Enjoys A Happy Married Life With Husband
Heidi Hatch has been married for over 23 years. She enjoys a wonderful and happy marriage with her husband, Derek. However, detailed information about her marriage and her wedding have remained undisclosed as of yet.
Interesting: What Is Fox 29 Alex Holley Age? Engaged, Salary
But her number of Instagram and Twitter posts shows her expressing her undivided love and care towards her husband. The two still share the same feelings they shared when they first started their journey of love — something which is rare to achieve.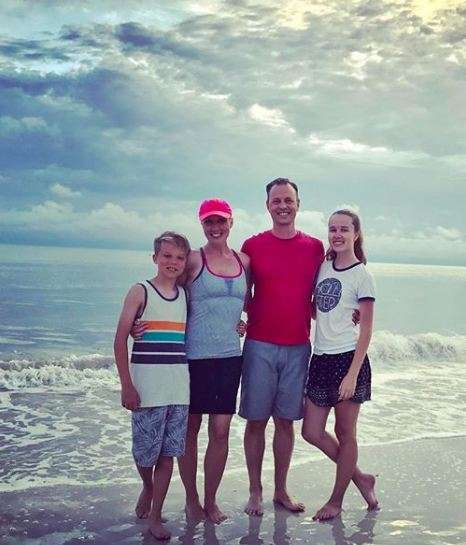 Happy Family: Reporter Heidi Hatch with her husband and her children enjoying a nice family moment by the beach. (Photo: Heidi's Instagram| June 11, 2017)
With a happy married life, Heidi has more bundle of joys in her life in the form of her two children, Hailey and Jordan. Her social media posts mostly only consists of her spending quality time with her husband and her children. It seems family comes first in the Hatch'slife.
Let's Find Out Heidi Hatch Salary At KUTV
Heidi has been associated in the world of journalism for about 20 years and has carved her way to the very top. Her professionalism at her work has gained her fame as well as fortune.
She began her journalism career in 1998 when she started working as a weekend reporter/anchor for KPAX TV CBS. After which she switched teams and joined KTVX-TV in 2001 where she worked for five years before landing a job as a morning news anchor at Fox 35. As of present Heidi serves as an anchor/reporter for KUTV 2 News CBS in Salt Lake City.
You Might Also Enjoy: Linda O'leary Bio: Age, Net Worth, Wedding, Husband
Likewise, an illustrious career is usually associated with a decent paycheck. The exact details regarding Heidi have remained undisclosed, but as per reports of paysa the average salary for news reporter in Salt Lake City is $60,410. Heidi has been applying her trade in journalism for a very long period. So it could be safe to assume that her salary could be above average.