Meet the 'Heartland Docs, DVM' Cast — Husband and Wife Veterinary Team of Ben Schroeder and Erin Schroeder
Ben Schroeder and Erin Schroeder are the lead cast of the National Geographic show 'Heartland Docs, DVM.'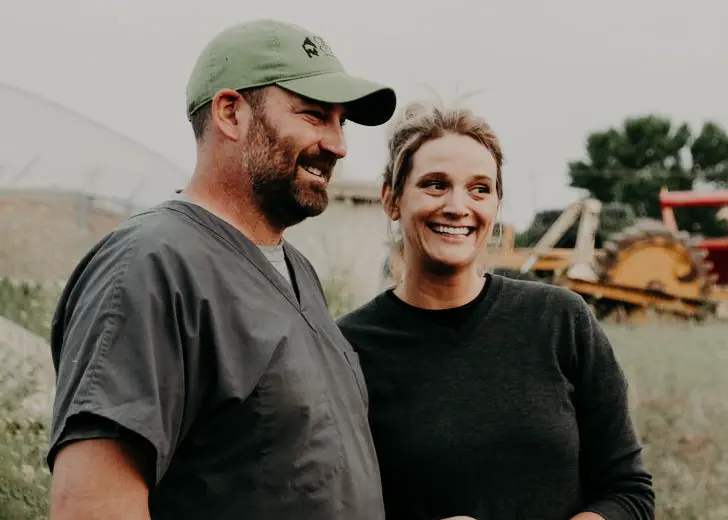 Heartland Docs, DVM is a Nat Geo Wild show that chronicles the adventures of Ben Schroeder and his wife Erin Schroeder as veterinarians. 
The show has been a hit since its premiere on January 25, 2020.
It showcases the efforts of the husband-wife duo to save animals in a rural village in Hartington, Nebraska. The married couple form the show's central cast and is often accompanied by their children.
Schroeder and Wife Are College Sweethearts
Schroeder and his wife Erin met while studying at the Kansas State University College of Veterinary Medicine. By the time they graduated, they were head over heels in love with one another. 
More so, Erin was enamored with the certified beef quality assurance trainer. She knew Schroeder was the one for her from the very start.
So much so, she was ready to leave her hometown of upstate New York and start a new life with Schroeder in Hartington, Nebraska — weathering spring tornadoes, winter blizzards, and even blistering summer heatwaves.
The lovely couple stayed in a long-distance relationship after Schroeder returned to his home after graduation. Soon, Erin and her family visited his hometown, and the pair married. 
They welcomed two sons into their family. Both teenagers now, Charlie was born on June 3, 2003, and Chase was born on June 25, 2005.
How They Ended up in the 'Heartland Docs, DVM' Cast
Veterinary was something Schroeder was born into. Son of a retired veterinarian doctor John Schroeder, he grew up assisting his father in treating animals.
After he graduated, he became a member of the Cedar County Veterinary Services, a foundation that his dad established in 1970. He was always into the family business.
Things changed for good when he married Erin. Acquainted with the family business, she decided that their life wouldn't be limited to just veterinary.
So when they got the chance, the duo joined the real estate business, renovating buildings and the town's historic hotel. 
Their phenomenal skills caught the eyes of a local paper that wrote in length about their work. Shortly after, the pair got calls from TV producers who wanted them to do a remodeling show. 
But as full-time veterinary practitioners, they couldn't accept the deal. Later, Glass Entertainment approached them and shot a pilot episode of what they did daily — tending the injured animals. And the rest is history. 
'Heartland Docs, DVM' Is a Hit
The first episode of Heartland Docs, DVM aired through National Geographic Wild on January 25, 2020, and since then, there's been no turning back. 
To say it has been a hit would be an understatement, for it successfully aired its third season on February 13, 2021.
Until the show's third season, the veterinarian couple treated over 20 species, ranging from cows and hedgehogs to turtles. Their client includes patients within a 300-mile radius of their hometown.
And as for the cast, their entourage includes the crew members and their sons, who are expected to make more appearances on season 4 of Heartland Docs, DVM.
During an interview with Park City Television in February 2021, Erin shared the viewers would see more of her children's contribution to the noble work.