Openly Gay Graham Norton On Married, Partner & Dating Apps
He even shared that he was still happy to be single and claimed that he did not need to get married or have a partner to stay happy...The TV host, 55 years of age, was educated at Bandon Grammar School...He enjoys a mind-boggling net worth of more than $30 million...In 2015 he started dating a new boyfriend.

Openly gay Graham Norton is one famous Irish television and radio presenter. His fame is complimented well by the limelight he gathers for his personal life; he has always been on the headlines for his numerous relationships. On top of that, he has been vocal about dating apps and also how finding the right partner is challenging due to his gay sexuality.
Today, get familiar with his dating history, boyfriends, and know what he has to say about getting married!
Norton Says Dating App Tinder Not Grindr—For BBC Workers
The Irish television presenter's love-life has seen its fair share of ups and downs over time.
In June 2018, he revealed that he could not use the gay dating and hookup app Grindr to find a perfect partner because he worked for the BBC. Speaking to Katie Couric on one of her podcast, the TV host he lamented about his inability to use Grindr saying:
No, I couldn't do Grindr, because you know, of what it is, and I work for the BBC and I felt Tinder was socially acceptable, I could do Tinder, but no more.
Norton had previously tried his hands on dating app Tinder in 2015, with a successful match.
His Relationship History
Norton's relationship with his partners has been a roller coaster full of ups and downs.
Read also: Fiona Bruce & Husband's Salary & Net Worth Gives Freedom & Children Safety
He was dating boyfriend Scott Michaels for five years until they split in 2000. The most high profile gay couple of the millennium had a public relationship. They even lived together. However, they had to separate due to the growing differences in fame and success. Scott claimed that Norton's quest to make it big in the entertainment industry had impeded their relationship leading to their breakup. 
Scott, in an interview with Mirror in 2017, said:
I don't miss being in Graham's world but I have no doubt his ­determination to be famous ended our relationship.
After the split, Norton dated a young man named Kristian Seeber and split with him in 2006. Then, he started dating Trevor Patterson in 2011. Their relationship ended after two years. Next, the television presenter dated a marketing consultant named Andrew Smith. 
The couple was seen dining at East London Restaurant over a weekend on the occasion of Norton's 52nd birthday. The television celebrity even shared pictures on social media about the romantic candlelight dinner date.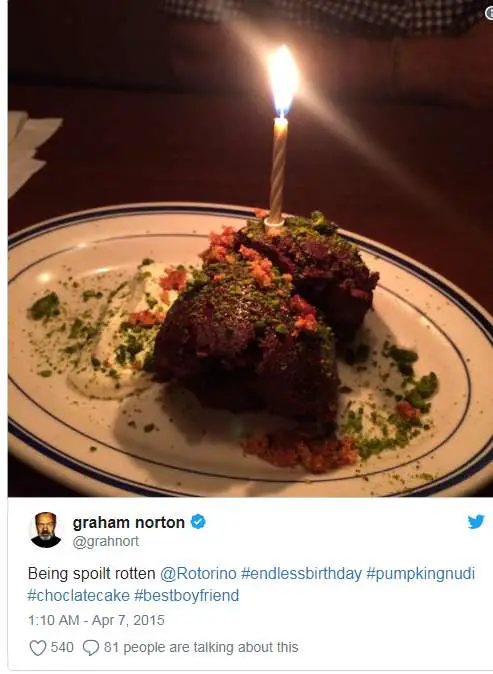 Best Boyfriend: Graham posts a picture of a chocolate cake on a romantic date night with his boyfriend, Andrew Smith (Photo: Graham Norton's Twitter)
However, as with his previous relationship, this one also petered between the partners. The couple separated in 2015, and their break-up came to light after a Norton talked about his past relationship with The Guardian in 2017.
I've failed all my relationship exams, and yes it's a different life, but I'm still living.
A year after the interview, Mirror reported that Norton was in a relationship with a Graham Norton Show member. It was also stated that he was the happiest he had been in years. But, no further progress on the relationship with his boyfriend surfaced out from then.
Is Norton Married?
Norton may have found men to be his boyfriend multiple times. However, he hasn't yet found the one man to call his husband. He is unmarried and, he claims that finding a perfect partner is hard for him because he is gay.
While talking to the Mirror in 2015, he said that males were more resentful than females when dating a famous partner. They needed to feel equal with their counterparts, while the females would do the job per se. Norton stressed that his statement would "sound sexist, but that doesn't mean it's any less true." He said: 
If I were a straight man, my female partner would have a role in the eyes of society. She would be the mother of my children, my hostess, the person on my arm at red carpet events. She would have a defined function...But that's not the case if your partner is male. Every man – no matter how young or fey – has something of the alpha in him.
While he has been vocal about the difficulty of finding a perfect husband material, the comedian has also shared that he relishes his singlehood. In an interview with the Mirror, he had claimed that he did not need to get married or have a partner to stay happy.
You're far better off finding ways to enjoy the life you're living than mourning the life you're not, which is a double whammy of unhappiness.
His Bio: Age, Parents, Education
The Graham Norton Show host was born as Graham William Walker in Dublin, Ireland, on April 4, 1963. He grew up in Bandon, County Cork. His father, Billy Norton, a sales representative, was from County Wicklow, and his mother, Rhoda Norton, was from Belfast. He also has a sister named Paula Norton. 
He got educated at Bandon Grammar School and then attended the University College, Cork. He eventually moved to London and studied at the Central School of Speech and Drama. He is 5 feet and 8 inches in height.
His Net Worth Revealed
After almost three-decades-long dedication in the field of broadcasting—both television and radio, Norton has made an indelible mark in the scene of comedy along with vast riches. People enjoy his shows and his flamboyant presentation more than anything.
Previously, his salary was £850,000 to £899,999. It went through a cut and was deduced to £600,000-£609,999—as per the 2017/2018 BBC report 'Highest-Paid BBC Employees.'
Interesting: Jessica Graf & Boyfriend Engaged! Ethnicity, Parents, Nationality | Details
The TV host's net worth, in turn, has seen a surge. He enjoys a mind-boggling net worth of more than $30 million has increased to $40 million, which is still on the rise every passing day.