A Look at Ewan Mcgregor's Hairstyles through the Years
Every single hairstyle Ewan McGregor has sported to date has left fans swooning for him.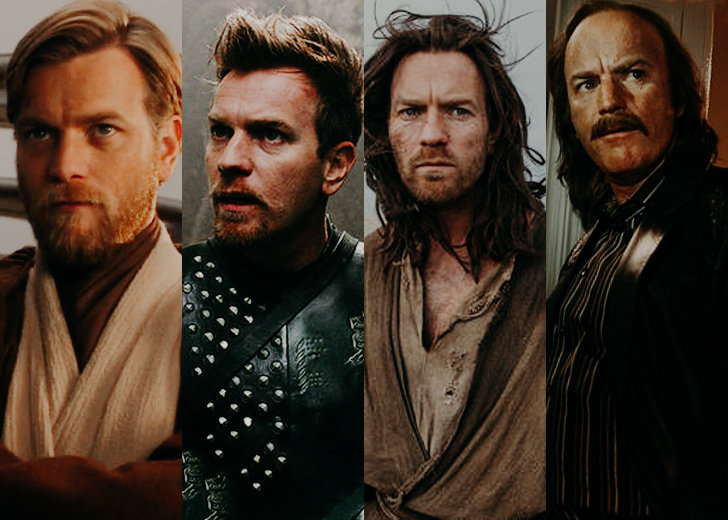 Ewan McGregor is a critically acclaimed Emmy-nominated actor. He began his career in 1993, landing a leading role in the TV series, Lipstick on Your Collar.
His performance as two brothers in the third season of the FX anthology series Fargo won him his first Golden Globe Award for Best Actor in 2018. 
His other notable roles are as Alex Law in Shallow Grave, Christian in the musical Moulin Rouge!, and Alfred Jones in Salmon Fishing in the Yemen. 
The actor has also been part of one of the most beloved Sci-Fi franchises, Star Wars, in its three prequels as Jedi Master Obi-Wan Kenobi.  
For the past 28 years, the Scottish actor has amazed everyone with not only his talent but also his luscious hair. The versatile actor has been seen sporting a different hairstyle in every one of his iconic roles. 
Ewan McGregor's Iconic Role and Hairstyle 
McGregor looks different in each movie because of his hair. Be it long, curly, or short, the actor looks good in every haircut. 
McGregor gave off a very boy-next-door look with his curly hair portraying Private Mick Hopper for his earliest role on the mini series Lipstick on Your Collar. 
A year later, the actor returned to the big screen as Alex Law in Shallow Grave, stealing everyone's heart with his long and beautiful layered hair.
Gone were his long luscious locks in the 1996 movie Trainspotting. Instead, McGregor sported an unflattering buzz cut playing the heroin addict Renton in the black comedy film. Regardless, the actor pulled it off.
In the 2013 movie Jack the Giant Slayer, McGregor looked almost too good to be true playing Elmont, the captain of the King's guard, with his messy textured hair and light stubble. 
However, one haircut even the Scottish actor could not make work was the greasy look in Blue Juice. His long hair looked terribly gelled up. 
His role as the passionate poet Christian in Moulin Rouge! with his side-swept bangs had viewers swooning. The actor was also nominated for the Golden Globe for Best Actor–Musical or Comedy. 
The actor was also one of the cast in the 2017 live adaption of the musical romantic fantasy Beauty and the Beast. He played Lumière, the Beast's charismatic maître d' who is transformed into a candelabra. 
Finally, at the end of the Disney movie, McGregor returned to his human form, looking almost unrecognizable with an old French haircut. 
Arguably, McGregor's most famous role is as Obi-Wan Kenobi in the Star Wars franchise. In Star Wars: Episode I - The Phantom Menace, the actor, is seen with an awful 'rat tail' ponytail look. 
However, in Star Wars: Episode III - Revenge of the Sith, McGregor looks better in his perfectly kempt hair and full beard as the Jedi Master.
Reaction to Ewan McGregor's Hairstyles 
In every movie, fans have always raved about the Scottish actor's hairstyle.
One user @EwanDaily on his Twitter shared an appreciation post by making a collage of McGregor's look in Shallow Grave with his long hair. 
Another user, @_iamwithname, tweeted about McGregor's hairstyle in Velvet Goldmine, deeming it one of his best looks.
Similarly, @zed_pm shared she was re-watching Jack the Giant Slayer just for the actor's hair. 
McGregor's hairstyles have a reputation and a fanbase of their own. There are several threads in Reddit asking questions about how to get hair like the Emmy-nominated actor.
Looking at all the looks McGregor has sported through the years, it is no wonder that fans are obsessed with his hair.