How Much Is Legendary Actor Ed Asner's Net Worth?
Ed Asner has worked in Hollywood for almost seven decades and amassed a net worth of eight figures.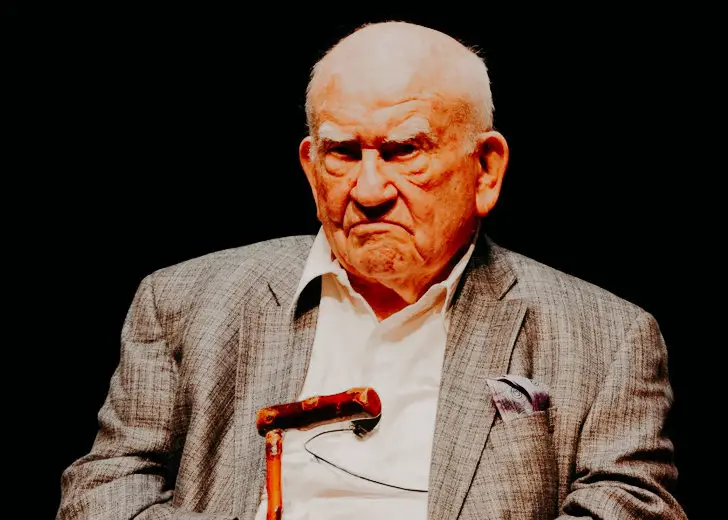 Legendary actor and voice artist Ed Asner has been in the entertainment industry for over 60 years. He is best known for his trademark husky voice and his role as Lou Grant, a gruff news producer on the 1970s sitcom The Mary Tyler Moore Show and its spin-off Lou Grant. The part won him 5 Primetime Emmy Awards, being the only actor to win in both comedy and drama categories. 
He has been nominated for 21 Emmy Awards in his lifetime, including 17 Primetime Emmys and four Daytime Emmys. He was also the 21st President of the Screen Actors Guild between the years 1981 to 1985. 
With 412 movie credits under his name, the actor has an estimated net worth of at least eight figures. 
Ed Asner's Acting Career
Asner is one of the most notable actors in television. He started his career in 1957 with TV shows like Studio One and Thief of Diamonds. With his career slowly on the rise, he made his first movie debut in 1965, playing a minor role in Elvis Presley's Kid Galahad. 
His career finally took off after he was cast in CBS's The Mary Tyler Moore Show, which aired in September 1970. The show focused on the title character's life and trials as a young single woman, both at work and home. Ed Asner co-starred as Mary's boss Lou Grant, alongside Valerie Harper as friend and neighbor Rhoda Morgenstern and Cloris Leachman as landlady Phyllis Lindstrom. With the show's massive popularity, his character got its spin-off show titled Lou Grant in 1977. 
His other memorable roles in television are for the series such as Rich Man, Poor Man, and Roots which both won him an Emmy. Asner was also a regular in shows including Thunder Alley, The Bronx Zoo, and Studio 60 on the Sunset Strip. 
As for his films, he starred in the 1966 western movie directed by Howard Hawks called El Dorado. He has also been a part of movies like Elf, Not Another B Movie, and Too Big To Fail. In 2019, he appeared alongside Christina Applegate in Netflix's dark comedy, Dead to Me.
Ed Asner's Voice Acting 
While Asner has acted in over 50 projects, his voice is also well renowned in the world of animation. He is well known as the voice of Carl Fredricksen from Up. 
He started his career in voice acting with 1987's Pinocchio and the Emperor of the Night as the voice of Scalawag. Since then, he was worked in numerous movies, short films, direct-to-video, TV shows. Altogether, he has worked on over 65 projects. 
Some of his notable works as a voice actor are as J. Jonah Jameson in Spider-Man, Ed Wuncler Sr. in The Boondocks, Granny Goodness / Hephaestus in Justice League Unlimited, Owl in The Nutcracker Sweet, and Bonta/ Narrator in Axel: The Biggest Little Hero among others. 
He will be reprising his role as Fredricksen in the upcoming Disney+ series Dug Days.
Asner has not only voiced Fredricksen in movies and series but also in two video games, Up and Rush: A Disney-Pixar Adventure. The actor has also voiced two other characters in three video games. He voiced Vrook Lamar in Star Wars: Knights of the Old Republic and Star Wars Knights of the Old Republic II: The Sith Lords and Healer in X-Men Legends. 
Ed Asner In Production And Soundtracks
Asner has served as executive producer in nine projects. His first project was in 1996's documentary Hanged on a Twisted Cross. Since then, he has worked on one documentary, two video documentaries, and TV movies, one short film and TV series. His recent project was 2019's documentary Tupamaro: Urban Guerrillas. 
Asner has also contributed to various movies and series with his melodious voice. He has eight credits for soundtracks altogether. 
Ed Asner's Books
The 91-year-old has ten credits under his name in Goodreads, including the ones he has narrated. His most famous book is 'The Grouchy Historian,' which has been critically acclaimed. The book is a deeply researched one which gives an insight on the USA constitution and politics. 
Ed Asner's Upcoming project 
Asner has many shows and movies in store for him in the upcoming years. He has projects like Scarlet, Platform, and The Last Saturday Night, which are in post-production. It was also announced that he had joined the cast of upcoming movies such as Mee and McGee, Vail of justice, and Back of Book. 
Currently, he is filming the character of Peter Lionsbridge in the animated movie Back Home Again.
What is Ed Asner's Net Worth?
The legendary personality started his career in the late 1950s, and almost seven decades later, he still is working. At 91, he has 17 more projects lined up for him. 
As of 2021, Asner has a net worth of a whopping $10 million. Looking at all the work he has done to date, and the ones lined up for him, it won't appear a surprise if his net worth sees an exponential rise in the upcoming future.