What is Dr. Brenda Grettenberger doing now after her absence from reality TV?
Brenda Grettenberger garnered immense popularity as one of the fan-favorite characters in the show, 'The Incredible Dr. Pol'. Due to that, the viewers of the show are querying if she is married and has a husband. However, as Brenda likes to keep her personal life up to herself only, it is yet to be known if she has already settled down with a husband.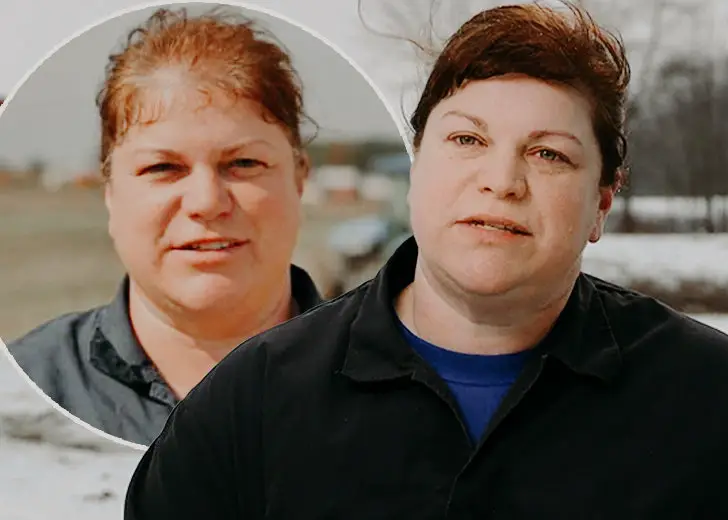 Dr. Brenda Grettenberger garnered immense popularity as one of the fan-favorite characters in the show The Incredible Dr. Pol, a National Geographic  Wild show revolving around the veterinarian Jan Pol, his wife, family, and staff working to together to keep the animals in the rural Weidman, Michigan healthy and safe. 
Due to that, her fans are keen to learn more about her. But, most importantly, the show's viewers wonder if the lovely vet has already settled down with a husband.
So, without further ado, let's get all the answers regarding her personal life and more!
Where Is Dr. Brenda Grettenberger Now?
Since the reality TV personality's airtime has diminished since season 19 in 2021, fans have wondered what the popular vet has been doing. 
And the fans will be pleased to know that Grettenberger is currently enjoying the fresh air at her country home. As she grew up on a small dairy farm, she was always interested in large animals.
"My folks milked Holstein and Holstein-cross cattle for about 40 years. They have sold the cows in the last couple of years. The cows have been gone. But we've milked cows and had cattle of some sort there pretty much the whole time my parents have owned the farm," she shared. "So you know, there was always chores to do. There was always mliking to do. There was always things to do and everything revolved around the cattle. So cattle came first, then the rest of us." 
Talking about it in a brief interview with Dr. Pol Presents YouTube Channel in September 2020, the animal lover talked about taking care of three cows—Reid, Kirby, and Zeeter—on her farm, which makes her happy. 
And according to a Facebook live video by  Dr. Pol's son Charles, who is an executive producer of his father's show, in 2021, Grettenberger hadn't left the show or her veterinary practice. He clarified that her airtime had decreased because of her personal work. He said, 
She had some things that she was doing a year ago. So you might not see her as much in one of the past seasons and I think people were getting nervous about that. But that was because of, you know, busy life and she was kind of running around. They weren't able to get as much filming with her. But she's still here.

So don't worry about that. Brenda will be here, is still here, and we're very thankful to have her. She's great, she's been a part of the Dr. Pol family for like over 30 years. I can't imagine Pol Veterinary without Brenda.
"We've seen a lot of rumors here on the Dr. Pol Facebook page that Dr. Brenda is perhaps leaving the practice or has left the practice," Charles insisted. "I just want to dissuade all those rumors. Dr. Brenda has not left the practice."
Charles had created the video to talk about the upcoming season. He also used the video as a platform to answer some of the frequently asked questions about the show and the cast.
How old is Dr. Brena Grettenberger?
Born on 23 February 1967 in Eaton Rapids, Michigan, Grettenberger is a Michigan State University College of Veterinary Medicine graduate. She graduated from the university in 1992. 
As of writing, Grettenberger's age is 55. Her bio on the Dr. Pol website states that she likes to dance, read, and train oxen to pull wagons when she is not working.  
Dr. Brenda Grettenberger's relationship status remains unknown
The Eaton Rapids native is very private about her personal life. Moreover, she has kept away from all the media buzz and doesn't appear to have social networking accounts. 
And little information is known if the veterinarian is married or has a husband. The reality star's decision to keep mum about her personal life has also raised the possibility of her being single.
That said, it seems that Dr. Brenda's fans have to wait and see if their favorite vet has a certain someone waiting for her when she gets back home. 
Dr. Brenda Grettenberger Used to Be a Regular on the Show
Although not much is known about her personal life, there are many details about when the doctor joined hands with Dr. Jan Pol in the show The Incredible Dr. Pol. Well, one definite personal detail out in the open is her age. The good doctor was born in 1967, making her 54 years old as of this writing.
Following her graduation from the Michigan State University College of Veterinary Medicine in 1992, Grettenberger joined Pol Veterinary Services. Though the job was not easy, especially as a female veterinarian, she gave her best at everything and proved everyone wrong.
Due to her rising fame, the clinic was approached by Nat Geo's producers, and eventually, The Incredible Dr. Pol was formed. In 2011, the show's first season was released, with Dr. Pol leading alongside other veterinarians, including Grettenberger.
As the show went on and got renewed for more seasons, the long-time staffer at Pol Veterinary Services managed to become one of the show's most beloved characters. She continued to make regular appearances and garnered the fans' love for the first 11 seasons of the show. And when the show was renewed for its 12th season, the viewers were again excited to see more of Dr. Grettenberger.
However, fans were surprised after noticing that her appearance was limited to only a handful of episodes. This led many to assume and speculate if their beloved doc had left the show? Regardless of all the rumors about the doctor's supposed departure from the show, no official statements have been made to address the issue.
Nonetheless, a small ray of hope came for Dr. Grettenberger's fans when Charles Pol, son of Dr. Pol, and one of the show's producers shared a post on 21 September 2019 through Twitter, appreciating the female veterinarian's talent. 
But despite such appreciation tweets, the Michigan State University alum's noticeable absence has started bothering fans. For someone who has been part of the Pol Veterinary Services for the last 30 years, ardent viewers believe that the veteran doctor is an irreplaceable part of the show. 
On the bright side, the talented health professional's name still appears in the show's cast list, with 151 episodes credited to her name as of 2021, which was just four episodes shy of the main lead Dr. Pol himself (who has 155 episodes,).
What is Brenda Grettenberger's net worth? 
Grettenberger has been estimated to be worth between $300,000 to $800,000. She has been appearing on The Incredible Dr. Pol since 1999. The money she earned from the show 
The veterinarian has made good earnings for decades as a veterinarian. In an interview, she said that she was doing the show because of her friendship with Dr. Pol and not for money. She started her journey in the veterinary world by replying to an ad in the AVMA journal.  She told Monsters and Critics, "I answered a help wanted ad in the AVMA journal (magazine) to find my way to Pol Veterinary Services."
Although Grettenber's exact earnings per episode from Dr. Pol have been unrevealed, the show's most prominent figure, Dr. Pol, makes $30,000 per episode, according to Gazette Review in 2018. His estimated net worth is $1 million, according to Cheatsheet.
Who is Dr. Pol?
Born on 4 September in Wateren, Netherlands, Jan Pol is 80 years of age as of writing. A Utrecht university graduate, Pol started Pol Veterinary Services in 1981. He was raised on a family farm. At the age of 12, he helped his folks deliver a litter of piglets and realized that he wanted to be a veterinarian. He is married to Dina Pol, who is the co-founder of his business.