Donna Summer Kept Her Daughters Grounded and Inspired Them to Work Hard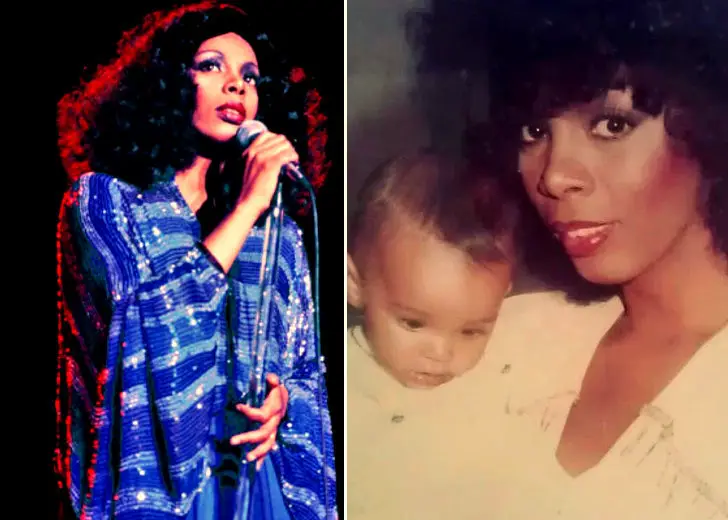 The Queen of Disco, a.k.a. Donna Summer, has her iconic music and three beautiful daughters to keep her legacy alive even after her sad and sudden demise in 2012.
One might think growing up as the daughters of a Disco Queen would be filled with glamour and easy ways. But that was not the case with Summer's kids. Instead, she raised her daughters to be humble and grounded.
Donna Summer's Daughters
Summer gave birth to three daughters from different marriages. 
She welcomed her first daughter Natalia Pia Melanie with her first husband, Austrian actor Helmut Sommer.
She gave birth to her other daughters, Brooklyn and Amanda, with her second husband, fellow singer/musician Bruce Sudano. 
Today, the eldest of her three kids, Natalia Pia, aka Mimi Dohler, is an artist and owns a handcrafted jewelry line.
She is married to Richard Matther Dohler and has three children with her husband.
She usually shares photos from her childhood on occasions like Mother's Day and her mother's birthday. Evidently, Natalia was very close to her mom and misses her dearly. 

Donna Summer's kids: Mimi Dohler, Brooklyn Sudano, and Amanda Sudano Ramirez (from right to left). (Photo: Brooklyn Summer /Instagram)
Summer's other child, Brooklyn Sudano, on the other hand, is an actress and a successful model.
She has featured in advertising campaigns of brands like Clean & Clear and Clairol. One of the most acknowledged roles of Brooklyn is Christy Epping on the American science fiction thriller miniseries, 11.22.63. 
In one of Brooklyn's Instagram posts dated May 2017, she credited her mom for everything she had achieved.
She also talked about her mom's parenting style in an interview with The New York Post in March 2017. The actress shared it was her mother who taught her and her sister Amanda the importance of working.
We (Brooklyn and Amanda Sunado) were put to work. We had a few summers where we did grunt work as steaming the band's clothes while riding on the tour bus.
She recalled that her parents wanted them to understand what it was like to put on a production.
Given the musical history and legacy of late disco queen summer, it comes as no surprise that one of her children got into music.
Amanda and her husband Abner Ramirez together formed a musical duo, Johnnyswim. She also has three kids with her husband.
Despite being a five-time Grammy winner and an iconic artist who reigned in the late 70s and early 80s, Summer was a humble mother who taught her kids to be grounded, modest and hardworking.
One of the reasons behind this was the struggle of Queen of Disco and how that shaped her. 
Donna Summer's Amazing Music Journey
At a young age, Summer was appreciated and acknowledged by her peers for her musical performance in church and school.
When she was 19, she moved to New York and joined the band called Crow. Unfortunately, the band eventually dissolved as they couldn't land a recording contract. 
After the band failed to take flight, Summer auditioned for a role in a musical group.
She was selected and traveled to Germany with the musical's production team.
When in Germany, the veteran singer became fluent in German and sang many songs in that language. When she was 20, she released her first single, 'Aquarius,' which was also in German.
A force to be reckoned with throughout her career, she boasted 42 hit singles on 'The US Billboard Hot 100.' On top of that, 14 of those 42 singles managed to reach the top ten.