Has DeAndre Jordan Asked Former Miss Kansas Bethany Gerber To Be His Wife?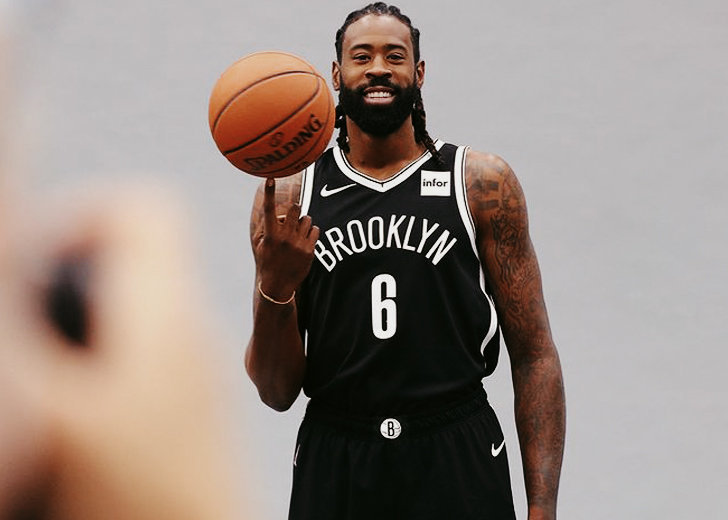 Having come out of a legal battle over his son, Brooklyn Nets center DeAndre Jordan is now dating beauty queen turned model Bethany Gerber.
What's interesting is that Jordan was not only dating the model but is also rumored to be engaged to her. What gave rise to those speculations? Let's find out. 
DeAndre Jordan's Girlfriend Spotted With A Ring On Her Finger
DeAndre has been the centerpiece to rumors many a time in regards to his complex relationships. But, one rumor that especially stood out was that he was be dating Bethany Gerber.
In September 2018, Gerber, who dated Deandre's Clippers teammate Blake Griffin back in 2012, shared an intimate picture with the NBA player, causing a stir among DeAndre's fans.  
Sports Gossip was not shy to partake in this gossip back in October 2018, reporting that Gerber was indeed his girlfriend.
Then, the Nets center took it upon himself to put the rumors to rest as he posted a picture of Gerber in November of the same year. On November 1, 2018, in one of his Instagram pictures, the model was featured as his Halloween partner, Matilda, and he was dressed as Ms. Truchbull from the famous 1996 film Mathilda.
Gerber is a former beauty queen who was Miss Kansas USA in 2010 and also qualified in the Top 15 in the Miss USA Pageant the same year. Before working as a model, Bethany Gerber worked as the National Account Manager for IST Management Services and later as an Account Manager for Dosist. 
While the Nets center has only been with his model girlfriend for two years, there have been rumors that the couple may be more than just boyfriend-girlfriend. The rumor arose when Sports Gossip reported that there might be a chance that the couple had been engaged.
According to the report, Gerber seemed to have a ring on her finger when the couple enjoyed a nice vacation together.
Other than the occasional Instagram pictures, Jordan and his girlfriend keep their relationship details out of the public's eye. So we just have to wait and see if the NBA player sees a wife in the former beauty queen.
DeAndre Overcame Emotional Battle For the Custody Of His Son
The NBA player, although not married, has a kid — but not with his supposed girlfriend, Bethany. He has a son with his previous flame, Ashley Rose.
But the Nets center had to fight for the right to be with his son. The court battle came after his former girlfriend Rose sought sole legal and physical custody of their son. 
After a long and tiring custody war, on December 10, 2016, the court ruled in favor of joint custody. This meant that Jordan would be able to make two overnight visits per month to be with his son with the strict condition that he was not to have drugs or alcohol 8 hours before their time with their son.