David Packouz Revealed Ex-Girlfriend in a Song Dedicated to Daughter, Amabelle Jane
David Packpuz is often seen together with his daughter in several destinations all over the world. David has also written a song to her titled, More Than Anything, and inadvertently revealed Annabelle's mystery mother, his ex-girlfriend.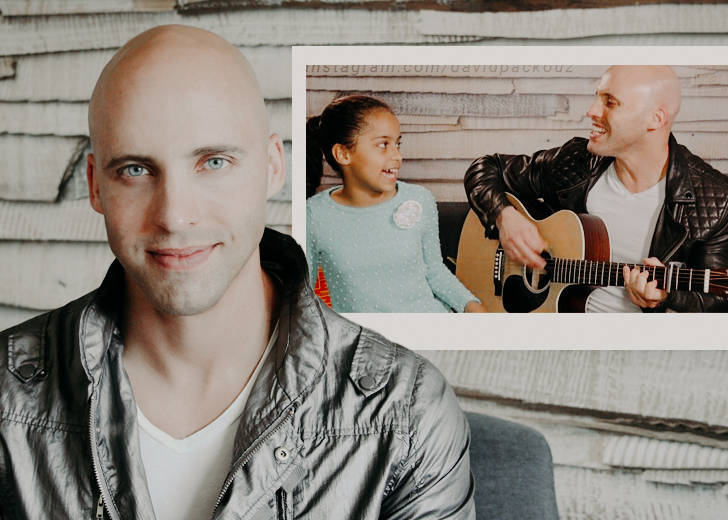 Quick Information
Date of Birth

Feb 16, 1982

Age

41 Years, 9 Months

Nationality American
Birth Place

St. Louis, Missouri, United States

Birth Name

David Mordechai Packouz

Profession

Musician, Entrepreneur

Relationship Status

Not Known

Net Worth

$2.9 million

Religion

Jewish

Father

Kalman Packouz

Mother

Shoshana Packouz

Hair

Bald

Eye Color

Blue

Daughter/s

Amabelle Packouz

Ex-Girlfriend

1 (Unknown name)

Awards

Guitar World's Platinum Award for Excellence

Siblings

8

Brother/s

Eli Packouz

College

University Of Florida

Official Site

http://www.davidpackouz.com/

Children/Kids

1
Former arms dealer David Packouz made a compilation video of his daughter's childhood moments and revealed his ex-girlfriend's never-seen pictures.
The American singer has been parenting his 14-years-old daughter, Amabelle Jane. But, he has never talked about the mother of his kid. So much so, her name remains under the wraps.
However, he shared the pictures and short videos of his partner through YouTube on December 17, 2008. He had sung a song for his daughter and compiled old clips of her childhood in the video titled, More Than Anything. 
The video of the song featured Amabelle from her very birth, and in the process, it exposed Packouz's partner.

David Packouz's ex-partner, when she was pregnant with their daughter, Amabelle Jane (Photo: YouTube)
Not only did the video clarify that Packouz's ex-girlfriend had an African background, but it also made it clear that they were together till Amabelle was a toddler. 

David Packouz's ex-partner and his daughter Amabelle Jane (Photo: YouTube)
However, other details regarding his partner and when they split remain a mystery. 
Ex-Girlfriend Goes By Name "Iz" in Biopic
David Packouz pulled off one of the major arms deals in America's history by teaming up with former arms dealer Efraim Diveroli.
While he got convicted of his illegal arms dealing, his thrillful experience got transcribed into a 2015 novel 'Arms and the Dudes'. The book was later adapted into the 2016 film, War Dogs, by Todd Phillips.
In the movie, the two arms dealers' real-life experiences have been portrayed accurately to some extent.
Therefore, Packouz's character (played by Miles Teller), can be seen having a relationship with a lady named 'Iz' (played by Ana de Armas).
Packouz and Iz give birth to a baby girl without being married. Then, they parted ways due to the illegal nature of Packouz's business, which seems to have happened in real life as well.
After all, Packouz confessed that his ex-girlfriend was portrayed in the biopic. In an Instagram post dated May 20, 2015, he posed alongside actress Ana de Armas. Then, he affirmed that the Knives Out actress was portraying his ex-girlfriend.
With @ana_d_armas who is playing my (ex) girlfriend in #WarDogs a movie based on my life. 
His statement clarified that his daughter's mother wasn't his wife; they were never married. She was only his girlfriend.
Spends Quality Time with Daughter
Packouz's daughter, Amabelle Jane, was born in February 2007. Despite his busy lifestyle, he finds the time to bond with his daughter.
He took his daughter to the holy city of Jerusalem in July 2016. They visited the Dome of the Rock and Western Wall. Both sites hold special significance to Islam culture as they are known to be one of the oldest works of Islamic architecture. 
Then, they went skiing in the Hermon mountain area during a winter vacation in December 2019. Also, they went horse riding in Monterey, California, for Amabelle's 14th birthday.
From all that can be seen, it is evident that Packouz and his daughter have a beautiful bond. 
David Packouz From Arms Dealer To Musician
After graduating from Miami College in 2003, David joined Efraim Diveroli's arms company, AEY Inc. He was only at the age of 23 at the time. 
In AEY Inc., Packouz and Diveroli supplied large scale of arms and ammunition to the US government. Despite their raw experience and young age, the pair caused havoc after pulling off major multi-million worth federal contracts. 
But the company had failed to perform on several previous contracts that included sending potentially unsafe helmets and failure to deliver 10,000 Beretta pistols to Iraq.
The entrepreneur responded by email to his associates that they had to eliminate the Chinese markings' crates as the Chinese products would be rejected. The company repackaged the Chinese ammunition, which constituted fraud.
Later after investigations, it was revealed that the company had violated the regulations of the US government. For Packouz's part in the conspiracy, he served seven months of house arrest.
He seemed to be going on a roll when it came to tainting his name in the eyes of the U.S government.
He was arrested again in 2012 at Motel 82 in Naples after allegedly agreeing to engage in a physical relationship with an undercover Collier County deputy for $400.
Perhaps it was because of his daughter's birth, Packouz is now trying to make a U-turn in his career.
He decided to change his dangerous ways into a much fun-oriented one: music and singing. This proved to be a wise move as he is now the CEO and founder of a music technology company, Singular Sound Company.