Cory Cotton Perfect Wedding Story With Stunning Wife At Age 30; Trick Shots & Height
Cory Cotton as one-fifth of the Youtube channel Dude perfect is the master of perfection. As with his videos on YouTube, his wedding was also an ideal event. Cory Cotton, age 30 gained stardom along with his four other mates regularly post sports videos in their channel Dude Perfect.

American YouTuber Cory Cotton has been in a blissful relationship with his lovely wife over the years and now the star is also ready to welcome two new members in his family soon.
Texan native Cory Cotton is a one-fifth member of the Youtube channel Dude Perfect. He is currently serving as the Author, Entertainer, & Head of Production for Dude Perfect, LLC.
Dude Perfect: Cory Cotton plays Airsoft Battle Royale with his four mates for his YouTube viewers (Published on 19 November 2018)
Prior to being a YouTuber, he is also an author of the book Go Big: Make Your Shot Count in the Connected World (2011), which enlists the five friends journey to stardom and tips to convert ones passion to full-fledged profession.
Cory Cotton's Short Bio (Age & Height)
The YouTuber was born on 17 July 1987 at Texas as William Cory Cotton.
As a kid, Cory was big into sports and played basketball, tennis and cross country races from an early age. Blessed with a sporty body and decent height of 5 feet and 10 inches, Cory played to be a professional basketballer only to give up and focused on getting a degree.
The Texas native attended the Texas A&M University and majored in Speech Communications after high school, and that was when he became friends with Garrett Hilbert Tyler Toney and Cody Jones.
Related: Coby Cotton Age 30, Adorable Married Life With Wife! Plus Trick Shots That Boost Net Worth
Along with his identical twin brother Cody, the quintet hung together during their university period. It was during a casual stroll in their backyard; Tyler performed a trick shot which amassed 200,000 views in no time, leading to the formation of the group.
Cory Cotton's Journey To Being A YouTuber With 36 Million Subscribers
Soon Cory along with his four mates entered into his gateway of stardom with a YouTube channel Dude Perfect.
It was Cory and Cody who came up with the name of the channel accidentally. The brothers exclaimed, 'Dude, Perfect' in unison towards their cameraman, after the camera set-up during one of the shows was so perfect that it had to be barely moved to record.
And once they hit their first video together, there was no turning back. Their videos on YouTube are viewed by millions, and their channel has more than 30 million subscribers, the seventh most subscribed channel on YouTube.
Cory along with his four other mates regularly post sports videos in their channel Dude Perfect. Cory and others are periodically seen performing gravity-defying trick shots, which are ridiculously hard to perform in their channel. Not just that, they are a select few of YouTube stars to have a regular TV show and even endorse famous brands NERF, Pringles, and Fiat.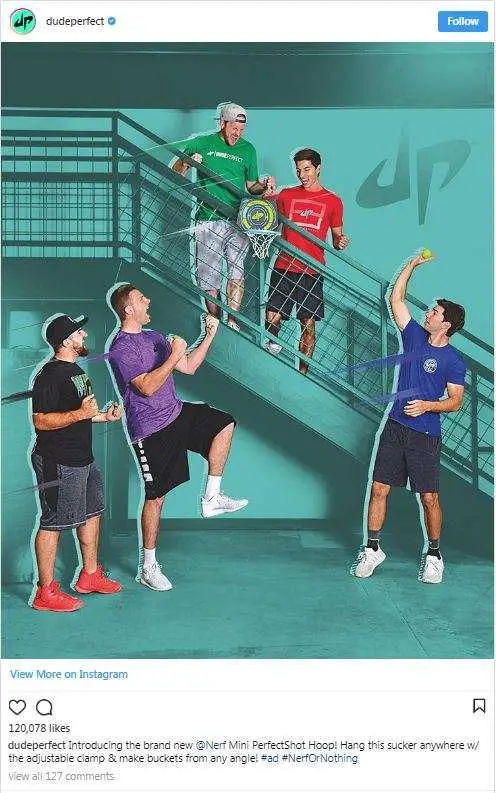 Dude Perfect: Cory Cotton attempts a tennis ball trick shot with other Dude Perfect members to promote the NERF hoop that can be hanged anywhere as per ones need  (Photo: dudeperfect.com)
Cory and his friends have not only been on YouTube but have also been on the TV. After hitting big-time, through Youtube, the group has been featured in ESPN, Jimmy Kimmel Live and had a dedicated show in American TV CMT. Not just that, their videos have featured biggest names in the sports world including tennis Queen Serena Williams, NFL star Odell Beckham Jr, NBA star Chris Paul and Manchester City, Arsenal and Chelsea soccer clubs.
Find more: YouTube Star Tessa Brooks Wiki: Dating Status At Age 19? Has Boyfriend? Sister, Mom & More Details
The group also has launched a mobile game self-titled Dude Perfect. Due to their exertions, the group enjoys a whopping net worth of $20 million. The group earns about $500Ks monthly from YouTube only which soars to near about a million dollars if their sponsorships and other associations are taken into account.
Cory Cotton's Fairytale Wedding, Happily Married Ever After
Along with a wonderful career, the hardworking Cory also leads a lovely family life.
Cory married his girlfriend, fashion blogger, and homemaker Amy Elizabeth in a fairytale ceremony on 6 August 2016. The couple had exchanged the rings on 27 March 2016 and exchanged the vows barely five months later.
The aptly titled venue, The Venue at Waterstone served as the place they exchanged the vows, away from the huff and duff of the Dallas.
Amy looked every bit a fairy with her blond hairs neatly braided backward and rocked a white shoulderless gown. Cory for his part looked dapper in a grey suit. What's more, all of the small and intimate guest list, that included Cory's group mates and family looked every inch a part in matching outfits with the bride and the groom.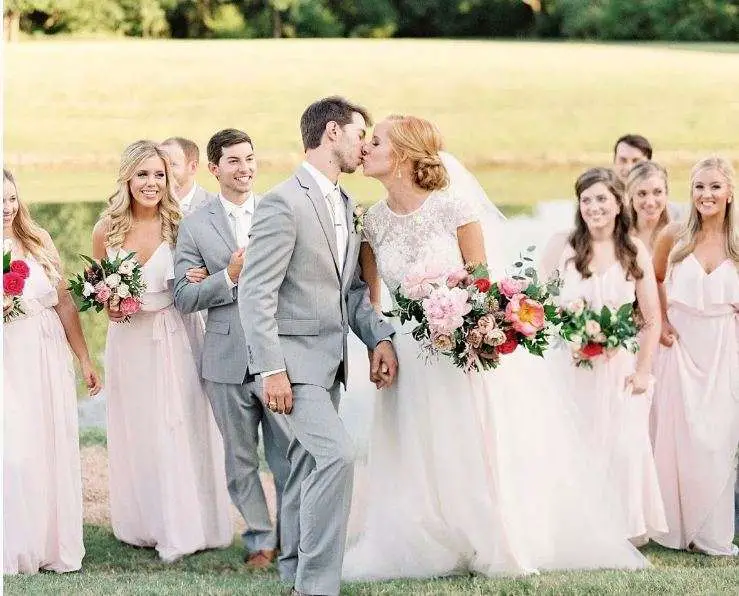 Wedding Day: Cory Cotton shares the vows and a kiss with wife Amy Elizabeth in August 2016 (photo: loveamycotton.com)
Amy described their wedding as the happiest day in her life and explained that the 'I Do' they shared, meant that in the name of lord they were meant to be together forever.
See more: Dude Perfect's Tyler Toney, Perfect Married Life With Wife At Age 29; Net Worth, Height, Wedding
The couple's love has been growing after tying the knots, and Cory never misses a chance to shower his wife with his love in his Instagram, whether that be their anniversary or his wife's birthday.
Cory seems to have cracked the code, whether that be making a seemingly impossible trick shot, or that for a happy marital life with his wife.
Cory Cotton Is Ready To Welcome Two New Babies In His House
More good news for the happily married couple and also their fans as after two years of marriage on 9 August the couple revealed about their new bundle of joys on Instagram. The couple is having a boy and a girl!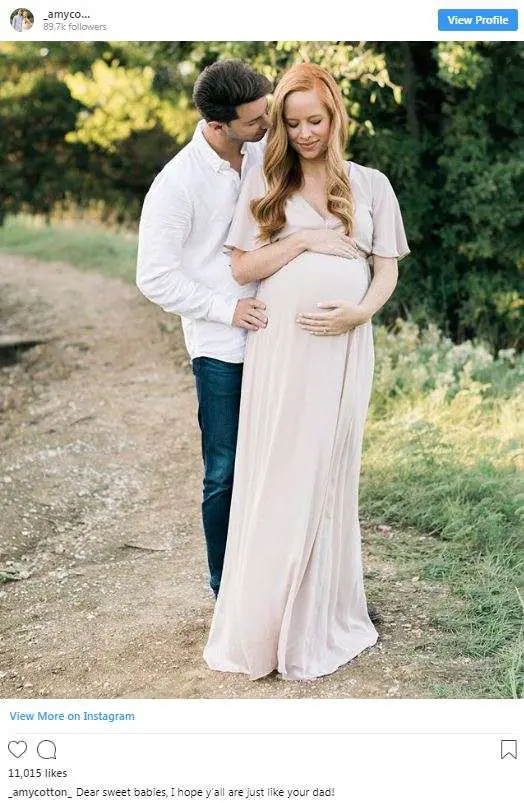 Two Bundle of Joys on The Way: Cory Cotton poses with his pregnant wife for a picture (Photo: Amy Cotton's Instagram | 27 October 2018)
Cory Cotton's whose Instagram is filled with romantic pictures with his love celebrated his wife's baby shower on October of 2018 and his wife also gushed in an Instagram post about the supportive husband Cory and the father-to-be stating:
To say that I'm excited to raise our babies with you is an understatement. You're going to be the best dad!
Best wishes for the couple on their new journey and kudos for Cory on being a great husband and soon a great dad too!