Where Is Brandon Walters Now? His Ex-Girlfriend Controversy Reported
After Bushwhacked, Brandon again went away — this time for approximately for years before he could be seen acting again. Fast forward to two years from his first appearance in Mystery Road, he has now been a subject of controversy because of the events that occured in his personal life.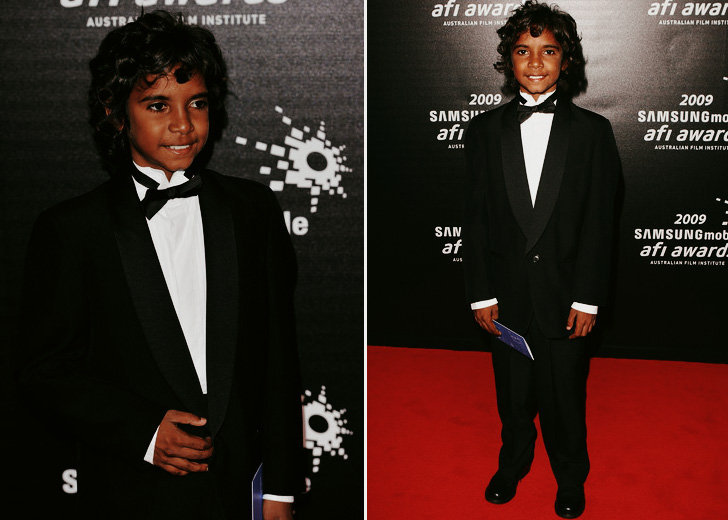 After appearing in the movie Australia as the beloved child character Nullah, actor Brandon Walters, for reasons unknown, took a break from the entertainment industry. According to IMDb, there is no record of him appearing in any TV show, movie, or even interview between 2008 and 2012.
Then, in 2012, he worked as a host in the Australian adventure documentary Bushwhacked! (2012 - 2014). He hosted the show for 12 episodes of season one before being replaced by Kamil Ellis for season two in 2014.
After Bushwhacked, Brandon again went away — this time for approximately for years before he could be seen acting again. Fast forward to two years from his first appearance in Mystery Road; he has now been a subject of controversy because of the events that occurred in his personal life. 
When did Brandon Walters start His Career?
Brandon Walters started his mainstream acting career in 2008. He starred in Australia (2008), portraying the role of Nullah. Following that, he appeared in the Bushwhacked! Documentary in 2012 as a host for 12 episodes. However, after 2012, he did not work in any movie or TV show until this year.
2020 is supposed to be his comeback year as he has already starred in two TV series, Operation Buffalo (2020) and Mystery Road (2018 - 2020).
Brandon Walters beat Leukemia ultimately in 2003
Born in Broome, Australia, in January 1996, Brandon Walters had already endured and overcame a difficult thing than acting before he even got involved with the film industry. The then-young actor was diagnosed with leukemia when he was just six. However, after a year at a hospital in Perth, he became free from cancer in 2003.
At that point in his life, Walters had seen only a handful of movies, with The Matrix (1999) and Toy Story (1995) being among his few favorites.
How Brandon Walters first Got into Acting?
In around 2007, the director of the movie Australia (2008), Baz Luhrmann, searched for someone to play Nullah's role. He was specifically searching for a young aboriginal boy for the part.
That same year, one of Luhrmann's casting directors noticed Walters. After that, Walters' mother, Janie wright, soon got a proposal letter from Luhrmann himself, which noted that he was very interested in casting Brandon in the movie. 
Brandon did not know who Hugh Jackman and Nicole Kidman, the movie stars, were before he got this movie offer. He was a boy who was more interested in racing cars and taking care of animals than in acting at that point. However, Walters —who was enthusiastic and apparently, a natural at acting — learned horse-riding and singing just for the movie.
Consequently, he got selected for the role and portrayed Nullah perfectly. The movie kickstarted his acting career.
Australia brought Brandon Walters huge Recognition
Brandon's portrayal of Nullah was so good that many organizations recognized his work. He was nominated for nine awards in 2008 and 2009 alone.
In 2008:
Chicago Film Critics Association Awards - Most Promising Performer - Nominee
Satellite Awards - Outstanding New Talent - Winner
In 2009:
Academy of Science Fiction, Fantasy & Horror Films, USA - Saturn Awards for Best Performance by a Younger Actor - Nominee
Australian Film Institute - Best Supporting Actor Award and AFI Young Actor Award - Nominees
Film Critics Circle of Australia Awards - Best Supporting Actor - Nominee
Broadcast Film Critics Association Awards - Best Young Actor/Actress (Under 21) - Nominee
Online Film & Television Association - Best Youth Performance - Nominee
Online Film Critics Society Awards - Best Breakthrough Performance - Nominee
Young Artist Awards - Best Performance in an International Feature Film - Leading Young Performers - Winner
The nominations and wins were a testament to his talent as an actor, that, for some reason, was not on display for a long time after his work in Australia.
Where is Brandon Walters Now? Made Comeback in 2020
2020 seemed to be the comeback year for the 24-year-old. The actor, who gained fame as a child actor, tried to get back on track with the thing that brought him fame; acting.
He appeared in three episodes of the show Mystery Road (2018 - 2020) alongside another Australian actor, Aaron Pederson, and in two episodes of the TV mini-series Operation Buffalo (2020) as Billy.
But the actor got into personal life and a drug possession controversies in the last week of September 2020 that may adversely affect his career.
Walters pleaded guilty in the turn of events after he reportedly threatened his ex-girlfriend and broke into her home in Cable Beach in Broome. 
Dailymail reports that the actor was charged $1650 for breaking the ex-girlfriend's car window with a rock just two weeks before the incident occurred. The magazine also reports, referencing Western Beach, that a child was present in the house when he forcefully tried to get inside.
The report further states that police stopped his car and found out that he had a 0.114 blood alcohol reading and 0.1g meth with him. 
Brandon Walters was in Relationship with the Mother Of His Two Sons
Till this day, Brandon Walters' relationship history and dating life have remained out of the limelight. That is the case why many of his fans have been asking, "What is Brandon Walters doing now?"
According to a 2019 report of Nowtolove about the most-asked fans query, Walter was in a relationship with his high school girlfriend Kanishah—with whom he had two sons, a three-year-old named Quade and a new-born.
He was quoted stating that he met with Kanishah in high-school.
"My partner Kanishah and I met in high school and have Quade, who is nearly three and we just had another baby, a boy...He was a couple of months early though so he's still in hospital," added Walters.