After A 15-Year Slump, Bokeem Woodbine Finding Momentum Back Into Hollywood With Support From Wife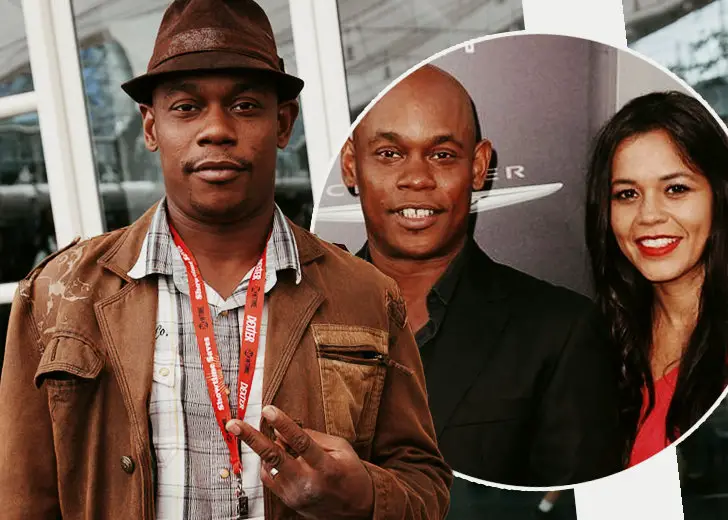 Some couples are indeed made for each other! Just take a look at Bokeem Woodbine and his wife, Mahiely Woodbine.
Bokeem Woodbine is not a familiar face. But you might know him as that guy who acted alongside Mark Whalberg in The Big Hit (1998), The Rock (1996), and alongside Eddie Murphy and Martin Lawrence in Life (1999).
Despite having played in these and a dozen other movies alongside some of the industry's biggest names, Woodbine found it hard to rise from mediocrity. 
The actor went through a 15-year slump, where his professional career hampered his financial and psychological state. But, despite all this, his wife stayed by his side. Not only did she provide him company, but she also offered him enough support and motivation to deal with the slump.
Woodbine himself affirmed that her support was the factor that helped him secure a spot in Hollywood yet again.
Bokeem Woodbine's Slump Started From 2001
Woodbine got into acting at the age of 19. At first, the 47-year-old starred in Strapped (1993) and worked as an extra in Juice (1992). Woodbine also starred in the great black classics of the 90s like Crooklyn (1994), Dead Presidents, and Panther (1995), to name a few.
However, his smooth-running career took a rather nasty turn from 2001. Though Woodbine got his hands on acclaimed movies such as Devil (2010), Riddick (2013), and The Host (2013), they added no value to his personal growth. Let's just say, Woodbine's acting stints weren't translated into anticipated personal satisfaction though they paid the bills.
The situation lasted 15 long years before he finally landed his breakthrough role as Mike Milligan in the hit 2014 crime series Fargo.
Bokeem Woodbine's Stints In 'Fargo' Revitalized Career
In 2014, Woodbine got the call to audition for Fargo. Since the movie typically focused on the mid-western environment, he thought the call was a mistake. Little did he know! It was an opportunity that rejuvenated his stagnant career. 
A year in the series and his once lost popularity started to rise. So much so, the actor even classifies his acting experience as "everything before Fargo" and "everything after Fargo" while talking to Variety. 
The crime series certainly brought Woodbine's popularity back in Hollywood with contracts to numerous new projects. After getting that part, the actor got into new movies and series such as Spider-Man: Homecoming (2017), The Infamous (2016), and Snowfall (2017).
More recently, he was assigned Unsolved- The Murders of Tupac and The Notorious B.I.G. in 2018. Furthermore, he is also a part of the much-anticipated 2021 series Halo and the film Ghostbusters: Afterlife.
Bokeem Woodbine's Wife Mahiely Woodbine Motivated Him To Never Give Up
Self-doubts and stress were Woodbine's constant companions during the decade-long slump. Thankfully, there was that one person in his life who was above all these issues — his wife, Mahiely Woodbine.
Even though Mahiely didn't understand the industry, she believed in Woodbine. So, when the Fargo star doubted his potentials and career choice, she showed him the other way around. She encouraged him and pushed him to believe in himself.
Many might not know this, but Mahiely was the one who motivated Woodbine to be on Fargo.
When he got the audition call, she went to her sister's house to let Bokkem concentrate on the audition's preparation.

Bokeem Woodbine attends the Los Angeles Premiere of 'Total Recall' with wife Mahiely Woodbine in 2012 
Reciprocating the support, Woodbine is vocal about his wife's dedication to his life. When talking to the host of the YouTube channel HOT 97 in 2018, he stated that his wife supported him in bleak times. He even shed light on the most challenging time of his slump.
To be in a weak position is very hard for me, to be weak, financially weak. My mind was weak. I was so frustrated. I couldn't understand. I couldn't get a job. They weren't hiring, brother!
Then, Woodbine revealed that he had no motivation to keep going. He only continued because his wife, Mahiely, assured him that he would reach his destination if he didn't give up.
I couldn't get no traction. You can get nowhere. And my woman, at the the bleakest of time... I was at zero. I had no chi. I couldn't find the motivation to keep going. And, it was my woman who said 'one day they are going to find who you are!'
With the support of his wife, Woodbine, slowly but surely, is rising to carve out a new era in his career.