CNN Journalist Arwa Damon Boyfriend & Dating Status Revealed - Finally!
The Arab-American journalist is an award-winning senior international correspondent for CNN Istanbul Bureau...having never married, she has been at times speculated to already have tied the knots... that if she were married, her husband would have been by her side...claimed that she did not have time for dating and affairs...her salary is a lot higher than a normal big apple based correspondent...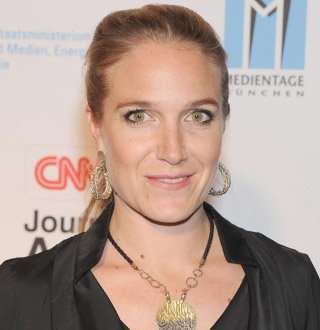 More than a decade ago, Arwa Damon made a big decision which changed the course of her life. Despite being bestowed with numerous honors and success, she didn't get to enjoy the usual girly things that girls of her age would do.  
The Arab-American journalist is an award-winning senior international correspondent for CNN Istanbul Bureau. She also serves as the President and Founder of INARA, a humanitarian organization that provides medical treatment to refugees from Syria. She recently spent several weeks reporting about a Greenpeace Expedition's efforts to protect and save the region from overfishing and climate change in the Antarctic.
CNN's Arwa Damon reports from inside refugee camp in Northern Syria hours after a coordinated US-led airstrike hit the area on 14 April 2018. (Video: Youtube.com)
The 40-year-old first worked for a textile company.
Coincidentally, Damon's textile company was next to a company called Camera Planet, and they were working with NatGeo to send a team to Iraq. After doing some research on that company, she joined CameraPlanet and worked alongside correspondent Peter Arnett's team to get into pre-war Iraq.
Career: From Freelancer To Risk Taking Journo At CNN
Before joining CNN, Arwa spent three years covering Iraq and the Middle East as a freelance producer for various news organizations including Feature Story News (PBS), Fox News Channel and CNN. However, it was after the horrific terrorist attack of 9/11 that led Damon to decide on becoming a journalist.
Soon after, she began her career at CNN in the network's Baghdad Bureau, unlike Kaylee Hartung who began her CNN career as Atlanta based correspondent. She was based in Iraq from 2003-2010. During that period, she covered many landmark stories from Iraq including the deadly battle for Fallujah, the trial and execution of Saddam Hussein and the country's first national elections following the toppling of the Ba'ath regime.
Damon was later based at CNN's Beirut bureau and was part of the network's team covering the Arab Spring. Then she moved to Istanbul.
Later in 2012, following the attack on the US embassy in Benghazi, she was one of the first journalists to arrive at the scene and was able to recover the personal diary of slain Ambassador J. Christopher Stevens from the ruins of the building.
Over the course of her career, she has covered numerous dangerous incidents including the Mosul offensive during late 2016 where her team and the Iraqi soldiers were trapped by ISIS fighters for 28 hours. Damon kept notes throughout the battle before being eventually rescued by the Iraqi military.
For her act of unwavering courage, she has been rewarded with many distinguished awards including 2017 James W. Foley Humanitarian Award; the World of Children's 2017 Crisis Award and the Syrian-American Medical Society's Humanitarian Award.
What is Arwa Damon's Salary At CNN? 
After dedicating herself at CNN for more than fifteen years, she has been well respected and honored for her work. According to Glassdoor, an average CNN Journalist based in New York earns the base salary of $67K - $96K and the additional payment of $2K - $3K.
However, having served with courage and taken numerous risks, her salary is a lot higher than a typical big apple based correspondent. Despite having her actual figures under the wraps, Arwa is thought to be one of the highest paid correspondents and reporter associated with the network and is her salary is believed to be on par with another daredevil CNN correspondent Clarissa Ward. 
Arwa Damon's Bio: Mixed Ethnicity To Languages She Masters
Born on 19 September 1977 in Boston, she spent her early childhood years in Wayland, Massachusetts. Her father, Dr. George H. Damon, Jr, is an American. Her mother, Joumana, is Syrian and grew up in Damascus. She is also the granddaughter of Muhsin al-Barazi, the former Syrian Kurd prime minister of Syria, who was executed in the August 1949.
At age 6,  Damong along with her family moved to Morocco, followed by Istanbul, Turkey three years later. She skipped sixth grade and graduated with honors from Robert College at the age of 16. She then spent a gap year with her aunt and uncle in Morocco, learning show jumping. 
Then she moved back to the U.S. to attend Skidmore College in Saratoga Springs, New York. In 1999, she graduated with a double major in French and biology. She is fluent in speaking all four languages; Arabic, French, Turkish, and English.
Arwa Damon Doesn't Have Time For Boyfriend Or Husband
After joining as a reporter amidst a war zone, Damon has experienced war and horrors. However, her presence in the battlefields has led her to miss numerous perks of normal life like the wedding of her close ones.
She has carried on focusing solely on her career as if her job were her boyfriend. Because of that, she doesn't have time to date an actual person neither did she had time to be a typical woman. Not just that, she spoke to Vogue in 2012 and claimed that she did not have time for dating and affairs and considered her job her boyfriend. 

CNN's Arwa Damon gets ready for her interview with WWD in Central Park in New York on 10 November 2017. (Photo: wwd.com)
Despite having never married, she has been at times speculated to have already tied the knots and is keeping her personal life a secret. Those claims, however, has been countered by a few media outlets claiming that if she were married, her husband would have been by her side when she had been presented with so many awards.
Until and unless she comes forward and clarifies her situation, the rumors shows no signs of abating!