'Meanspiration' Annie Lederman Has Carved a Name for Herself in the Comedy Hub
Annie Lederman is a comedian who is also the host of podcasts 'Meanspiration with Annie Lederman' and 'BloodBath w/ Annie & Esther & Khalyl'.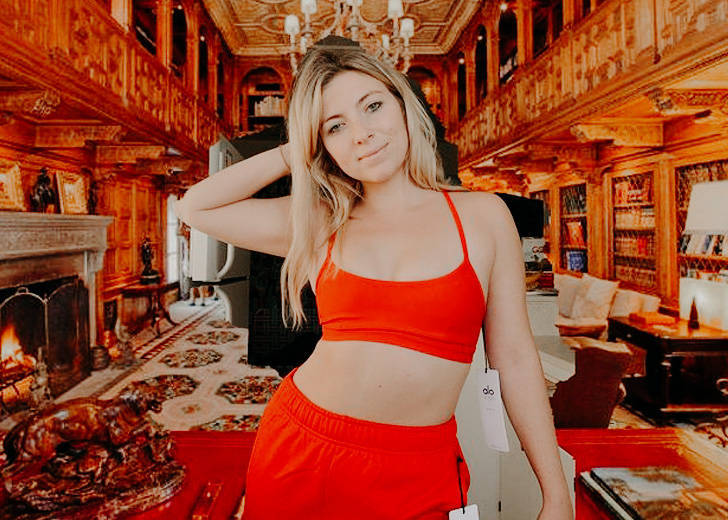 Annie Lederman has forged a name for herself amongst comedians. From being a paid regular at The Comedy Store to being featured in the store's TV mini-series documentary that explored the history behind the historic comedy hub, Lederman can be counted as one of the top comedians working today.
Aside from doing stand-up, Lederman is also a podcaster who is hosting Meanspiration with Annie Lederman and BloodBath w/ Annie & Esther & Khalyla.
But before Lederman was an accomplished comedian or a podcaster, she had a troubled past that included being involved with peers who dealt drugs and participated in other criminal activities.
Lederman's Delinquency Phase
Born as Anne Frances Lederman on July 19, 1983, at midnight in Philadelphia, Pennsylvania, Lederman was delivered a few minutes before her fraternal twin brother. She and her twin brother were both enrolled in a Quaker school called Greene Street Friends School and grew up as Quakers.
Lederman had learning difficulties as a child because of ADD which everyone in her family has. She later began training for the Junior Olympics as a swimmer but had to quit after breaking her foot in a car crash. The comic shared the story of the accident on an episode of WTF with Marc Maron.
When I was 13, I went to Mexico. My mom and I got in a car accident. I was a swimmer at first. For a while, I was on the swim team, I was gonna train for the Junior Olympics… My neighbor was driving. Her kid, another neighbor, and my mom was on the front seat and I was in the middle and the back. My mom was going to see the program I was gonna have to go in the morning and the night. It was gonna be like a swim practice where they train you for the Olympics, or for the JOs.

And so, on the way there's a drunk driver. A woman in her minivan who just comes over into our lane and just head on collision. She just crashes into us. My mom hurt her chest, and I broke my foot.
After the accident, Lederman got into a bad company and started smoking cigarettes and drinking. Her parents enrolled her in a school for juvenile delinquents, where her company got worse.
It was like bullies and the bullied [students at her new school]. So then I am there and kind of at this crossroad and I am like, "Do I lean into hanging out with the special needs kids or the true criminals?" So then I started hanging out with kids who were like really bad.

We got into a lot of trouble one summer. I was hanging out with gang members. I mean I was sneaking out, I was breaking into houses with people.
Looking back at her delinquency years, Lederman says she feels like a true survivor. She spoke about it to Irish Examiner, "Pretty much everyone I know is dead - except one guy who became a cop. I couldn't believe it. 'You are a cop - Jesus Christ, I've watched you do the craziest shit'."
She continued, "When you grow up the way I did, and see what happens to people… We were into drugs and dealing and drinking. We were bad kids and they put us together, which was a terrible idea. I've had friends die of heroin overdoses and in motorcycle accidents."
She Spent 8 Years To Complete Undergraduate Studies
Lederman enrolled at The College of Santa Fe in Santa Fe, New Mexico. She still had drinking problems and even suffered from blackout incidents multiple times. Because of these problems, she spent a total of eight years graduating. She recounted her experience when talking to fellow comedian Whitney Cummings in the Good For You podcast in January of 2021.
I went to The College of Santa Fe in New Mexico and it was a small liberal arts school. It took me 8 years to get my undergrad which I never would have gotten, it was incomplete. I just stopped going and it was incomplete because I'm good at charming my professors…
The college closed two weeks after her graduation.
Lederman Quit Drinking For Stand Up
Lederman moved to New York in 2009 to pursue a career in comedy. She gave up drinking on January 28th, 2009 after her first open mic. When speaking to Marc Maron, the comedian explained the process and her motives.
I quit drinking in 2009, January 28th. And I did my 90 and 90. And then I really started to not, I don't know, I didn't wanna talk about drinking all the time. I quit drinking after my first open mic, so I was really kind of wanting to put as much energy into stand up as I could.
Sausage Party
While working on her career as a comedian, Lederman also teamed up with artist Abbey Luck to start Sausage Party, a YouTube channel where they made videos using sausages.
They made videos recreating trailers for the 2012 Batman movie The Dark Knight Rises, Magic Mike XXL, and Jurassic Park among many others.
Their Jurassic Park recreation video, Jurassic Pork has earned more than 26 million views.
Lederman As An Actress
As her career as a comedian grew, Lederman also gained opportunities to act. She has appeared in Bert and Arnie's Guide to Friendship (2013), Knight Birds (2015), The Long Dumb Road (2018), Tasteless (2018). 
Lederman also produced four episodes of Impractical Jokers (2013).
Zach Broussard's Top Comedian List
Comedian Zach Broussard drops his annual list of Top 1,000 Comedians of the year at the end of every year. Because of the pandemic, Broussard said that his list for 2020 was operating at 25% capacity and had only 250 names.
The list contained well-known names such as Dave Chappelle. Lederman was ranked at 194. 
Lederman In 'The Comedy Store'
The Comedy Store is a famous club on the Sunset Strip whose stage has been graced by some of the biggest names in comedy since 1972. The eponymous 2020 documentary series told the story of the history-filled club and featured comedy greats such as Bill Burr, Jim Carrey, Jay Leno, Joe Rogan, etc.
Lederman is also part of the documentary series and was interviewed over the course of two years. She shared her experience contributing to the documentary with Pop Culture and worded her thoughts on her piece on The Comedy Store.
I loved the whole piece Binder did on me. It was really… I don't know, it was sweet. I was touched by it. It's so cool because I am just me. So I'm just living, tumbling through my life, just like, 'What's happening?' It's cool that I get to see it, one, filmed and then, two, through the eyes of how Mike Binder sees me, and it was very sweet. It's very flattering. I was really grateful for the edit.
Meanspiration With Annie Lederman
Lederman started her podcasting with Meanspiration with Annie Lederman. The description of the podcast reads:
"Meanspiration features comedian and life coach Annie Lederman bullying you, a sad loser, into the winner you were meant to be. Stop being a little b*tch and listen up."
Meanspiration has more than 55 episodes.
The comedian started her new podcast, BloodBath with actress Esther Povitsky and TigerBelly's Khalyla Kuhn. She announced the project via her Instagram on February 17, 2021.
Thrilled to announce my new show BloodBath with evil little angels @esthermonster & @khalamityk has launched! We laugh, we learn, and we try not to kill each other. Subscribe to it on YouTube, iTunes and everywhere you get your podcasts (links in the bio and story) and follow us here @bloodbathgirls
Based on her most recent social media posts, it is understood that Annie is currently single and hasn't been married yet. She hasn't revealed if she is dating anyone in 2021 and doesn't have any pictures with a new partner.
According to one of her Twitter posts from 2016, the comedian was in a relationship with Ben Stewart.