Zonnique Pullins' Baby Controversy. Mother Tiny Harris Has Her Back
Zonnique Pullins is expecting her first child with her boyfriend, Badhunta Izzy. Although Zonnique is becoming a mother for the first time, her boyfriend has already had two kids before. Zonnique has had an extended family with her biological mother, stepfather, biological father, stepmother and many siblings herself. This might be the reason why she was initially sad about her pregnancy. But now, she seems happier than ever and is seen flaunting her baby bump at any chance she has. She has revealed, however, that marrying her boyfriend is a bigger commitment than having his child.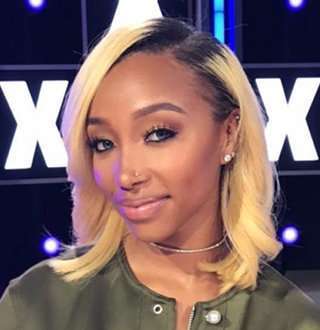 Young R&B singer, Zonnique Pullins, is known by her stage name, Miss Star that she earned while working in the girl band OMG Girlz alongside Bahja Rodriguez and Breanna Womack. She went on to pursue her solo music career after the band's split. 
Pullins is currently with another musician — rapper Bandhunta Izzy. Not only is she with him, but she is also soon expecting his child. She was seen flaunting her baby bump rather proudly for the world to see. Her pregnancy was also the cause of controversy surrounding her situation with her boyfriend. And if that drama was not enough, Pullins was also caught in a family feud when her step-mother dissed her mother in public.
Zonnique Pullins Can't Stop Flaunting Her Baby Bump
In August this year, Pullins made her pregnancy official to the whole world by publicly stating about it on her Instagram. 
In the post, she confirmed that she was indeed pregnant by mentioning a "bundle of joy" with her boyfriend, Badhunta Izzy. Having mentioned that, she said that she was going "back into her corner" as she was a private person and only shared this news when she was ready. 
Pullins seems rather proud of her baby bump as she has often been seen flaunting it proudly. 
Although this is her first pregnancy, she does seem rather comfortable and ready to overcome what pregnancy entailed.
In an August issue of People, Pullins was seen on the cover of the magazine with the baby bump in all its glory. In the same issue, she revealed that she was looking forward to the maturity and responsibility that motherhood brings. It was also revealed that she was five months along. So, doing the math, she should be expecting the baby any day now. 
Not all was fine and dandy with Pullins, however. She also revealed that having to deliver a baby in the ongoing pandemic was taking its toll on her. There were times when she had to go to the doctor by herself because the doctors wouldn't allow her to come with her baby daddy. 
Pullins Received A Lot Of Flak For Not Marrying Her Baby Daddy
Contrary to what others believe, Pullins is not married to Badhunta Izzy and she likes to keep it that way for the time being. But others in the industry, including her peers and critics, were not so fond of her situation. 
Right after she went public about her pregnancy, critics were quick to slam her for having the baby out of wedlock. 
Pullins spoke in detail regarding this in a now-deleted Hollywoodlife article and covered by Rollingout.com. She said that despite all the criticisms, she was not ready to marry because she felt that she was still too young. She further mentioned that marrying was an even bigger commitment for her.
Zonnique having a baby is cool and all. But sis, please make it a goal to get married to Izzy! Izzy already have two other kids by two different women. Please do not let you be the third baby momma. Zonnique to pretty to be a baby mamma, she definitely wifey type. — Nique (@_imsointoyou) August 5, 2020
Judging by her explanation, it is likely that Pullins was feeling quite overwhelmed by the situation and the prospect of a possible marriage with Badhunta Izzy. 
Pullins was quickly rescued by her mother, Tiny Harris, after she got caught in the middle of it all. Harris lambasted back by saying that Harris herself wasn't married when she had Pullins and that didn't turn out bad after all. In fact, Harris mentioned, that they both were doing great now.
Pullins Was Disowned By Her Biological Father
Pullins, her mother, her biological dad, and her step-mom were embroiled in a nasty public feud that came to light in 2016. 
The feud started when Pullins' step-mom Cheryl blasted rapper T.I (Pullins' step-dad) for claiming Pullins' as his own daughter and how he helped raise her. 
Not wanting to be outdone, this is when harris jumped back at her. She reminded Cheryl that T.I had been in Pullins' life since she was 5 years old and even helped pay for her school tuition. She proclaimed that T.I was more of a father to her daughter than her actual dad was. Pullins jumped in the argument too and defended her mom. And this was when Pullins' father, Zonnie 'Zebo' Pullins, allegedly disowned her. 
Pullins' mother Tiny Harris had her in 1996 when she was dating Zonnie Pullins. They then separated two years later after Pullins was born in 1998. But this comes from a source that is now deleted, so take this bit of information with some skepticism. 
Zonnique Pullins' Imperfect Family At Age 22
Zonnique Pullins was born on 20 March 1996 in Georgia. Her mother, Tameka Harris is known as Tiny in the music world and relishes her own popularity gained as an R&B singer. Zonnique Pullins was initially recognized as the stepdaughter of popular rapper T.I-real name Clifford Harris while her real dad's name is Zonnie Pullins.
The 22 years old shares her parents with six siblings- four brothers Messiah, King, Major, and Domani and two sisters Deyjah and Heiress.
The blue-eyed diva's family is as flawed as it is big. Her mother, Tiny, and stepdad T.I have been married for many years now but they've had shaky grounds in their relationships. Tiny even filed for divorce in early 2016 and separated later that year.