Marcella Samora Is Keeping Daughter Selena Quintanilla-Perez's Legacy Alive | Her Detailed Bio!
Know how Marcella Samora is keeping daughter Selena Quintanilla-Perez's legacy alive. Also, know Marcella Samora's nationality, net worth, ethnicity, and parents' details.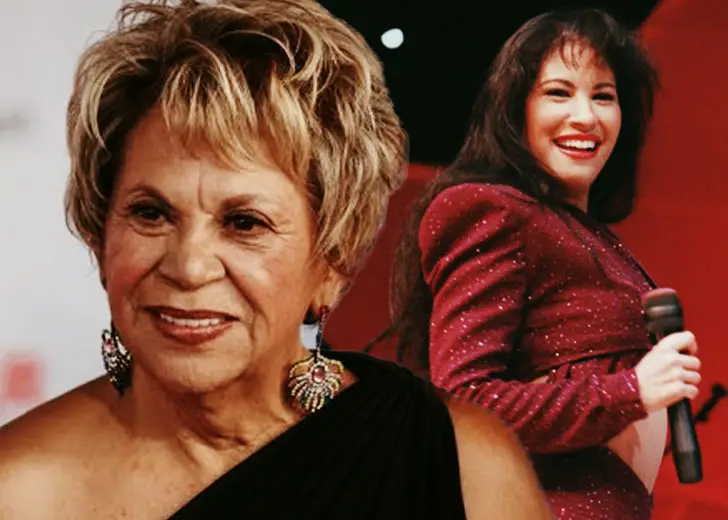 Quick Information
Nationality American
Relationship Status

Married

Husband/Spouse

Abraham Quintanilla

Son/s

Ab Quintanilla

Daughter/s

Selena Quintanilla-Perez (Died), Suzette Quintanilla

Date of Birth

July 17, 1944

Wedding Date

June 8, 1963
No one likes tragedies but everyone has to face them at one point or another in their lives.
Marcella Samora also went through such tragedies: she faced the death of her youngest daughter and had to spend the rest of her life with the unrelenting agony of outliving her child and an all-consuming void in her heart.
The Texas-native is the wife of American producer Abraham Quintanilla Jr. and the mother of three children, including late singer-songwriter Selena Quintanilla Pérez.
Marcella Samora Belongs to Cherokee Ancestry
Marcella Samora was born on July 17, 1944, to a Texan father and a Coloradoan mother. According to Billboard, she belongs to Cherokee ancestry.
Presently, she resides in the United States of America with her husband, Abraham Quintanilla. She, thus, holds an American nationality.
Has Been Married To Abraham Quintanilla for 55 Years
Marcella Samora met Abraham Quintanilla Jr. in 1961 when he was serving in the military. The couple married two years later in 1963 and are still together. They have been together for 57 years.
On June 9, 2020, their daughter Suzette Quintanilla wished them on their 57th anniversary through her Instagram. In the caption, she wrote, "Happy 57 TH Anniversary to two people I Love sooo much."
Together Samora and Quintanilla are parents to three children: A.B. Quintanilla III, Suzette Quintanilla, and late Selena Quintanilla-Pérez.
They are also grandparents of three: Jovan Arriaga (Suzette Quintanilla's son), Savani Quintanilla (A.B. Quintanilla III's daughter), and Giani Quintanilla (A.B. Quintanilla III's son).
Daughter Died at Young Age: What Happened Selena Quintanilla-Pérez?
Marcella Samora and Abraham Quintanilla's youngest daughter Selena Quintanilla-Pérez was shot dead in 1995. The singer was just at the age of 23 at the time.
Starting from the first, Marcella Samora's husband's avatar of a talent manager was bearing fruit; Selena, who had followed her father's footsteps of becoming a musician, was on her way to superstardom.
Performing with her band Selena y Los Dinos, Selena saved 'Tejano' cultured-music (roots from Texas and original Spanish-speaking Texans) from its near extinction. With her strong vocals and charismatic stage presence, the American singer made the music famous in Texas in the 90s and became a music sensation.
However, her life dedicated to the symphony's art was overshadowed by her death.
Selena was murdered by her fan club's former president, Yolanda Saldívar, because of a disagreement on business issues. Apparently, Yolanda was running Selena's boutique business inappropriately, and when Selena confronted her, it upset Yolanda. In a heated argument, she shot Selena.
The incident shook the music industry as well as Hollywood. But the biggest tremble was experienced by Selena's parents, especially her mother. It's almost impossible to grasp hold of a mother's grief at a child's death.
But Marcella was as strong a person as can be—she fought alongside her family for justice for her daughter and Yolanda's conviction. It must be the undying love for her daughter that Marcella is still working to honor her memory—even now, after 25 years of her death.
In memory of Selena, Marcella, along with her family and Selena's husband, Chris Perez, runs The Selena Foundation. It is a non-profit organization that offers young children motivations to stay in schools and learn family values to be a better human being.
Marcella Samora and Family Keeping Selena's Legacy Alive
25 years after the tragic death of Selena Quintanilla-Pérez, her name and legacy has still been kept alive, all thanks to her parents.
In keeping her memories alive, Marcella Samora and her family planned to honor Selena with an album of remixed Spanish-language songs she recorded as a teen. The songs would have been a remix from a new generation of artists.
In addition to that, the family planned a tribute concert on May 9, 2020, at the Alamodome in San Antonio. The stars like Pitbull, Ally Brooke, Becky G were set to perform on Salena's music. However, due to unavoidable circumstances of the COVID-19 pandemic, the concert had to be canceled.
The next big thing dedicated to Selena's fans is a Netflix series titled Selena: The Series, based on Selena's rise "to fame as she and her family make sacrifices to achieve their lifelong dreams."
The series is directed by Hiromi Kamata, written by Moises Zamora, and backed by Salena's father, Abraham Quintanilla. Actress Christian Serratos portrays Selena, while actor Ricardo Chavira portrays her dad, Abraham Quintanilla Jr.
The series got released on Netflix on December 4, 2020.
Speaking to People magazine in March 2020, Salena's father Abraham Quintanilla shared the promise he made with his family 25 years ago at the time when Selena passed away. He said,
When Selena passed away, I told my family that I was going to try to keep her memory alive through her music.
Today, with her music and life still inspiring many, father Quintanilla feels that he, along with his family, has accomplished to keep her daughter alive, promoting her musical work and inspiring life.
And 25 years later I think we, as a family, accomplished that.
Moreover, to keep his daughter's legacy alive, he penned a book with Nancy De Los Santos.
He expressed that the books written about Selena by other authors weren't exact and credible through a Facebook post. Therefore, he always wanted to write a book to share the real details of Selena's life. The book is yet to hit the market.