Marcella Samora Now After Death Of Young Daughter! Bio, Age, & Nationality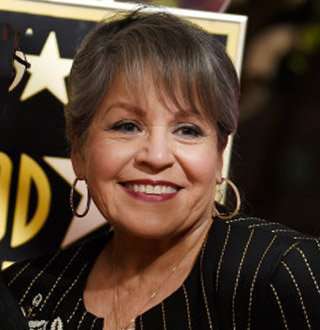 Quick Summary
| | |
| --- | --- |
| Birth Year | 1944 |
| Nationality | American |
| Relationship Status | Married |
| Husaband/Spouse | Abraham Quintanilla Jr (M. 1963) |
| Dating/Affair | Abraham Quintanilla Jr (M. 1963) |
| Net Worth | Not Disclosed |
| Ethnicity/Race | Caucasian |
| Hair | Short |
| Lesbian | No |
| Son/s | Ab Quintanilla |
| Daughter/s | Selena Quintanilla-Perez (Died), Suzette Quintanilla |
No one likes tragedies, but everyone has to face it at one point or another in their lives. However, there are only a few people who go through what Marcella Samora went through: to face the death of her youngest daughter, to spend the rest of her life with the unrelenting agony of outliving her child, and an all-consuming void in her heart.
The Texas-native is the wife of American singer, songwriter, and producer, Abraham Quintanilla Jr., and the mother of late singer-songwriter, Selena Quintanilla-Perez.
Marcella Samora Bio: Age, Nationality & Parents
Marcella was born to a Texan father and a Coloradoan mother in 1944. Coming from a peasant family, Marcella- from her early childhood - learned to work in the fields, and thus the importance of hard work and perseverance along with it.
Read Also: Diane Sawyer Personal Life: Husband's Tragic Death To Children Details!
She possesses white Caucasian, Hispanic as well as native Indian roots, and belongs to American nationality.
Marcella Samora's Marriage Is Now In 55th Year
Marcella met Abraham Quintanilla Jr. in 1961 when he was serving in the military. The couple married two years later and are still together, now after 55 years of ups and downs of a marital relationship.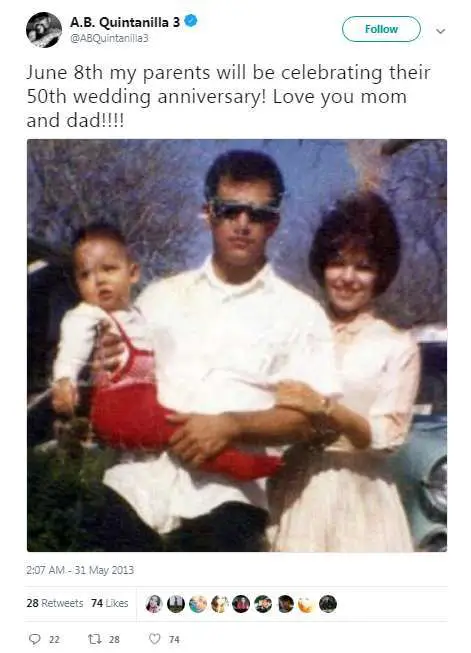 Best Parents: Abraham and Marcella's son A. B. Quintanilla celebrates his parents' 50th anniversary (Photo: A.B. Quintanilla's twitter)
With three children, a son and two daughters (one of whom died early) and three grandchildren and possibly few more to come, the couple has lapped up the sweetness provided by marriage and children, as well as the worst tragedy that can befall any parents, the death of a daughter.
How Marcella and Abraham Quintanilla Earn Their Net Worth?
Marcella's husband Abraham Quintanilla was a musician in his early days. After a brief period as a musician, he was a music-themed restaurant owner. And his role has now changed to that of a father cum talent manager after becoming his kids' manager. These days he is using his experiences from his own music career to make his young' ones successful.
Similar: Elena Gant Wiki; Young Age Mother Of Twins With Husband Achieves Weight Loss
All the ventures in his life have made Quintanilla family's net worth quite large. Together, Marcella and Abraham garnished the colossal net worth of $10 million now.
Marcella Samora- When Tragedy Struck: Death of Daughter at Young Age
Her husband's avatar of a talent manager seemed to be bearing fruit as the couple's youngest daughter, Selena was following in her father's footsteps of becoming a musician and was on her way to superstardom.
Performing with her band, Selena y Los Dinos, Selena brought Tejano cultured-music (roots from Texas and original Spanish-speaking Texans) from its near extinction to one of the most listened music in Texas in the 90s. With her strong vocals and charismatic stage presence, the American singer was a music sensation.
However, her life dedicated to the art of symphony was overshadowed by her death that brought even greater ripple over the music aficionados.
Selena was murdered by her own employee and fan Yolanda Saldivar because of a disagreement in some business issues. Apparently, Yolanda was running Selena's boutique business inappropriately, and when Selena confronted her, upset Yolanda shot her.
During the time of her death in 1995, Selena was just 23 years in age.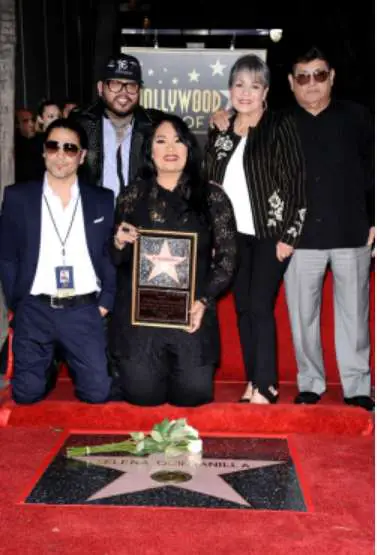 Hollywood Walk of Fame: Quintanilla family and ex-husband Chris Perez receiving Selena's Hollywood Walk of Fame Star (Photo: walkoffame.com)
It's almost impossible to grasp hold of a mother's grief at her daughter's death.
Marcella was as strong a person as can be; she fought alongside her family for the justice for her daughter, and for the conviction of Yolanda. It must be the undying love for her daughter, that Marcella is still working to honor her memory-- even now after 23 years of her death.
Interesting: Antonia Lofaso Bio: Got Husband After Daughter's Father, Boyfriend Death?
Marcella, along with her family and Selena's ex-husband, Chris Perez, runs The Selena Foundation-- a non-profit organization that offers motivations for young children to stay in schools, learn the family values, and essentially be a better human being.
---