Jordan Davis and Wife Kristen Davis Are Making Music and Adding to Their Family during Quarantine
Jordan and Kristen Davis announced their second pregnancy while revealing the baby's gender.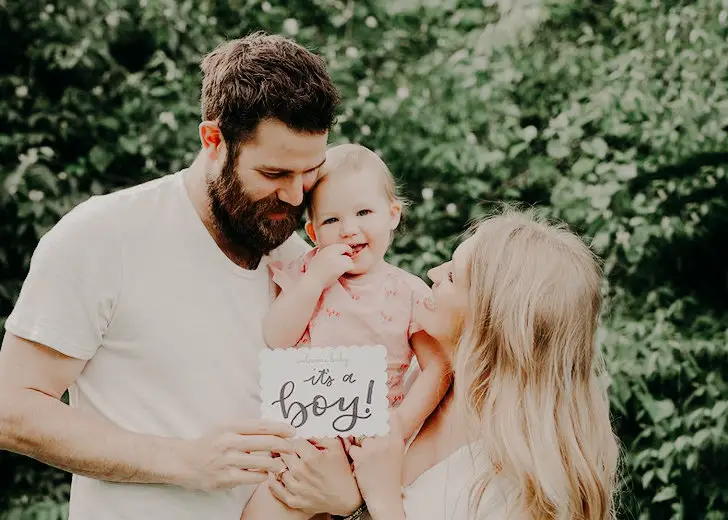 Jordan Davis and his wife Kristen O'Connell are expecting their second child.
The singer made the announcement on his Instagram, sharing a sweet picture of him and his wife with their daughter Eloise. They held up a sign that read, "it's a boy!", revealing the baby's gender and expressing their excitement at the prospect of parenting two kids.
The news came just four days prior to the release of his upcoming 'Buy Dirt' EP set to be released on May 21, 2021. This will be Davis's second EP since the start of quarantine.
For their first pregnancy, the couple waited until the baby was born to find out the gender.
Back in 2019, Davis told ET that he would go about things differently for his next child.
If we're blessed enough to have another child, I want to find out what it is because I'm tired of calling it 'the baby' or 'it.' I want to know 'him' or 'her!'
Davis and O'Connell welcomed their first child, daughter Eloise Larkin Davis on November 17, 2019, two years after tying the knot.
She was born in Nashville, weighing in at 8 pounds and measuring 19.75 inches.
Davis Is Actively Making Music In Quarantine
Like the singer mentioned in his Instagram post, he has been putting out new music during quarantine.
Back in May 2020, Davis released his self-titled EP 'Jordan Davis' which had six songs — 'Almost Maybes,' 'Church In A Chevy,' Ruin My Weekend,' 'Little Lime,' 'Detours,' and 'Cool Anymore.'
The song 'Detours' told the story of how he and his wife O'Connell met.
His daughter Eloise even appeared in the track's music video.
The couple opened up about their first meeting while talking to CMT. Davis and O'Connell met when they were attending the wedding of friends.
The attendees of these two separate weddings stayed at the same hotel. They eventually met each other at the hotel lobby of Holiday Inn Express, Houma, Louisiana after the weddings ended.
Continuing with his music career, Davis is set to release his next EP titled 'Buy Dirt' on May 21, 2021. The EP will have eight songs, out of which, seven are co-written except for 'Blow Up Your TV.'
Davis said the EP is a product of all the lessons he learned and the extra time he had because of the pandemic.
I'm in a different spot in my life than I was when I released Home State. We all are! 2020 was a tough time for everyone. I was able to use that time to recenter some things in my world, and I didn't want those lessons to go to waste. I wanted to create something special.
The EP will also feature his current top 10 single 'Almost Maybes' as well as his previously released single 'Need to Not.'