Daniel Lissing On Co-Star He Married & Made His Wife - Erin Krakow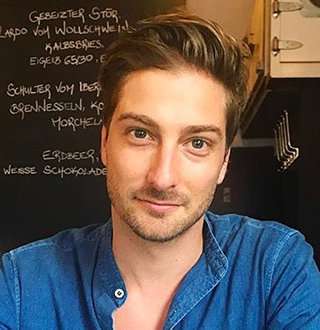 Quick Summary
| | |
| --- | --- |
| Date of Birth | October 04 ,1981 |
| Age | 38 Years 5 Month(s) |
| Nationality | Australian |
| Birth Place | Sydney, Australia |
| Profession | Actor |
| Career | 2006–present |
| Relationship Status | Dating |
| Girlfriend | Nadia (2018-present) |
| Gay | No |
| Net Worth | N/A |
| Ethnicity/Race | Mixed |
| Father | Jerry Lissing |
| Mother | Inge Christophers |
| Sister/s | Tamara Lissing |
| Height/ How Tall? | 5' 11" (1.80 m) |
| Hair Color | Light Brown |
| Eye Color | Brown |
Daniel Lissing enjoyed a great relationship with fellow actress Erin Krakow. The two shared terrific chemistry between them and enjoyed a beautiful on-screen wedding together. The moment led people to ask if he was married to Erin.
The Australian actor is well-known for his portrayal of Conrad De Groot in hit television series, Crownies in 2011. He is also quite popular as Jack Thornton in the Hallmark American-Canadian TV series, When Calls the Heart.
Bye Bye Officer: Daniel Lissing (constable Jack Thronton) leaves series When Calls The Heart in June 2018. (Photo: Et.com)
Before his breakthrough role in Crownies in 2011, he appeared as a guest in the successful Australian series Home and Away, where he played the firefighter, Dave Elder, in 2006.
You May Also Like: Jamie Orchard Bio: Secretly Married To Husband? Family Reflects
Daniel Lissing's Bio: Crownies, The Cure, When Calls The Heart
Born on October 4, 1981, Daniel Lisssing grew up on the beaches of Sydney. He was bred into a gentleman by his loving mother and father. Alongside him, they also raised his sister with whom he shares a cherishing relationship. He loves to spend time with his family.
He joined series Crownies in 2011. He played Conrad De Groot, the fiancé of the lawyer Tatum Novak. The same year he appeared in the movie Entwined, where he portrayed the character of Aiden.
In 2012, he joined the cast of American series Last Resort as James King, a petty officer of U.S Navy SEAL. That same year he starred in The Cure movie, where he played the role of Ryan Earl - a member of a research team who feels he deserves greater recognition and fame. Later in 2016, he appeared with Jessica Lowndes in the Hallmark Channel's movie A December Bride as Seth.
As of August 2018, he left the show When Calls the Heart after more than four seasons and a glorious wedding with his on-screen wife, played by American actress Erin Krakow.
Similar: Sangita Patel Bio: Everything To Know - Age, Married, Husband, Family, Height, Parents, Net Worth
Made American Actress Erin Krakow His On-Screen Wife
Daniel Lissing and co-star Erin Krakow - Jack and Elizabeth - went for five seasons of romance & dating until finally, the fictional characters tied the knot in March 2018. The on-screen wedding was a beautiful ceremony surrounded by their closest friends and family in Hope Valley.
The scene was surreal so much so that not only did Daniel and Erin pen their character's beautiful vows, but they also treated the entire wedding as though it was real; they even wrote their vows.
The stunning bride was kept a total surprise as they stuck to a real and traditional act of the scene. When the Australian actor saw Erin Krakow for the first time in her stunning, lace-embellished bridal gown, he was completely blown away. He couldn't stop shaking his head as she walked down the aisle.
Before their iconic on-screen wedding between their characters, Jack and Elizabeth, Daniel felt the need to express his feelings to Erin that he had got after learning about his grandfather's death, ten minutes before they started shooting. He was relieved to have such an understanding working partner in Erin.
"I got a phone call from my mom from Australia telling me that my grandfather had just passed. It was one of those days on set that I pulled Erin aside and said, 'I need you to have my back today,' and when we were going through those vows, it was really hard not to lose it. I've still gotta deliver these lines and be present and she was my rock."
After being pronounced the husband and wife, the on-screen couple shared a much-awaited kiss; this part needed to be perfect if the whole marriage scenario was to feel as it did. They got the kiss right on their first try. After practicing for five seasons, they were better ex[ected to get it right!
You Don't Want To Miss: Inside Cheryl Hickey Family: Wedding, Husband, Divorce, House & More Personal Life Details
Is Erin Krakow Daniel Lissing's Girlfriend?
It's vivid that Jack and his wife's awesome chemistry on-screen is rooted upon Daniel Lissing and Erin Krakow's steadfast friendship off-screen.
Although Daniel's an uber private man, he's always being linked with his co-star Erin Krakow. The intense chemistry they emit is without the doubt one of the best chemistry shared on a television series.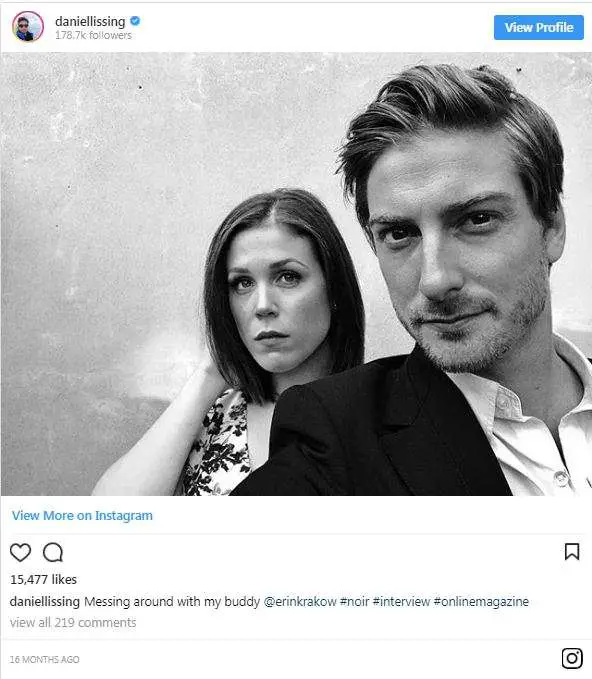 Stop Smiling While Clicks: Daniel Lissing & Erin Krakow enjoy their break from shooting series General Hospital on 24 March 2017. (Photo: Instagram)
Daniel and Erin tried to kill off the rumor between them. Their performances together and their strong bond has convinced fans that they are dating. However, both the pair have laughed off the claims.
Is Daniel Lissing Married Or Gay?
No matter how many times the fans and media ask Daniel about his relationship, he likes to let his fans do the imagination as to who his future wife might be. He has been linked with his good friend & co-star Erin Krakow but denied the rumors between them.
The 'friendship tag' he has set with such a beautiful and talented actress in Erin has made his fans imagine that maybe he might be gay. However, just because someone has an uber personality and doesn't like to share personal details about them to others doesn't make him gay.
But Daniel has smashed any gay rumors right through the center as he revealed that he is indeed in a relationship with a woman who goes by the name Nadia. Not many details are available about her except her Instagram page where she can be seen enjoying the best life has to offer. In many of Danie's own Instagram posts, he can be seen spending quality time with his girlfriend. It seems love is very much well and alive between the two.
---