How Will Samuel Umtiti Fit At AS Roma If He Moves?
Samuel Umtiti, who has been deemed surplus to requirements at FC Barcelona, is now being linked with a move to AS Roma. But, is he a good fit for the Italian club? Here, we analyze both the player and the club's situation and see if they are compatible.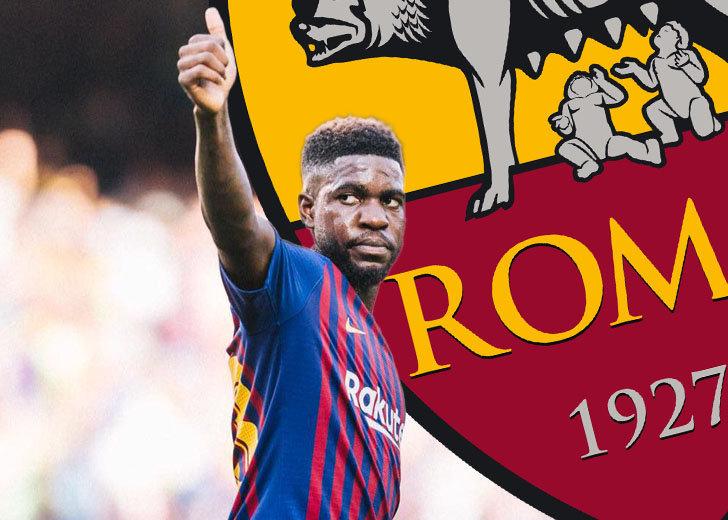 Samuel Umtiti now has the task of finding a new home. A recent report from SPORT suggests that FC Barcelona have told Umtiti that he is not needed for the 2020-21 season. 
Clement Lenglet's dependability and his own injury woes might have been the major reasons behind the club taking such a decision about Umtiti.
Despite him and his representatives still wanting to stay at Barcelona, the club have started listening to offers from clubs elsewhere, particularly from the Premier League and Serie A.
One of the clubs that are reportedly interested in signing Umtiti are AS Roma, according to Sport. The Giallorossi want to bring in Umtiti for a season-long loan with an option to make the deal permanent at the end of his loan season.
Is Roma the right destination for Umtiti? Here, we analyze the situations of both the player and his potential future club to see if they are a good fit for one another.
Is Umtiti A Good Option For AS Roma?
Umtiti was brought in by FC Barcelona for €25 million from Lyon at the start of the 2016-17 season.
He was signed as a long-term defender at the left-center back position. He performed amazingly during his first season in the Catalan capital.
But, his injury problems started to cause problems in the 2017-18 season. And since that season, he has missed a lot of games for the Azulgranas.
However, no one can argue that he has undeniable quality. The French  World Cup winner is one of the best defenders around when he is fit and playing well. 
Umtiti is also a decent fit for the Gialorossis. Now aged 26, he will be a good long-term replacement for Federico Fazio and Juan Jesus, who have not had a good spell of performances for Roma, anyway.
Between them, they only made 28 appearances in all competition during the 2019-20 season.
In similar situations are Roger Ibanez—who has just made ten appearances in all competitions this season, and Mert Cetin—who has six appearances all season.
In this season, Roma's defense was sustained by two loanee center backs: Manchester United's Chris Smalling and Atlanta BC's Gianluca Mancini,
Smalling's loan deal has ended now, and Mancini's loan ends in September.
In this situation, Samuel Umtiti would be a welcome addition to the team who are really struggling with their defense. He will get plenty of minutes if he can remain fit.
Roma conceded 51 goals in Serie A this season, and his quality will hugely help Paulo Fonseca further tighten up his defense, whether he plays a 3-at-the-back system or two center backs and two fullbacks.
Conclusion
Umtiti to AS Roma would be a great deal for both the player and the club.
Umtiti can get to play regular minutes on the pitch and regain the form and quality that he showcased in the past if he is given adequate care and time to resolve his injury concerns,
Similarly, Roma can benefit a lot from this deal if they can get a fit (or near-to-fit) and committed Umtiti in cheap from FC Barcelona.
United's transfer market value is €32 million, as per Transfermarket. His weekly salary is £210,000, according to Givemesport.