Is 'Gay' Star Jim Rash Married, Dating Or Single? — Also Know His Bio & Net Worth
Learn about Jim Rash's personal life.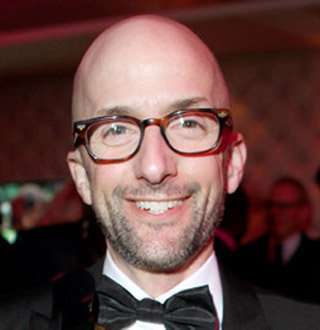 Quick Information
Date of Birth

Jul 15, 1971

Age

52 Years, 2 Months

Nationality American
Birth Place

Charlotte, North Carolina, United States

Profession

Actor

Career

1995–present

Relationship Status

Single

Gay

Yes

Net Worth

$8 million

Ethnicity/Race

White

High School

Lawrence School

Height/ How Tall?

5 Feet 7 Inches

Eye Color

Blue

Birth Name

James Rash

Awards

Oscar Awards For Best Writing, Adapted Screenplay (20 More Awards)

Nominees

BAFTA Film Award For Best Adapted Screenplay (28 More Nominations)

Hair

Bald
Jim Rash is a popular actor who is known for his LGBTIQ+ roles, such as Dean Craig Pelton in the NBC sitcom Community, Jonathan in the American sitcom Help Me Help You, and Robert in the 2022 American romantic comedy film Bros.
The Charlotte native is also a versatile actor who has landed stints in television and movies such as  Friends, Captain America: Civil War, Home Sweet Home Alone, Project Artemis, The 70's show, The 90's Show, Harley Quinn, Velma, and Marverl's Ironheart.\
In this article, we will cover Jim Rash's relationship and sexuality in detail, as his new fans might have been curious to know everything about him. 
Is Jim Rash straight, gay, bisexual, or pansexual?
Downhill co-director Jim Rash, who stands at 5 feet and 7 inches, came out on National Coming Out Day on October 12, 2018. On occasion, he uploaded his picture on Instagram, accompanied by a long caption that described his coming out story six years ago.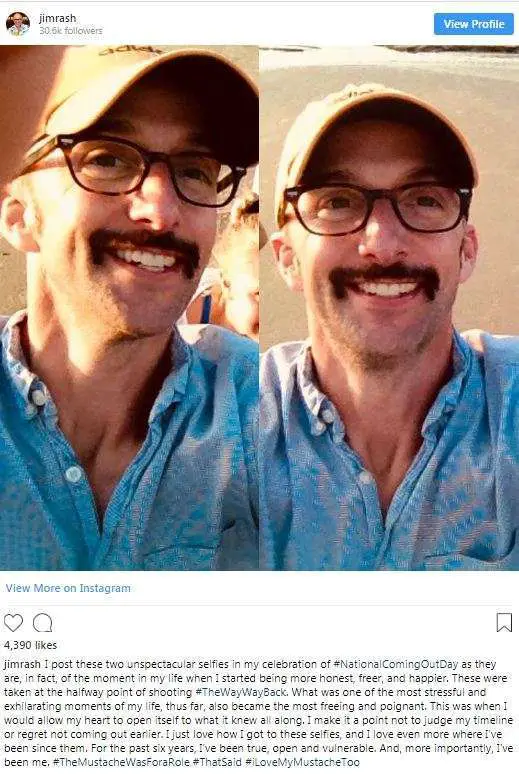 Jim Rash shared his coming out story in his Instagram post. (Photo: Jim Rash's Instagram)
In the caption, he hinted that the pictures taken six years back were from the moment of his life when he "started being more honest, freer, and happier." That explained why he accepted himself as gay six years before the post, i.e., in the year 2012.
He further shared that he felt it was the right time to share his story with everyone and didn't regret "not coming out earlier."
For the past six years, I've been true, open and vulnerable. And, more importantly, I've been me.
Moreover, the Bros actor takes pride in being who he is and accepts that it has given him more freedom than ever. He is also in favor of LGBTQ+ rights and is a regular attendee of the LA Pride Parade.
Getting back to the question, Rash, however, hasn't publicly talked about his sexuality. But many sources have deemed him gay after he made the coming out post. And, it's not technically accurate to label him gay, as sexual orientation is a broad topic and falls under individual choices.   
Still, the word "gay" is used as an umbrella term by many to denote the LGBTIQ+ community when the exact sexual orientation is not known. Hence, the answer to Jim Rash's sexuality is that it remains undisclosed as of now. 
Rash himself talked about the matter when discussing the sexuality of his character Dean from Community. When the Vulture correspondent added during the conversation that Lana Dunham had remained about human's complex sexuality, the actor replied, "That's the way it should be."
Who is Jim Rash dating now? Does he have a boyfriend?
Speaking of his relationship status, 51-year-old Jim Rash is allegedly in the dating game presently — with no serious relationship, wife, or spouse.
There also have been no reports about his engagement or wedding. Similarly, there are no records of him marrying or having children. He is also very private about his personal life, which largely keeps his love life undisclosed.
However, some rumors have been circulating online about him dating Nat Faxon. However, they are just close pals who have also collaborated on many on-screen projects. 
How old is Jim Rash? 
Born on July 15, 1970, in Charlotte, New York, U.S., Jim Rash's age is 51 as of writing.
Jim Rash was adopted when he was a child
Rash's biological parents are unknown since he was adopted as a child by an affable family along with his sister.
He lost his father, who adopted him, some years back. But he still has his mother by his side, with whom he spends good times.
As for his education, the 90's Show actor attended Lawrence School in New Jersey. Moreover, Rash stands tall at the height of 5 feet 7 inches.
What is Jim Rash's net worth?
Mike Tyson Mysteries actor Jim Rash has maintained a consistent presence in entertainment as an actor, producer, director, and screenplay writer. He has worked in a number of movies, with several accolades under his belt.
Therefore, Rash's successful career has also helped him gather an estimated net worth of $8 million.
In 2012, he was even nominated for the Critics' Choice Television Award for Best Supporting Actor in a Comedy Series for Community. In 2013, the Charlotte native also produced and directed the 2013 movie The Way Way Back.
What is Jim Rash's zodiac sign?
Jim Rash was born on July 15, making him a member of the intuitive and deeply emotional Cancer zodiac sign. The qualities of those born under this sign include loyalty, sensitivity, and nurturing. In addition, they frequently follow their strong intuition, which enables them to consider others' needs and emotions.
The star sign of Jim Rash as an actor could also have influenced his character and methods of acting. Cancerians are renowned for their capacity to access their own emotions as well as those of others, which is an important talent for actors who must capture the complexity and authenticity of complex characters.
The MY DAD THE BOUNTY HUNTER! actor's career as an actor, writer, and producer can also be linked to the fact that Cancerians are frequently artistic and drawn to the arts. And his success in the entertainment industry has probably been influenced by his capacity to access his emotions and use them to inform his craft.
Moreover, Jim Rash's Cancerian characteristics may also have touched his personal life and relationships. Cancers are renowned for their nurturing qualities and desire to forge close bonds within their communities.
Overall, Jim Rash's Cancer zodiac sign may offer some insight into his personality and method of conducting both his professional and personal lives. Even though not everything can be explained by astrology, which many may also regard as unscientific, it's intriguing to think about how the stars might have influenced how he became the person he is today.