Detailing 'Get Out' Star Betty Gabriel's Journey — From Early Life and Career to Bio and Net Worth
Apart from acting, Betty Gabriel has an Animal Science/Pre-Vet degree from Iowa State University is also a Juilliard alum.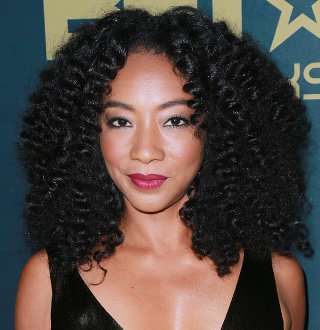 American movie star Betty Gabriel has been able to cement her name in the list of famous actresses, after marking her presence known in hit movies.
She portrayed Georgina in Jordan Peele's Oscar-Winning directorial debut, Get Out. She also played Laney Rucker in the action film The Purge: Election Year.
Let's delve into every little detail about her. Keep Reading! 
Betty Gabriel's Famous Movies & TV Shows
Gabriel kickstarted her acting career with her first significant role in a 2011 drama, In Memoriam, but she'd been active in the film industry since 2009.
Progressing along the way in her career, the Washington D.C. native got featured in small yet recurring roles in Westworld alongside Shannon Woodward and Good Girls Revolt.
And in 2016, Betty starred as one of the leads in the horror sequel, The Purge: Election Year.
Just a year after working in the movie, The Purge: Election Year, Betty got praises for her unbelievable performance in Get Out.
Moreover, from the same movie, Betty went on to be a contender for the 2018 Academy Awards for the nomination of Best Supporting Actress by Variety and The New York Times.
What's more, her role was even observed as one of the best performances of 2017 by The New York Times.
Moving on with the accolades, Betty, who stands tall at the height of 5 feet and 4 inches, also featured in the movies like Diverted Eden, Unfriended: Dark Web, and Upgrade, which was released in 2018.
And as for 2019, Betty played the role of Naya Temple, an FBI agent in the TV series, Counterpart.
In addition, the actress has her hands full in 2021 with acting credits in The Spine of Night (Movie), Clickbait (TV Mini Series), and Tom Clancy's Jack Ryan (TV Series).
Betty Gabriel's Net Worth?
The actress is undoubtedly standing at the peak of her movie career; from marking her presence with an eye-popping attire in the Oscars to working in back-to-back hit movies.
Although Betty remains way too reticent when it comes to sharing any details that are related to her net worth, there's no doubt that her net worth is around millions of dollars which she got from her recent movie successes.
A very conservative estimate of Betty Gabriel's net worth being $1.5 million is thrown around on the internet. However, no factual statements have been released.
Betty Gabriel's Bio 
In recent times, Betty Gabriel's bio has been a trending topic that people are thriving to know. But Betty has not broken her silence on the matter although the buzzes of curiosities keep tickling her to speak.
However, it is known that she was born in Washington D.C. and was raised in Pittsburgh and Hyattsville, MD. She possesses an African-American ethnicity.
She graduated from Iowa State University with a bachelor's degree in Animal Science. She then studied acting and is a graduate of Juilliard. For years she performed as a dancer and actor at famous theaters like Steppenwolf and Victory Gardens.
And through a tweet, it also came to the light that she celebrates her birthday on the 14th of October.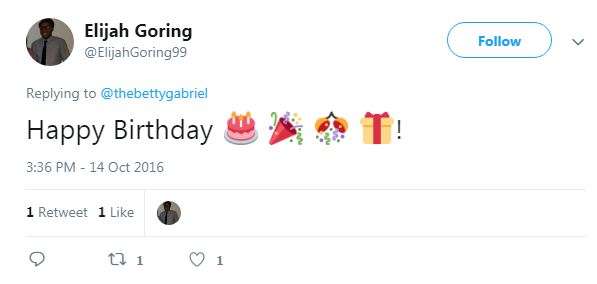 Elijah Goring wishes Betty Gabriel a pleased birthday (Source: Elijah Goring's Twitter)
Besides, nothing is heavily detailed about her. So let's endure some patience until she decides to speak about herself.