Could A Swap Deal Between Guendouzi & Coutinho Happen?
With both Arsenal and FC Barcelona struggling with Guendouzi and Coutinho, both clubs could try to solve each other's problems by agreeing upon a swap-deal for the players. Here, we take a look at how the financial aspect of the swap-deal could work out.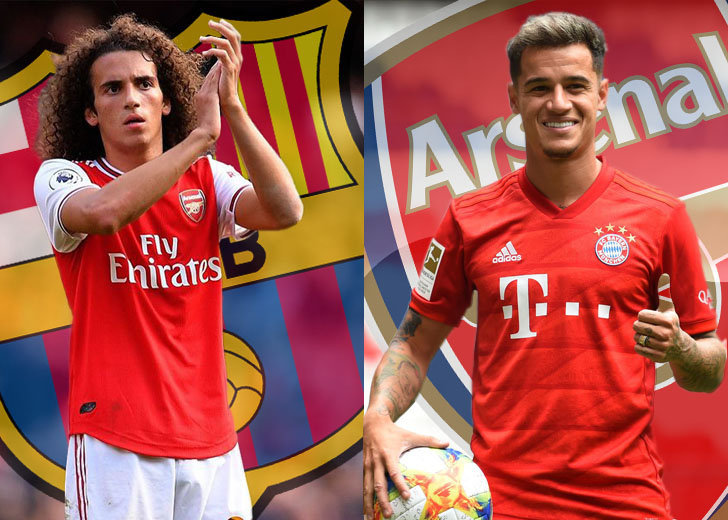 Arsenal are facing a problem regarding Matteo Guendouzi, who is at odds with manager Mikel Arteta.
Similarly, Coutinho's time at FC Barcelona might be coming to an end as his one-and-a-half years at the Camp Nou and a loan season at Bayern Munich have failed to impress both Barcelona and Bayern enough to keep him.
Rumors Floating about Coutinho To Arsenal
Over the past few days and weeks, Coutinho has been heavily linked with Arsenal. This happened right after Newcastle's Saudi takeover fell through.
Coutinho's agent, Kia Joorabchian, has had a significant part in these links with Arsenal. Kia has also been linked to other Arsenal related transfer rumors regarding the other two players he represents.
If you don't know, he is also the agent of Willian and Joelson Fernandes — two players who are also linked to a move to the Emirates.
Coutinho is looking to come back to the Premier League, according to Joorbchain, But none of the top four clubs have made a move on him. Hence, it is likely that he will end up at Arsenal.
Arsenal Forced to Offload Guendouzi
Ever since his bust-up with Arteta and his behavior during a match against Brighton, Guendouzi has not played at all.
Along with his injury problems relating to his Achilles tendon and his attitude, Guendouzi has become an outcast at the club.
Arsenal are said to be in two minds about the Frenchman. They do not want to sell him because of his talents. However, they might be forced to offload him this summer due to his problems with the manager.
Could a Swap-Deal Between Arsenal and FC Barcelona Happen?
Since Barcelona are struggling with Coutinho and the same has been true for Arsenal in the case of Guendouzi, they will likely involve in some kind of swap-deal involving Guendouzi and Coutinho.

Guendouzi and Coutinho could go the opposite directions in a swap deal between FC Barcelona and Arsenal (Photo: Hollywoodmask)
From Barcelona's perspective, offloading Coutinho would be a huge financial load off their shoulders and would give the club chance to bring in fresh players to the first team. Coutinho currently earns more than £200 thousand per week at FC Barcelona.
As for Arsenal, Coutinho could solve Arteta's problems regarding creativity from the midfield. The Spaniard has Aubameyang firing on all cylinders up front, but he needs a good creative player behind Auba to keep the scoring chances coming.
Similarly, Guendouzi could solve FC Barcelona's central midfield woes given:
a. Arthur's departure at the end of the season
b. Rakitic linked with a move away from the Camp Nou
c. Busquets and Vidal getting older by the day
Right now, Barcelona need a young, athletic player in the middle of the pitch for the future. Riqui Puig is one part of the equation to solve this problem, and Guendouzi could be the other part.
How Could This Deal Work?
For this swap-deal to take place, financial matters have to be agreed upon by both the clubs. Arsenal and FC Barcelona—both of whom are in deep financial troubles—will have to agree upon a proper valuation for both players.
Firstly, let's look at what valuation each player commands. In Guendouzi's case, he is valued at €32 million by sources such as Transfermarkt. However, he is only valued at only €25 million by Arsenal.
According to Ed Aarons and Fabrizio Romano's article on The Guardian, Thomas Partey was valued by Atletico Madrid at €50 million, and Arsenal proposed a swap deal with Guendouzi and €25 million.
Now let's talk about Coutinho's price. Valued at €56 million by sources such as Transfermarkt, FC Barcelona values him much higher than that. According to SPORT, Barcelona valued him at around €70 million as of June 2020.
Going by these valuations, Arsenal will have to pay €45 million in cash plus Guendouzi to bring in Coutinho.
However, the Catalan club could let Coutinho go for less than €70 million since no other club reported to be going after the Brazillian.
Recent Developments
The Sun has reported that Arsenal and Coutinho have agreed "personal terms."