Look Into Scott Bloomquist's Lavish Hauler, Series Wins And Net Worth
Scott Bloomquist is a nationally ranked American dirt late model race car driver. In this article, learn about all the inside details of Bloomquist's lavish hauler, as well as, the model race car driver's wins and net worth insight.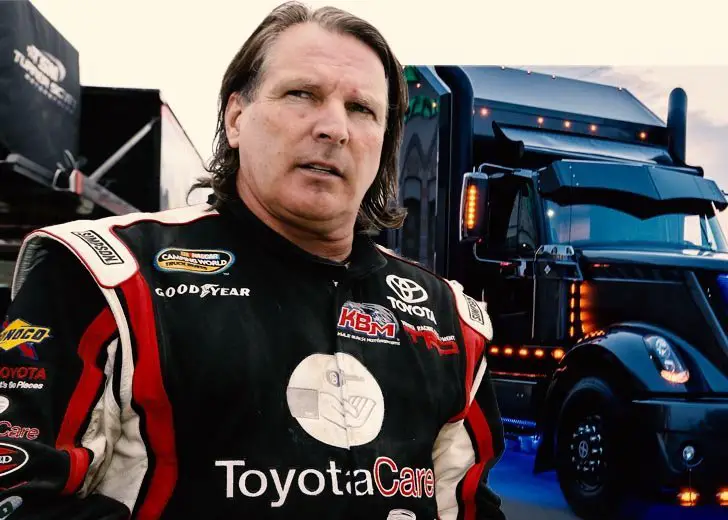 Scott Bloomquist is a nationally ranked American dirt late model race car driver. He has won 17 dirt model races and numerous cash prizes ranging from $50,000 from Cedar Lake Nationals to the $100K prize in the 2018 Dream at Eldora Speedway.
Associating with that, most of his championships have come from his dirt late model #0, which has become so legendary that it is no less than a brand of its own.
And having achieved more the 500 wins in his career with model #0, it is understandable why it would be his most prized asset. Thus, in 2017, Bloomquist came out with a new custom-made hauler to transport his model #0 between races.
In this article, learn about all the inside details of Scott Bloomquist's lavish hauler, as well as, the model race car driver's wins and net worth insight.
Everything You Need to Know About Scott Bloomquist's Lavish Hauler
Scott Bloomquist commissioned a custom-built hauler to transport his #0 dirt race model, back in 2017.
Taking about hauler's looks, the exterior was all-black and featured orange and dark blue lights over the tanky bulk exterior that made the vehicle look futuristic.
Likewise, the interior of the machine was equally intimidating with a custom audio system, bar, couch, and bed for the long tours on the road. The insides also featured plush cabinets that were made to match with the overall 'bulk' look of the vehicle. The cabinets acted as a store for the various car parts and racing equipment for the team.
But the main attraction point of the machine was the car box that housed Bloomquist's #0 model. The feature that made this box unique, amongst other haulers, was the special scratch-resistant lining. The lining ensured that the walls remained seamlessly scratch-proof even when his racecar gets parked and removed several times in a day.
In addition to that, Bloomquist's another ingenious decision was to have the builders put multiple air chucks on the vehicle so that four Hoosier tires could be aired up, all at once. These air chucks were fitted with safety valves that prevented the over-inflation of a tire. This mechanism, however, was the very reason for the hauler's first accident— a tire explosion that occurred at the I-80 Speedway in July 2017.
Scott Bloomquist Faced Disappointment Due to Hauler's Maintenance Issues
Along with its luxurious looks and high-end facilities, Scott Bloomquist owned hauler also came up with some technical maintenance issues. The very fine example being the July 2017 tire explosion.
The accident was in part due to the air chucks' faulty mechanism where they filled up the tires at different rates. That resulted in uneven tire pressure which was then apt to depressurize during the long journeys on the heated asphalt.
The tire incident was also not the only factor for Bloomquist's disappointment, however. He frequently experienced delays in getting to the racetrack on time because of the issues.
According to the report of Racing News, the hauler had only managed to arrive at the race track on time a handful of times in 2017 and 2018. The other times, it could usually be seen back in the manufacturer for repair works.

Scott Bloomquist's lavish hauler, the most menacing thing to run on the streets during its time of buying, on the highway (Photo: YouTube)
While his hauler issues seemed small, it certainly did threaten to cost the dirt late model driver a shot at the championship from time to time. Bloomquist made public his frustrations about it while speaking to RacingNews.co in December 2018. Then, he also shared that he was considering selling the hauler back to the manufacturers, TurnKey Industries, and get another custom-made hauler.
Well, we're going to get them to buy it back. Because, that shouldn't be my problem. Yeah. Once we get this deal settled out, we will (buy new hauler).
While it is still unclear if Bloomquist sold back the hauler, he has been using a trailer on loan to transport his model #0 for the meantime.
How Much is Scott Bloomquist's Net Worth?
While Scott Bloomquist's net worth hasn't been disclosed as of now, all of his winnings can be accumulated as his major source of income. And collectively, his winnings' total earnings—solely from his prize money— clocks to be $852,000.
The champion model race car driver had a total of 8 Lucas Oil Late Model Dirt Series (LOLMDS) wins up until 2017. Then, his unbeaten 8-win record had helped him earn a total of $232,725 from the LOLMDS series alone. In addition to his 8 Lucas dirt series wins, Bloomquist has also won 4 World 100's and 9 National Championships.
As for the coming days, Bloomquist plans to put another title and perhaps, more prize money to his name when, if, he wins the upcoming World of Outlaws Series Tour which is slated to end in late 2020.