Best Case Scenario For Monchu & Barcelona If He Were To Leave
After impressive performances in the Segunda B division with Barcelona B, Monchu has been attracting interests from various clubs across Europe. Here, we look at a few of those interests from clubs such as Valencia, Sassuolo, and Brighton to name a few.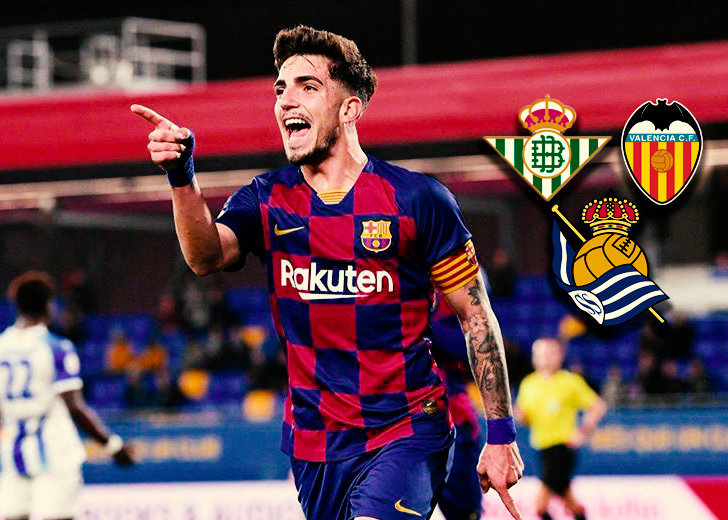 Monchu (full name - Ramon Rodriguez Jimenez) has been on the lips of most Barcelona fans for the past week or so.
After having a stellar season with the FC Barcelona B-team—in which he scored 10 goals and provided three assists from the central midfield position, he has been training with the first team just before the Champions League fixture against Napoli.
However, he is not guaranteed a permanent place in the team that has lots of veteran midfielders. 
Therefore, Monchu is likely to depart from the club, either on loan or on a permanent deal with a buy-back clause, if he doesn't get adequate chances in the first team. 
Similarly, the Palma Native will also not favor playing in the Barcelona B-team that failed gain promotion to the Segunda division.
Meanwhile, Barcelona have been getting offers for the 20-year-old left, right and center from many clubs across Europe.
Here, we look at some of these transfer interests for the talented midfielder.
Interests From Spain: Valencia And Real Betis Frontrunners
A few teams from La Liga have already enquired about Monchu's status at the club.
According to SPORT, Valencia, Real Betis, and Real Sociedad are the biggest clubs to have shown an interest in the youngster.
The Sport report also states that Valencia even reportedly proposed a deal for Monchu in January in which Rodrigo Moreno would have been going the opposite direction.
In another report from Mundo Deportivo, Celta Vigo are also shown to have an interest in signing Monchu. 
Along with them, Granada, Getafe, Villarreal, and Eibar also want to sign him, as per the report.
Interests From Italy: Sassuolo Are In Talks With Barcelona
Sassuolo themselves have confirmed their interests in the midfielder.
The Italian club's CEO, Giovanni Carnavelli, admitted to this during an interview with Sky Sport. He said:
"He's a young kid, we're talking with Barça, it's something we did last season. We have a good relationship with them and he's a promising player."
However, he clarified that a deal had not been agreed yet and it was just interest from them.
Interests From England: Brighton And Bournemouth Interested In Monchu
There have been a few rumors of interest from England as well for Monchu.
One of Ferran Martinez's article on Mundo Deportivo reported about the "interest" from Brighton and Bournemouth to sign the services of Monchu.
The article from Martinez, however, stated that there had been no official bid from either of the club. 
Brighton—who are in the 15th position in Premier League this season—will see Monchu as a welcome addition to the club for strengthening their midfield. Bournemouth, on the other hand, were relegated and need talented midfielders like Monchu for their next season in the Championship.

Monchu has generated interests from various clubs such as Valencia, Sassuolo, and Brighton (Photo by Xavier Bonilla/NurPhoto via Getty Images)
Similarly, the Martinez's article also suggested that there had been interests from Bundesliga. However, it didn't name any teams that were interested.
Conclusion
Monchu is a talented player who deserves game time at the highest level of football. Only 20, he has a lot of time to develop, whether it be at FC Barcelona or at some other club.
Seeing the situation of Barcelona's team for now and for the next season, it is hard to see Monchu getting enough minutes on the pitch.
Therefore, Monchu's transfer seems imminent at this point. But, the best-case scenario for the Catalan giants would be paving out Monchu's exit with a sale or a loan deal involving a buy-back clause.