How Is Mikey Williams' Dad Mahlon Williams Paving Way For Future Athletes?
Mikey Williams' dad uses his coaching skills to train young players and help get them into colleges. Learn more about Mahlon Williams's basketball career as a player as well as a coach and how he is paving a way for future athletes.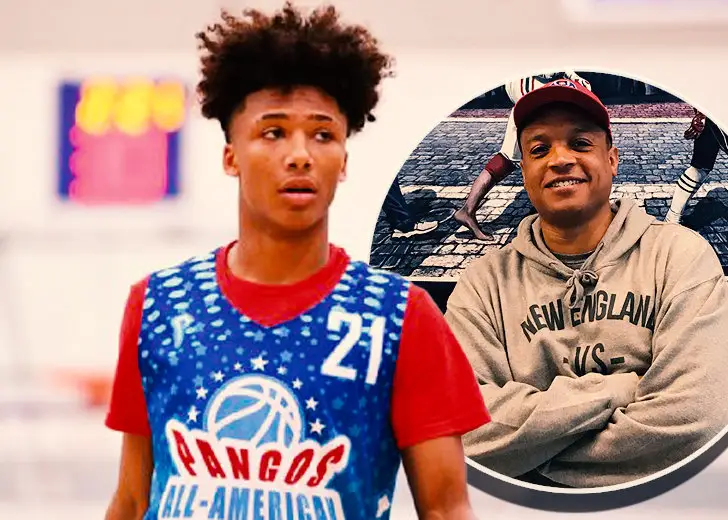 Rising basketball player Mikey Williams' dad Mahlon Williams is a former star basketball player who currently serves as the basketball coach at high school. In addition to that, Mahlon also manages the role of a owner/operator of So Cal Magic Elite Basketball Organization and Compton Magic Girls Organization, according to his LinkedIn profile.
In this article, learn about Mahlon Williams' former basketball career and how he is willing to pave way for future athletes as well as his son Mikey Williams.
Who is Mikey Williams?
Mikey Williams is a 16-year-old basketball player who have played for Malcolm Thomas All-Stars basketball travel team.
He initially came to rise after playing for his San Ysidro high school team in San Diego. His performance in the court even helped him earn no. 1 ranked player title in the nation for Class 2023 back in May 2018.
The rookie borrows his athletic skills from his parents—his father, Mahlon Williams, is a former high school basketball player, whereas his mother, Charisse Williams, is retired softball player for Hampton University.
Mikey Williams's Dad 

Mahlon Williams Was Highly Ranked During His High School Days

Mahlon Williams was a child prodigy in his high-school days playing basketball for Sweetwater High. He was even recognized as one of the best young players in South Bay, California after he led his school team (Sweetwater High) to the South Bay semi-finals in 1985 and 1986.

Later, in 1987, the Greater San Diego Area native made a huge splash in the news after he averaged 30 points for his first two games.

But unfortunately he had to seat on the bench for the next 13 games because he failed to meet the standard grades, and was, thus, declared ineligible to play.

And when he returned 13 games later to lead his high school team into the playoffs, his absent record set a black mark on his future career, as he was not the same player he used to be before.

Speaking to San Diego Union Tribune in June 2020, he remembered his playing days and said, "I never could catch up," while clarifying on why he gave up on his basketball career.

However, in his overall playing career, Williams finished with a total of 1,932 points while averaging double figures in rebounds.
Mahlon Williams Focused on His Education and Coaching Career After Ending His Playing Career
After his playing career came to an end, Mahlon Willams placed education in his paramount importance list. Thus, he studied and subsequently earned a Bachelor's degree in Criminal Justice from National University. Later, he also went on to receive a Master's degree in human behavior and sports psychology.
Using his master's degree, Williams went back to his old high school, Sweetwater High, and spent 13 years working as an instructor. Meanwhile, he also worked for the San Diego Job Corps. 
Following that, the National University graduate ran girls youth basketball program as well as coached the boys with current San Ysidro head coach Terry Tucker for 10 years.
His initiation of girls youth basketball program was in collaboration with the Compton/San Diego Magic. There, he looked after the young girls' travel planning, scouting, recruiting, and college placement. While doing so, he has sent over 80 girls to collage with $17 million in scholarships, so far.
As a Coach, He Led His Son's Team To High School Title Win
Mahlon Willams has also played a valuable role in paving a path for many young future athletes, including his own son Mikey Williams.
When son Willams (Mikey) was in his sixth grade and associated with Malcolm Thomas All-Stars team, father Willams (Malcolm) turned up as a coach for the team. And under Malcolm's coaching, the Malcolm Thomas All-Stars went undefeated during the year.

Mahlon Williams talk about his son, Mikey Williams (Photo: Youtube)
While speaking about his life as a coach and paving a way for youngsters with San Diego Union-Tribune in June 2020, Mahlon stated that it was his belief that God wanted him to train future pros instead of playing professionally himself. He also mentioned in his statement that he used his missed opportunity to train and provide support to young players.
More of us need to give back. I was angry, and when you're angry the tendency is not to want to give back. But that's what I learned from this—it's better to help someone else make it.