Leroy Sane Bayern Munich Move Explained. Transfer Fee, Salary, Football Statistics & Manchester City Exit Covered.
report of the gossips regarding sane's exit from manchester city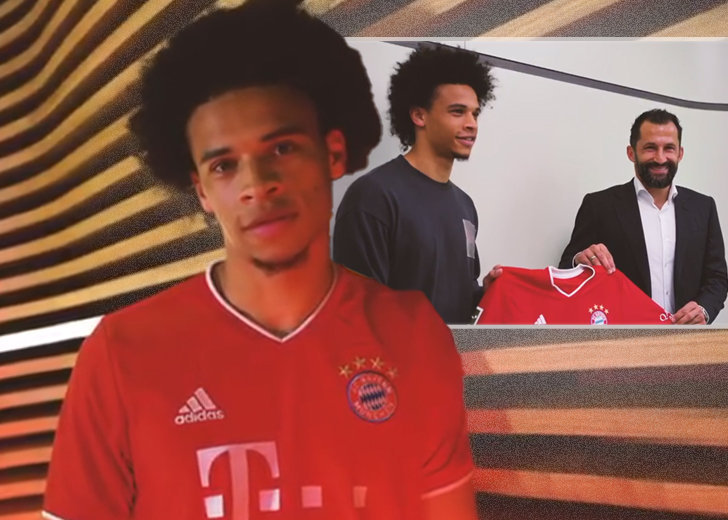 It took a number of thwarted initial bids, loads of bad-mouthing between clubs, and a transfer fee of hefty $55 million (€49 million or £44.26) for Manchester City and Bayern Munich to ultimately decide the fate of Leroy Sane. 
The talented midfielder has finally signed a five-year contract with Bayern Munich that will keep him busy at Allianz Arena till June 30, 2025.
The 24-yea-old signed off from Manchester City with an impressive collection of two Premier League titles, two Carabao Cup triumphs, a FA Cup, and two FA Community Shield.
During his four years of stay at Manchester City, the club tried to carve out a club legend out of him. He had joined the Ethihad Stadium from Schalke at the age of 19 in 2016 for a hefty fee of £37 million.
Leroy Sane Transfer Deal And Contract Clauses
Early in the 2019-20 season, Bayern were reported to be preparing a £70 million bid for the starlet before subsequently withdrawing the offer after he sustained a torn ACL.
Having monitored his recovery over the season, the German giant finally secured the signing with the agreed initial fee of €49million. The up-front fee comes accompanied by the add-ons amounting to €11million. Unsurprisingly, the deal comprises a 10 percent sell-on clause as well. 
Furthermore, Sunder Mirror reports the expected salary of Sane at Bayern is £350,000 per week. The amount is double to what he was receiving at Manchester City.  
We're very happy to welcome Leroy Sané to FC Bayern. He is an outstanding player who has proven his qualities over the past few years, especially in the national team. Our goal is to gather the best German players at FC Bayern and the signing of Leroy emphasises this goal.", FC Bayern CEO Karl-Heinz Rummenigge sound delighted at the signing.
From being voted 'PFA Young Player Of The Year' in his debut season to seeking greener pastures as Bavarian, Leroy Sane's career has seen its fair share of up and downs.
In this article, we will evaluate the possible reasons for his Manchester City exit.
What pushed Sane out of Etihad?
Injury & Failure to Break into Guardiola's Playing 11
Leroy Sane didn't play at the professional level For Manchester CIty ever since he suffered a severed ACL injury during a Community Shield victory over Liverpool in August 2019.
After the injury, it was hard for the talented midfielder to compete against Kevin De Bruyne, Bernardo Silva, and Raheem Sterling for a place in playing 11.
Post recovery, Sane motivation for a fresh start seems to have taken him to Munich.
City's Champions League Ban Dented His UEFA Trophy Hopes
On 14 February 2020, the 2019's Premier League Champions club were slapped with a two-seasons champions league ban by UEFA. The authorities blamed the club for breaking financial fair play rules and misleading the authorities.
However, the ban was not in line with Sane's ambition to play in the Champions League. He had always been vocal about his ambition to add a champions league trophy in his accolades and had often cited it at his ultimate goal. In addition, Sane probably didn't want to wait for two more years just to play in the Champions League as a City player.
 Although Sane will not sport the Red color for Munich in this Champions League season, the prospect of being able to play in the upcoming seasons must have lured Sane to join Munich. After all, the club has guaranteed him just what he wanted after he spent 9 months out of professional football because of the horrific ACL injury. 
"FC Bayern is a great club with big goals and these goals suit me as well. I'm looking forward to the new challenge and can't wait to train with the team," Sane told the club's official website.
"I want to win as many trophies as possible with FC Bayern, and the Champions League is the top priority," Sane shared. 
Hope for regular international call ups from Germany
Over the years, it is evident that the German's national squad vastly comprises of players named from those involved with domestic Bundesliga itself.
Therefore, it was not a surprise when he was snubbed from the Joachim Low's in 2018 World Cup squad despite being announced the Premier league's young player of the season that year. Meanwhile, the same roaster boasted five Bayern starters namely Manuel Neuer, Niklas Süle, Serge Gnabry, Leon Goretzka, and Joshua Kimmich. Sane's omission was questioned when the defending champion failed to make through the Group stage then.

Leroy Sane Performances Per Season For Manchester City (Photo Source: Google) 
Now, if Sane plays any close to what he was displaying in Etihad pre-injury, his place in the current German squad is all but guaranteed. Also, this decision of playing in home soil means Sane has now got ample time for his Kith and kins.