Gabrielle Reece - The Modern Renaissance Woman
Gabrielle Reece is a beach volleyball legend, former model, TV host, bestselling author, podcaster, and fitness guru who firmly believes that being a mother is by far her most challenging yet rewarding experience.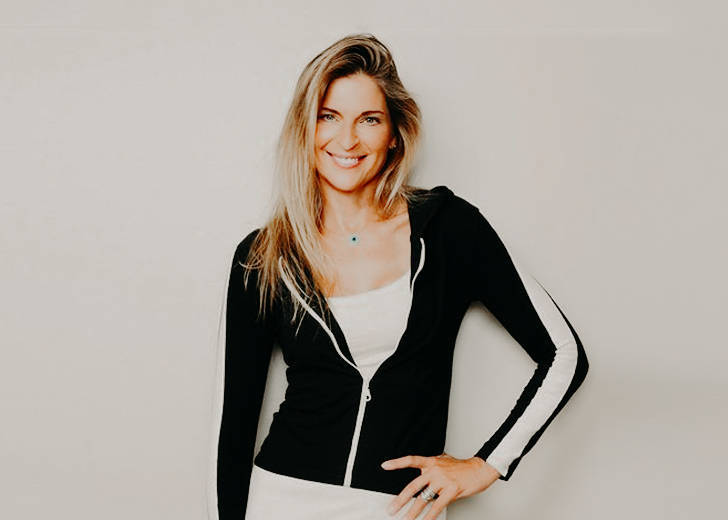 Gabrielle Reece, a former professional volleyball player, dominated the sports scene in the nineties. One of the most valuable players of her time, she led her four-person team to victory at the first-ever Beach Volleyball World Championships in 1997 which is widely considered as the highlight of her volleyball career.
Apart from an illustrious career in beach volleyball, Reece is a multifaceted personality. She is a former fashion model, podcaster, mother, TV host, wife, author, and fitness guru.
Reece has found success in multiple career fields but she says her most challenging yet rewarding experience has been that of motherhood. She and her husband Laird Hamilton are parents to three daughters.
Reece Was Introduced To Volleyball In Her 11th Grade
Reece was born on January 6, 1970, in Southern California. Her father died in a plane crash when she was five after which she lived in St. Thomas with her biological mother and stepfather.
Reece started playing volleyball when she was a junior in high school. Her athleticism helped her stand out from her peers. She later enrolled in Florida State University on a volleyball scholarship, where she majored in communications.
Towering at 6 feet 3 inches, she soon turned into a star athlete at FSU and even set two school volleyball records for solo and total blocks, both of which still stand today. Reece was named the nation's Most Inspiring Collegiate Athlete in 1990 and was also featured on Rolling Stone Magazine's Wonder Women of Sports the same year.
Alongside volleyball, Reece dabbled in modeling after receiving offers from agencies.
Reece Juggled Modeling And Professional Volleyball
Despite dividing her time and attention between volleyball and modeling, Reece managed to excel at both. Not only did her skills in the sport increase to the point of competing domestically and internationally, but she also found herself traveling to New York and Italy to work with renowned photographers.
Reece worked as a model throughout her college years and was even named "One of The Five Most Beautiful Women in The World" by Elle.
During her modeling career, Reece appeared on the cover of reputed magazines like Sports Illustrated for Women, Women's Sports & Fitness, Travel & Leisure Golf, Elle, Shape, Outside, Harpers' Bazaar, Self, Fitness, Volleyball, Life, Vogue, Experience Life, and People.
Professional Volleyball Career
Reece decided to go pro in beach volleyball after her studies at FSU. She played in the Women's Beach Volleyball League (WBVL) and cemented her status as an elite player in just a few years.
Reece competed in the four-person tour for five seasons where she was named the tour's top offensive player twice (in 1994 and 1995). She also led the league in kills four years in a row from 1993 to 1996 and was also named WBVL blocks leader once.
Her four-person team took first place at the first official Beach Volleyball World Championships held in 1997. The year was Reece's fifth season as team captain in WBVL and her fourth captaining Team Nike. The same year, she was also inducted into Florida State's Athletic Hall of Fame in 1997.
Reece alongside Holly McPeak posted back-to-back thirds at Virginia Beach and Chicago in 1999.
Reece's outstanding performance and impressive record helped her become Nike's first female athlete to design a shoe as well as Nike's first-ever female cross-training spokesperson. She launched a total of four shoes in collaboration with Nike: Air Trainer, Air Patrol (1995), Air GR (1997), and finally the Air GR-II (1998). Her shoes were also the first women's shoe to outsell the Air Jordan.
Reece And Her Husband Are Fitness Fanatics
Even after retiring from volleyball, Reece is still as enthusiastic about fitness as she was during her athletic prime. Her husband, the big wave surfer Laird Hamilton, whom she married on November 30, 1997, is just as enthusiastic about fitness.
Together, Reece and Hamilton lead a very healthy life consisting of an active lifestyle and a natural diet. The couple has talked about the importance of a healthy diet on multiple occasions and revealed to Parents what they prefer to give to their children.
Our whole principle basically is just try to eat as much real food as you can get your hands on. So, it's few steps from where it came from till where it gets in your mouth. And you know you might be depending on whatever your mood is or your preference in taste, that's up to you but we just say eat as close to the source. And fruit is great cause you got fiber and stuff and it tastes great. But a little bit of healthy fat I think makes people feel satisfied, satiated.
Aside from diet, Reece is also particular about her workout regimes and even created her own fitness programs. Her first fitness program is HIGHX, a high-intensity group fitness program.
The former volleyball player, together with her husband, is also the creator of another fitness program - Extreme Performance Training XPT. According to xptlife.com, the program's official site, "XPT, Extreme Performance Training, is a performance lifestyle rooted in the most basic yet powerful human trait: the ability to adapt."
XPT stimulates growth through exposure to a variety of natural elements and environments. The lifestyle program features unique water workouts, performance breathing, recovery methods, high-intensity and endurance training for people of all fitness levels and backgrounds.
Parents To Three Daughters
Reece and her husband Hamilton are parents to three daughters. The couple welcomed their first child together, daughter Reece Viola Hamilton in October of 2003 in California and second daughter Brody Jo on January 1, 2008, in Hawaii. Reece is also stepmother to Izabella, Hamilton's daughter from a previous marriage.
Reece and Hamilton have both described parenting as a challenge with the latter speaking to Graham Bensinger in depth about fatherhood.
Kids are a challenge. Being a father, being a parent is probably the single most challenging thing that I have been through. I think, first being a husband is a challenge but being a dad is on a whole another level. Most challenging thing I have ever experienced and it continues on. It doesn't end and definitely it's the tempering of your soul.
Reece also shared her experience regarding parenting with Parents describing it as the hardest, most wonderful anyone can do.
One of my favorite things that Laird says is, "Parenting is for us to grow up. They don't call it kidding, they call it parenting." And so, it is an exercise in humility each day. You blow it as much as you get it right and sometimes you feel like if you get it right it was sort of a fluke. It's the hardest, most wonderful thing you can do but to think you can get it perfect, I don't think it's realistic.
Reece and Hamilton are homeschooling their kids and split their time between California and Malibu.
Reece Has Written Multiple Books
Aside from motherhood, Reece has taken up multiple challenges, with one of them being that of an author. She wrote My Foot Is Too Big for the Glass Slipper which was published on April 16, 2013. It depicts the tale of ups and downs every mother and wife go through. The book is a New York Times Bestseller.
As for her other book, Big Girl In The Middle published on June 16, 1998,  is Reece's personal story. The book follows her journey through a difficult childhood and onto her path to success.
According to Reece's bio on her site, she has been a contributing editor for Yahoo Health and has written for The Huffington Post and the Los Angeles Times Magazine. Reece has also shared health and fitness tips through magazines like Men's Fitness, Shape, and Elle magazines.
Reece On Television
On top of gracing the covers of multiple magazines as a fashion model, Reece has also worked as a television program host. She was a part of MTV Sports (1993) and later hosted The Extremists (1995), which saw her go on daring adventures - everything from white water kayaking, drag racing to surfing, and skydiving.
The two programs boosted Reece's popularity. She then became a commentator at the 1998 Goodwill Games.
She has also hosted Insider Training on the Fit TV/Discovery Channel and was a featured host of ESPN and NBC's Gravity Games. Reece became the host of NBC's fitness competition series STRONG in 2016. The show was produced by action legend Sylvester Stallone.
The volleyball legend has also made appearances in shows like Good Morning America, The Ellen Degeneres Show, Chelsea Lately, and The Today Show.
Reece has also tried her hands at podcasting. She is the host of The Gabby Reece Show, a mental health podcast available on Apple Podcast, Audible, and multiple other streaming services.
She has also appeared as a guest on The Joe Rogan Experience, where she discussed her husband's obsession with surfing, living in Hawaii, and Bigfoot among a variety of other things.
Net Worth
According to Celebrity Net Worth, Reece has a net worth of about $10 million.