Francisco Trincao Could End Up As Another Malcom At FC Barcelona
With no plans for the immediate future of Trincao at the club, his transfer to FC Barcelona has started to look like what Malcom went though just a season ago.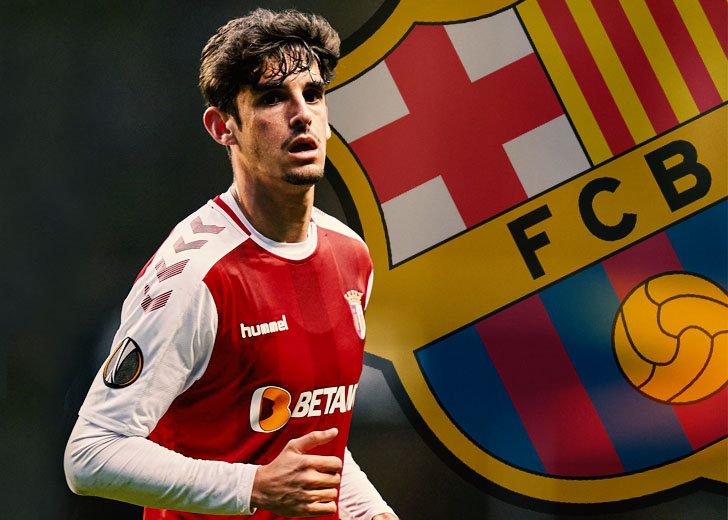 FC Barcelona brought in Francisco Trincao with a view to secure the future of the club. But now, they seem to have no plans for his immediate future. This deal is starting to look an awful lot similar to Malcom's case.
Francisco Trincao is happy to join the team—as evident from his quotes during an interview with FC Barcelona. 
"When I signed for Barça, I was speechless. It's a proud moment and an important step for me to reach FC Barcelona," retrospected Trincao during the interview. He professed that he would help the Catalan Giants to win "as much as possible."
However, it seems like Trincao made the wrong decision to join Barcelona at this point in his career, and especially during the situation the club is at currently. There seems to have been no second thoughts about this signing, neither from him nor from the club.
This looks to be the case because something like this has happened previously. Similar to Triancao's signing this season, Malcom was also signed without proper planning and far-sightedness in the last season.
 And what happened next was just tragic—he was ridiculed and mocked as a failure despite only given chances to play as a scrap player. He ultimately joined for Zenit Saint Petersberg for €40 million to enjoy more playing time.  
Malcom was brought in through a hijack mission by FC Barcelona. He was supposed to join As Roma, but Bordeaux sold him to the Catalan Giants just because they offered to buy his services a higher valuation of €41 million.
On FC Barcelona's behalf, there were no prior plans for Malcom's signing and no real interest in him until the very last moment.
Now a season later, Barcelona have again signed a right-winger in Trincao without proper planning. The club seem to have have no plan as to how and where on the pitch to play Trincao.
This condition was exactly the case with Malcom. The Brazillian forward was not given a fixed role or position in the team. Despite this, he scored 4 goals and provided two assists in the total of 24 matches he played as a fringe player who was always given limited time. 
Malcom spent his solitary season at Barcelona playing in different positions and often not where he usually played, i.e., on the right-wing. Previously, he had a stellar 2017-18 season with Bordeaux as a right-winger, but he was often deployed on the left-wing and left midfield during his time at Barcelona under Valverde.
This was mainly due to Valverde's use of a 4-4-2 defensive setup that favored Messi to start on starts on the right-wing.
Similarly, Trincao is also a prolific right-winger. He is coming off a great 2019-20 season at SC Braga. He bagged six goals and 11 assists in 24 matches he played on the right-wing. Just like Malcom, the Portuguese forward is predominantly a left-footed player.
Hence, anyone doesn't have to be a sports pundit to figure out that Trincao will also face similar issues like the Brazillian did at the club. He would also be deprived of adequate game time and a lack of proper playing position in the team. There are loads of similarities between these two players to say otherwise.
"Despite preferring to play on the right, I am going to try to help the team from wherever up front. I want to help." were Triancao's words when asked to talk about what he could contribute to the team. But how could he help the team playing in off-positions? History seems to be repeating itself.
And here's the thing. What has changed at FC Barcelona since Malcom's exit? In short, nothing.
In reality, the number of problems that Trincão is going to have to face has actually increased in comparison to what Malcom experienced.
First of all, a player like Trincao deserves to start games more often than not. The same was the case for Malcom. But that seems unlikely because his preferred position is already occupied by someone who is virtually undroppable.
The right-wing position at FC Barcelona is still owned by Messi, even though he drifts inside more often than not. Still, Setien could change the formation and play Messi in the middle and Trincao on the wings. However, this change seems unlikely in a team that focuses on midfield domination.
Things would be a bit optimistic if Trincao was even the second-choice for the right flank. But that's not the case. Dembele is effectively the second-choice at the club. Besides him, Braithwaite is still there, and Alex Collado is knocking on the front door of the first-team after his stellar performances for the B-team this season.
The second and less-preferable option for Trancao is that he could play in the left-wing position. But even that position is now more crowded than when Malcom was at the club. Ansu Fati performed brilliantly from the left wing during his breakout season with the first-team and will give fierce competition in the position.
Also, Setien still doesn't know where to play Griezmann and has deployed him in the left-wing in many games. And just like Collado, Konrad de la Fuente is also putting up unignorable performances for the B-team and expecting minutes in the first-team.
Hence, it is not wrong for the supporters of Trancao to get worried about his future at FC Barcelona. After all, he has joined the club haunted by lousy management of the team, lack of sales, lack of planned purchases, and lack of a clear plan for players already in the team.
Despite all these complications, every fan of Trincao and every fan of the club will want him to succeed. However, it won't be a surprise if Trincao ends up becoming another one in a long list of rash pieces of business gone wrong at Fc Barcelona. But this time we would know who is to blame if a young player is misused.
Only time will tell now how he will get into FC Barcelona's front line that is jam-packed with players either on big wages who have to be played or talented youngsters who have to be given chances. 
FC Barcelona signed Trincao for €31 million. The 20-year-old will be a part of the team from the start of the 2020-21 season and is happy to join the team.