Four Young Players From Ligue 1 You Should Keep Your Eye On Next Season
There were a lot of great performances from many youngsters in the 2019-20 Ligue 1 season. Here, we pick and take a look at four of those youngsters that performed particularly well and that you should keep an eye on during the coming season.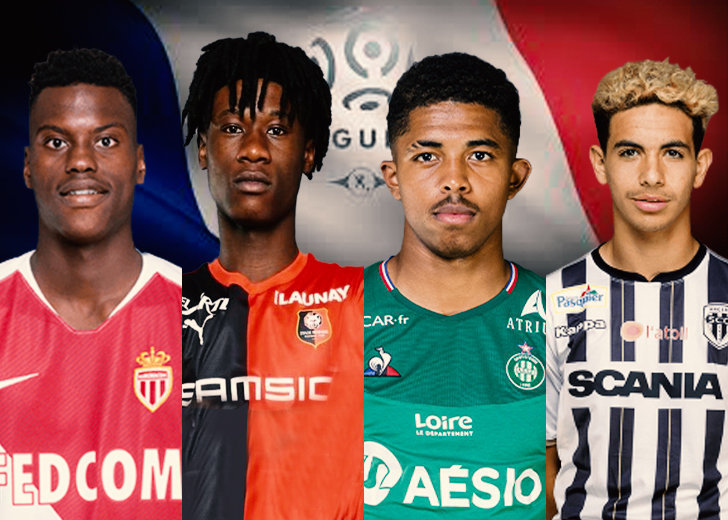 After taking a look at young players from La Liga, Premier League, and Bundesliga that you should watch play next season, now we look at some budding talents in France.
France is usually a great place for youngsters to showcase their talents because of its relative easiness in comparison to other leagues. And this season, quite a few young players have shone in the league.
Here, we take a look at four of those bright talents that you should keep an eye on during the 2020-21 Ligue 1 season.
Eduardo Camavinga
Eduardo Camavinga is an Angolan-French footballer who plays for Ligue 1 side Stade Rennais. The 17-year-old is one of the most exciting prospects the French League has to offer.
Camavinga is a Stade Rennes youth product, having played for their U-19 team and B-team. Having made the step-up to the first-team in January of 2019, he could not become a regular part of the starting line-up during the first half-season. However, from the start of the 2019-20 season, he has been more or less an undisputed starter at the defensive midfield position.
His performances in the midfield are one of the main reasons why Stade Rennais were able to secure 3rd position in the league, although the league did not get a chance to get completed due to the pandemic.
Nevertheless, Camavinga put on some great performances in this season's Ligue 1. He started 24 out of the 25 games that he played during the season, gathering 2,107 minutes in the process. In those minutes, he scored one and assisted two goals.
However, it's his passing and defensive contributions that take precedence over his offensive contributions. Let's first talk about his passing stats. From the defensive midfield position, he completed 879 of his 985 passes, giving him a passing accuracy of 89.2 percent. He also provided eight key passes from deep, completed 56 passes into the final third, six passes into the penalty area, and made 58 progressive passes.
His defensive numbers are solid as well. He won 2.48 tackles per 90, made 7.99 successful pressures per 90, had 1.54 blocks per 90, and made 1.45 interceptions per 90.
Other than his passing and defending, his dribbling and aerial duels stats are decent as well. He completed 0.60 dribbles per 90 and won 52.3 percent of aerial duels that he contested.
Who knows how these stats could have turned out if the league had been given a chance to finish. However, even for a small sample size, his performances were good, and it will be exciting to watch him play consistently during the 2020-21 season.
Wesley Fofana
Wesley Fofana is another brilliant French youngster. The 19-year-old center back plays for Ligue 1 side AS Saint-Etienne and had a good 2019-20 season to get everyone excited about the future.
Fofana made 14 appearances for his club in the league. In those 14 appearances, 13 were from the starting lineup. Playing 1,215 minutes, he scored just one goal.
However, it's his defensive stats that stand out during his time on the pitch in the league. Fofana won 1.04 tackles per 90 and recorded 4.30 successful pressures per 90. He also made 1.63 blocks, 2.89 interceptions, and 6.81 clearances, all per 90.
Fofana had 146 recoveries in the Ligue 1, and also won 76.9 percent of his contested aerial duels.
Saint-Etienne had a league campaign to forget as they finished the league in the 17th position, just above the relegation zone. However, they did have Fofana's performances to be hopeful about going into the 2020-21 league season.
Benoit Badiashile
AS Monaco defender Benoit Badiashile Mukinayi is a young and exciting prospect to watch in the years to come. He is a 19-year-old French defender who has really shone in the Monaco team in the heart of the defense.
Benoit is a Monaco youth product and made the step up to the first-team in July of 2018. He had a decent debut season, starting in all 20 of his appearances. However, it was during the 2019-20 season that he really started playing well.
This league season, he played 16 games in total before the league was prematurely concluded because of the COVID-19 pandemic. Just like in his first season, he started all of his 16 games, gathering 1,411 minutes according to FBref.
In those minutes, he recorded good passing stats. He completed 87 percent of his passes, provided three key passes, and completed 62 passes into the final third. The youngster also made 66 progressive passes with an average of 4.2 progressive passes per 90. These stats indicate that he is a ball-playing defender.
Similar to his passing is his defending—according to FBref, Badiashile completed 0.76 tackles per 90 and made 2.80 successful pressures in that same time frame. His 1.59 interceptions, 5.29 clearances, and 1.66 blocks per 90 are also impressive.
Badiashile is also a physically sound player. Standing at just 5 feet 11 inches, which is not remarkably tall for a central defender, he still won 67.1 percent of his aerial duels.
Badiashile would be a treat to watch next season as he matures even more and forms a stronger partnership with another great performer in the defense, Axel Disasi.
Rayan Ait Nouri
Rayan Ait Nouri has been a phenomenon this season in the French league. Touted as a 'rare talent' by his coach, Stephane Moulin, he has made waves across Europe with his performances from the left-back position in this season's Ligue 1.
Playing for SCO Angers, he made 17 appearances in the league. He started 16 of them, gathering 1,282 minutes on the pitch.
An attacking fullback, Nouri has blistering pace, dribbling ability, and flair. He completed 19 dribbles from the fullback position this season, dribbling past a total of 22 players, according to stats from FBref.
His passing is also one of the highlighting points about him. Nouri provided two assists this season. Even if he overperformed his 0.8 expected Assists, just that does not show the whole picture. The youngster also provided 0.85 key passes, 2.54 passes into the final third, 1.27 passes into the penalty area, and 0.85 crosses into the penalty area per 90. In addition, his 0.6 progressive passes per 90 is also an indicator of his productivity going forward.
His defensive stats aren't too shabby, either. He made 1.27 success tackles per 90, 5.85 successful pressure per 90, and intercepted 1.41 passes in that same time frame.
At just 19, Rayan has a lot more to learn and offer and he should be one of the players from Ligue 1 whose performances you should keep track of during the 2020-21 season.