FC Barcelona Fans Should Feel Concerned Despite Win Against Villarreal
Despite an emphatic win against Villarreal in which Griezmann and Suarez finally played some decent football, Barcelona fans still do not have much to be happy or excited about. There are still a lot of problems that this formation change and way of playing results in, and Setien cannot continue playing this way. Here, we analyze some of those problems that Barcelona have.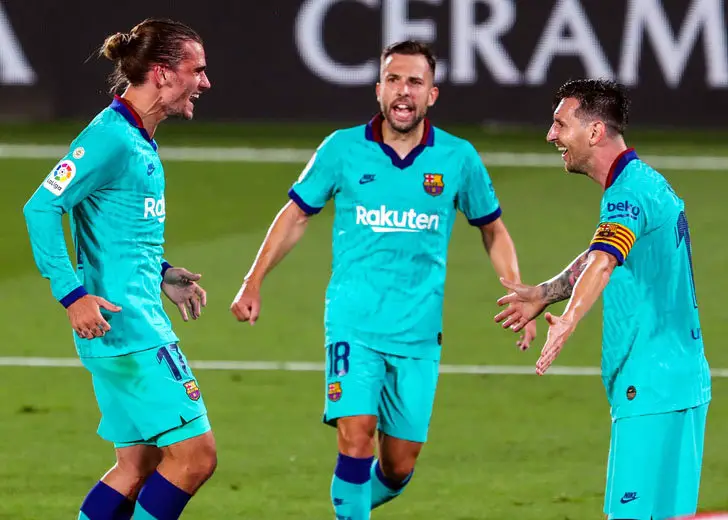 On the face of it, Barcelona's win against Villareal today seems like a great way to get back to winning ways and a sign of things improving in the team. However, despite the good performance and apparent solution for the complication of Griezmann's situation, there are still some problems that this win doesn't cover-up. It wouldn't be wise to get your hopes up too high just because a plan worked for a single match.
Formational Difficulties
Barcelona lined up in a 4-4-2 diamond with Suarez and Griezmann upfront with Messi just behind them as the tip of a diamond.
After the backlash that Setien received by not starting Griezmann in the previous Atletico game on June 30, it was obvious that Griezmann had to start this game. Not so coincidentally, Setien chose a lineup that could get the best out of Griezmann. He played him through the middle, which is more or less where he operates best.
However, I think Setien chose this formation solely based on the understanding that Villarreal were going to come at them since they were playing good football and were in great form.
And that's exactly what happened. The Yellow Submarines pressed Barcelona very high and with energy. However, their press wasn't very effective. Because of that, Barcelona found pockets of spaces in the middle of the pitch and were able to score so many goals against an opposition who were in good form.
But if it was some other team that had better players in the midfield or a team who could keep their defensive shape, Barcelona would have struggled to create chances as they did during this game against Villareal. Further, Barcelona's offensive was not helped by the fact that Arturo Vidal completed the whole 90 minutes, again. The player was as useless as a white crayon during this game in the attacking phase. He had one key pass, and one accurate through ball the whole game.
The defensive plan for the game, going on the basis of Setien's formation, was not good, either. Playing a 4-4-2 diamond means you won't have any cover on the wings. To deal with this problem, Setien played Sergi Roberto and Vidal as cover for the full-backs.
Consequently, Roberto perfectly finished his job of covering for Jordi Alba—who was the only wide player on the left. However, on the other side, Vidal didn't cover well for Nelson Semedo—who was supposed to give width on the right side.
Vidal's lack of support tp Semedo was clearly visible during the build-up for Villarreal's goal. Santi Cazorla had the whole right flank to himself when Paco Alcacer squared him the ball. When that happened, Semedo was caught high up the field, and Vidal, who was supposed to be covering Semedo, was too slow to get back to defend.
Therefore, we can strongly say that this formation doesn't work against teams who have higher quality players than Villarreal and who know how to utilize the flanks well. It might have worked in this game, but if Barcelona don't find a way to stretch the pitch and keep trying this same formation in other games as well, they have a hard time winning again.
A perfect example of this formation not doing the trick was also seen during Barcelona's draw against Atletico Madrid on June 30. The Catalan against lined up in a 4-3-1-2 in that game, with Puig on the tip of the diamond. Atletico lined up in a 4-4-2 and sat back deep and narrow to deny Barcelona any decent scoring opportunities. They didn't have much to worry about Barcelona's wide players because they knew that the away team had none, except for the full-backs. Meanwhile, they also were comfortable exploiting the wings.
Problems In Player Selection
This problem also ties up with the formational difficulty the team will face if they stick with this same formation. The 4-4-2 that Barcelona employed against Villarreal will present Setien with huge problems while selecting the right players for the team.
This formation does not employ any wingers and stops players like Ansu Fati and Braithwaite to have a place in the starting lineup. Moreso, Setien cannot field Fati in the role of a striker instead of Suarez or Griezmann since the decision would reduce Fati's effectiveness that comes from his driving runs from out wide.
Another player who would be affected by employing this formation is Riqui Puig. The youngster has been performing very well in the last couple of matches and definitely deserves to start each game right now. However, if Setien is going to field two strikers and Messi behind them, players such as Puig will have no place in the team.
Puig is an attacking player and it will only be a waste of his talent if Setien plays him in the way that he plays Roberto and Vidal only to defend opposition players.
Conclusion
Despite the win and many goals against Villarreal, Setien can not continue with the formation. Griezmann playing through the middle was a good thing to watch, but he is only one among many players who deserve game time. Fati and Puig's minutes should not be taken away just because Griezmann has to play.
Setien also cannot keep playing the formation because teams will eventually crack it out by defending narrow and packing the middle of the park to nullify the threat of Messi. If that happens, Barcelona will have problems creating and scoring goals.
To exploit the formation, the teams will also try to overload and exploit the wider areas to their benefits since Barcelona will only have the full-backs on the flanks.
Barcelona Vs Villareal June 5 Review 
After two consecutive 2-2 draws against Celta de Vigo and Atlético Madrid, FC Barcelona have finally won a game in La Liga. They recorded a 1-4 away victory against Villarreal CF at the La Ceramica today.
Villarreal were in a good run of form before going into this game. They had won the last five of their six games with no defeats. They had achieved these results by playing expansive, possession-based football, just like Barcelona. And this played right into the hands of the Blaugrana as they were finding time and space to create chances during the game.
It was an exciting game from the very start. Barcelona opened the score in the third minute through an own goal from Pau Torres. However, the home team equalized almost immediately with Gerard Moreno's goal in the 14th-minute mark.
In the 20th minute, Luis Suarez scored another for Barcelona, and Villarreal couldn't recover from this point onwards. Griezmann added another with an emphatic Messi-Esque chip just before half-time and the final goal was scored by substitute Ansu Fati in the 86th minute.