FC Barcelona Managerial Search Has Ignored Promising Erik Ten Hag
FC Barcelona in their pursuit of managers mid-season approached many coaches. However, after getting rejected from the likes of Xavi, Pochettino, and Koeman, they turned to Quique Setien. But, in doing so, they ignored Erik ten Hag, a perfect suit for the club's managerial position, both for now and for the future.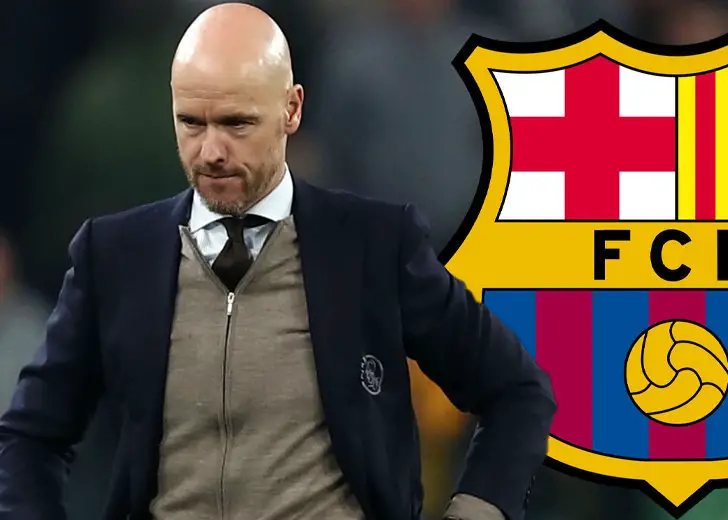 FC Barcelona are chasing managers like Koeman and Xavi while ignoring promising solutions offered by Ajax's Erik ten Hag.
FC Barcelona have been and still are in all sorts of mess this season. From aging first-team squad that's comprised of more older players than younger ones, complex financial problems affecting the sporting decisions to managerial changes in the middle of the season, the club's problems are big and apparent.
Among these, the managerial problem is the one which has been haunting Barcelona ever since Luis Enrique's departure back in 2017. After Enrique, they hired Ernesto Valverde to do the job, but he only left the club in tatters—more so than it was when Enrique left.
The club Sacked Valverde in January of 2020. His departure created a vacant job that had become so undesirable and difficult over the years. 
Bartomeu and his management went through a whole list of managers and tried to bring them to the club in January. First, they approached former club legend Xavi; but he rejected the job. Then, they offered the job to another legend in Ronald Koeman. He also refused to take up the responsibility. But the club didn't give up. They contacted  Mauricio Pochettino, who was their third-choice option. However, even he turned down the job despite being jobless at the time.
Finally, the board turned to someone who wouldn't say no to them. Former Real Betis manager Quique Setien was the fourth choice for the job, but he ended up being the manager. His appointment has since then resulted in a lack of a competitive environment in the squad. Fans are now living with average expectations from the team. But Barcelona's fans should never accept any form of mediocrity given their history and contribution to football. 
Instead of Setien, Ajax's Erik ten Hag should have been appointed as the manager of the club. His footballing philosophy, history, and personality would have started a new era at FC Barcelona. 

Erik ten Hag reacts during the UEFA Champions League group H match between Valencia CF and AFC Ajax at Estadio Mestalla on October 02, 2019, in Valencia, Spain. (Photo Source: Manuel Queimadelos Alonso/Getty Images)
But, Ten Hag wasn't completely detached from links to Barcelona. He even addressed the rumors by saying that he was flattered but not in a situation to leave the Netherlands then. Despite that, the Catalan Giants could have convinced Ten Hag to join the cause by offering him a good deal.  
And as many expected, the decision to bring in Setien is backfiring. The team is not in a  better position than it was under Valverde, and the same problems have persisted. Because of these developments, there are already talks of Setien being relieved of his job.
Bartomeu and his board finally leave the club in the summer of 2021, leaving Setien's job under jeopardy despite immediate support from the current board. And the new presidential candidates who have put themselves forward for the next term are already set in their ways about who to bring in as a manager.
Joan Laporta, one of the candidates, has said that he will try to bring in Pep Guardiola again if he wins the election. And Victor Font, another candidate, has proposed Xavi to be the leader of his sporting projects, whether it be as a manager or in some other post.
But both the candidates' choices make little sense; Guardiola shouldn't and wouldn't come back to the club, not now anyway. If he returns back, there will be a high probability that his supreme legacy at the club will be tarnished. Even he would struggle with the current team. 
And Xavi is not experienced enough yet, nor has he shown much promise as a manager in the Qatari League with Al Sadd, of which he is a manager currently.
The Case For Erik ten Hag
Whoever comes in after the elections or whenever there is a need to bring in a new manager, Erik ten Hag should be the first choice of the board. He should be the priority signing for the club above any player, whenever that is. And there are a few reasons why this should be the case.
His connection to the philosophy of 'total football' is an obvious one. Ten Hag employs tactics that are the footballing philosophies developed and perfected by Jack Reynolds, Rinus Michels, Johan Cruyff, and many others after him. These philosophies include high press, positional fluidity,  youth players' development from the academy, and the likes. These are the values that are now largely lost at FC Barcelona.
Ten Hag's experience also is an important factor in making him a great choice for the club. He was first noticed when he was working with the Bayern Munich B-team. Then, he became an assistant manager to Pep Guardiola when he was at Bayern. After his time in Germany, he returned to the Netherlands and became the manager of FC Utrecht.
In the two years that he was the manager of Utrecht, he led them to 5th and 4th position in the league during the 2015/16 and 2016/17 seasons respectively.
Then, in December of 2017, he took over the Ajax first team. Since his appointment, Ajax has had a largely successful time. In his first full season with the team, he won the Eredivisie league, the Dutch Cup, and led his team to the Champions League semi-finals—knocking out the likes of Real Madrid and Juventus on their way by playing expansive, attractive, and effective football.
While doing so, he mixed experience with youth in his team and created world-beaters in young players such as Frenkie de Jong, Matthijs De Ligt, Donny Van de Beek, and Hakim Ziyech.
Hence, we can conclude that his tactical and managerial side of things is at a top-level. Moreso, his focus on a facet of youth management and development is also one of the crucial aspects the modern football desires in a manager.
All of these attributes of Erik ten Hag, however, still managed to fall on blind eyes when it comes to Barcelona's board. But, better late than never. If there is ever a time when FC Barcelona need a new coach — and that time seems to be awfully near — they should try their hardest to get Erik ten Hag for the managerial job.