Dak Prescott's Parents Were Instrumental to His Success
Dak Prescott credits his parents for his success in NFL and life.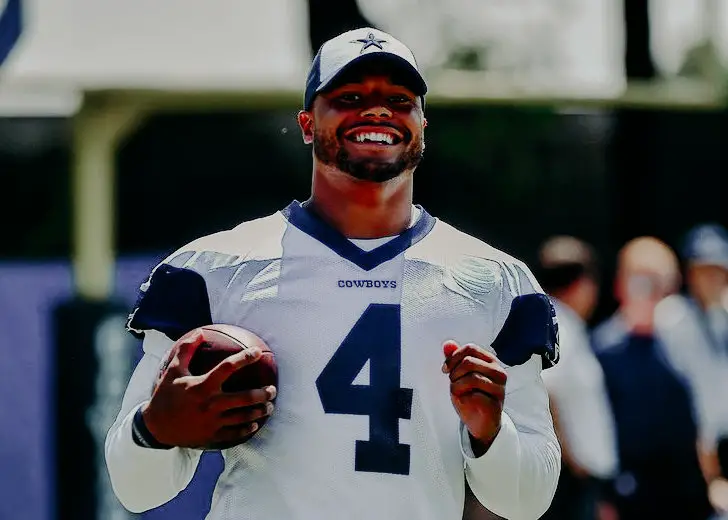 Dak Prescott is the NFL's second highest paid player, averaging a hefty salary of $40 million dollars a year. Even outside his football success, he is respected by many for his contribution and efforts towards fighting cancer and helping others.
Prescott credits his family for his success with both his parents playing an integral role in his life. He has often talked about their importance and has showered them with praise on multiple occasions.
Aside from his parents, the Cowboys quarterback also adds how close he is with his brothers and how they helped him pave his road to success.
Grew Up Competitive
Prescott is the youngest of three children and he grew up competing with his brothers — Tad and Jace. With an age difference of six years, Prescott had a tough time keeping up with his brothers.
One day, when he came home crying after being unable to match the pace of his brothers when playing football, his mother, Peggy Prescott, told him to stay at the sidelines if he couldn't go toe to toe with his brothers.
Prescott says that he decided he would do whatever it took to keep up with them at that moment.
My mom, I will never forget it, would tell me, "If you don't want to play with the big dogs, just stay on the porch." And once she said that, I was like I don't care what it takes. I'm going to go out there and they can beat me up, make me cry… whatever it is, I will come back.
Aside from instilling a competitive attitude on him from a young age, Prescott's mother also had the greatest faith in him.
The star quarterback said only his mother had greater expectations of him than himself. And he always put in extra effort to ensure he never disappointed her.
Mother Was His Strictest Coach
Peggy got into football because her school sweetheart turned husband used to play football. As she raised her three sons, they picked up the sport too.
However, unlike most mothers, she didn't take a backseat when it came to her sons' athleticism, actively pushing them to do better. Prescott described her as his number 1 best friend and the best coach he ever had.
Nathaniel Prescott, Dak's father too, called her as an authoritarian on football who would do everything for her boys, going as far as giving a piece of her mind to the boy's football coach.
Peggy passed away in 2013 because of colorectal cancer, but she kept on attending Dak's games even when she was sick. Nathaniel too was always there for Dak, and helped keep their family together after her passing.
When talking to Graham Bensinger, Dak described the role of his father in his life as an unshakable support.
[Nathaniel] was just there when I needed him. He's always been a great friend and somebody that no matter what happens — good or bad — is going to think the best of me and allow me to never look down or think bad about myself.
Faith Fight Finish
As much as his brothers and father played an instrumental role in his life, Dak always credited his mother with the highest importance.
After losing her to cancer, the NFL star has established the Faith Fight Finish foundation.
The foundation helps fight cancer and helps youths undergoing life-challenging hardships in honor of Peggy, who set an example for Dak and his brothers by acting as a mother figure to not just them, but all the youths in their friend circle.