Bianca Belair's Serious Life Advice for Kids Following Big Match in WrestleMania 37
Before her big match, WWE superstar Bianca Belair imparted wisdom on how to be successful.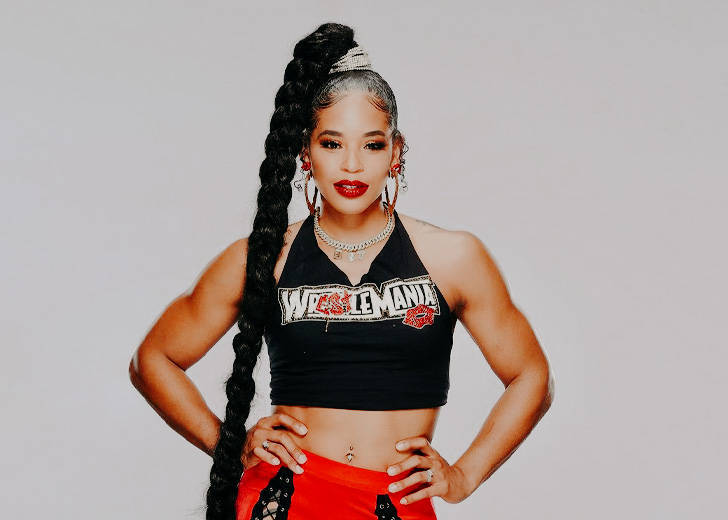 After months of buildup and anticipation and several weeks of promotion,WrestleMania 37 officially commenced. The first night of the two-day WrestleMania extravaganza was WWE's first live event after over a year because of the pandemic. 
Fans attended the event at Raymond James Stadium, which exceeded expectations and only whetted their appetite for the second night's action.
Before her big match, WWE superstar Bianca Belair joined Access Daily's Mario Lopez and his children, Dominic and Gia, to talk about her anticipated WrestleMania 37 appearance. Belair also answered questions about her her dreams as a child and finding success in the ring. Her replies posed as inspiring life advice for the kids. 
"Just be you and stay true to who you are, even if it makes you different. Never give up and keep trying and just keep starting over every single day," she stated. 
Belair's Highly Anticipated Match And Historic Win
History was made on the first night of WrestleMania 37 as the first time the main event saw two women in a singles match at a WrestleMania, and the first time two African-American women had faced off for a world title on the biggest show of the year. The battle was especially huge from a representation perspective. 
From the moment self-proclaiming "EST of WWE," Belair won the 2021 Royal Rumble, she established herself as the No. 1 contender. Fans were eager to witness a WrestleMania match between her and Sasha Banks aka "The Boss," and the two exceeded the wildest expectations, delivering a truly fantastic match. 
The Boss hit the first strikes, but Belair fired right back up and every time each female went for the winning move, the tide would turn in an instant. In the end, Belair defeated Banks and put an end to Bank's five months stay as the WWE SmackDown Women's Championship winner, which she won by defeating Bayley at Hell in a Cell. 
Belair became the new SmackDown Women's Champion and wrote history in the archives of sports entertainment with her winning WrestleMania debut.
Her Journey to WWE
The EST of WWE did not follow professional wrestling while growing up. A former college track athlete and CrossFit competitor, she hoped to emulate Florence Griffith Joyner, Gail Devers, and Dominique Dawes's success. Belair did not plan to join wrestling, but a happenstance changed her path. 
An unfortunate condition of costochondritis (shifting rib syndrome) ended her career in CrossFit. While she was healing and looking for new opportunities, Mark Henry, a former WWE wrestler, national champion weightlifter, and Olympian power lifter, spotted her and offered her a WWE tryout.
In just under five years, she garnered attention and applause or her talent from both fans and athletes. With her trademark braided ponytail, which she uses as a whip in the ring, she developed her persona as a confident yet engaging character on the NXT circuit. 
Belair has also turned heads with her unapologetic approach to representation. Whether it be her self-made Black History-themed ring attire or daily book recommendations by Black authors she shared last year, Belair is dedicated to celebrating her history.